As 2022 draws to a close, we reach the end of another fruitful year navigating the maturing media & entertainment industry. The year end is a great moment to look back and reflect on our critical learnings. And, of course, also an excellent opportunity to celebrate our success in powering direct-to-consumer video subscription platforms.
Cleeng CEO and founder Gilles Domartini recently provided a rundown of 2022 and shed light on our company's goals for 2023. Check out the video:
2022: A year of achievements
1. Bagging the signature of NFL: The largest sport venture in the US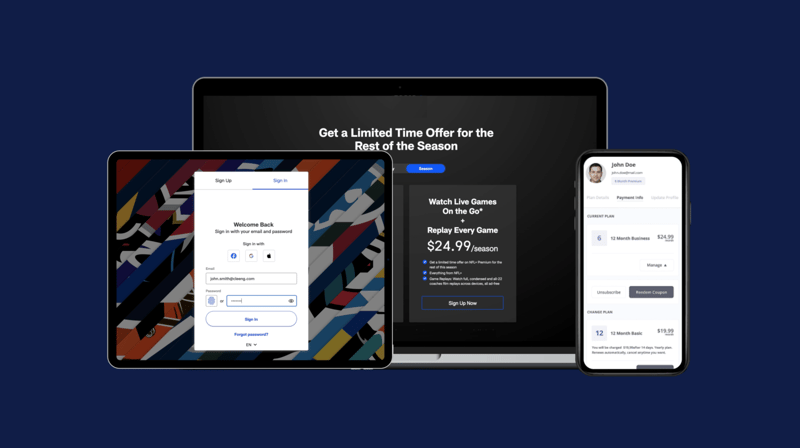 One of our key highlights for the year was launching NFL+, the brand new streaming platform for the NFL.
The highly-known sports venture has worked for many years with the same provider. In May 2022, they placed their trust in us and our SRM™ suite. Just 11 weeks later, the platform was up and running, and we successfully deployed their new service, NFL+, migrating all users to the new platform.
Within this aggressive timeline, we smoothly led a complex transition of 10 years of legacy data for payments, accounts, entitlements, and customer care. Alongside this, we launched several new offers across their web platform and various apps including:
A brand new checkout

Tax management and remittance

Upgraded account management center

New help center and end user support approach

Free trials

Coupons and promotional campaigns
2. Upgrading the SRM™ suite: Product developments for better retention

This year we made notable upgrades and strengthened our product capabilities to serve broadcasters better. Our full SaaS product suite is easier than ever to implement, as clients can launch in just 3 weeks, with access to open API's and 35 connectors.
Our churn prediction capabilities, or the ability to predict which subscribers are likely to churn, are now more sophisticated and can predict churn risk with 92% accuracy.
Additionally, we scaled our viewer care solution, Hi5 to multiply our support bandwidth five-fold, allowing streaming platforms of any size to leverage our full suite.
Cleeng CEO, Gilles commented on these exciting developments, "One of the best proof points of the quality of the service that we were able to deliver is the number of inquiries that we are receiving for customer care. Only 0.6% of the subscribers are contacting our customer care centers, which is remarkable", shared Gilles. By automating large parts of the viewer care workflow, using an AI chatbot, support scenarios and help centers, our clients save time on the small stuff.
3. Earning the trust of several new clients
Besides NFL, we have also onboarded many new clients to our expanding portfolio.
We are seeing significant momentum in the sports industry. Many sports brands are choosing to launch their own direct-to-consumer video platform, including our clients RED (Ringier Sports) in Switzerland, as well as Bare Knuckle Fighting Championship in the US. We also supported the recently launched NHL.TV (National Hockey League service) for International Markets. And outside of sports we supported Nordisk Film in Denmark with the launch of Nordisk Film Plus.
By delivering 99.99% uptime SLA, our stability gives video providers the confidence to stream their content directly to consumers globally.
As we segue into 2023, the plan is to serve existing clients better and further widen our client base.
What are our priorities for 2023?
1. Strengthening the Cleeng team
Our team at Cleeng currently comprises around 100 people from 14 nationalities and four continents. This diversity brings on varied expertise, and the distributed teams work together remarkably.
We plan to build further on this strength and look forward to expanding our talent base. We'll be hiring more team members in the following months. Explore our open positions.
We're also looking to upgrade our infrastructure to strengthen our baseline to chase our growth ambitions.
2. Building further on our product capabilities
Our flagship product, ChurnIQ, has received significant recognition across the year.
We were nominated for several awards and placed Silver at SportsPro's OTT Awards for "Best Emerging Tech Company". The plan for 2023 is to leverage ChurnIQ and the extensive data lake we've built over the past few years and put it to even better use.
In addition to further developing ChurnIQ, we intend to embrace the rising tide of FAST channels and an advanced hybrid monetization solution that covers advertising, SVOD, season passes, and many more. Other priority areas will be:
Boosting the connectivity of our solution with other platforms and partners
Increasing churn actionability to help client act on AI insights
Developing our payment analytics with Merchant intelligence
Further improving our customer support

with analytics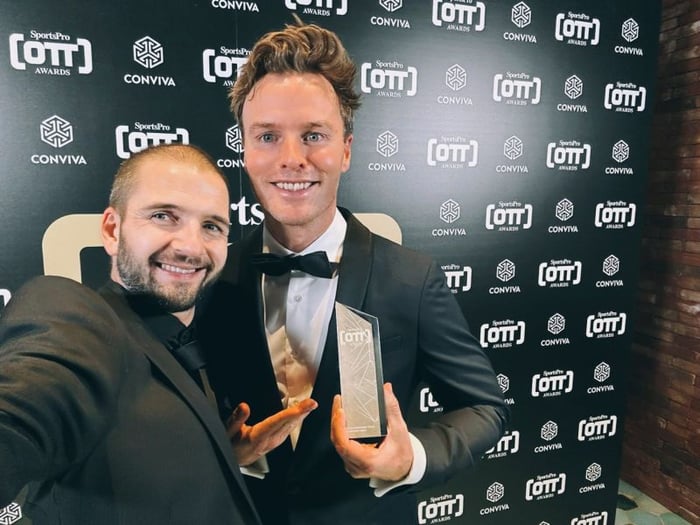 Image: Cleeng's VP of Sales and Director of Enterprise Sales EMEA & APAC winning Silver at the SportsPro OTT Awards
3. Investing more in sports
We realize the uniqueness of our solutions for the sports category and how our capabilities can contribute to this segment efficiently. So we're looking to invest in sports streaming services further. The goal is to accelerate with features such as:
Advanced season passes

Higher security of the video streams

Better solutions around gifting and tipping
Learn more: The retention solution designed for sports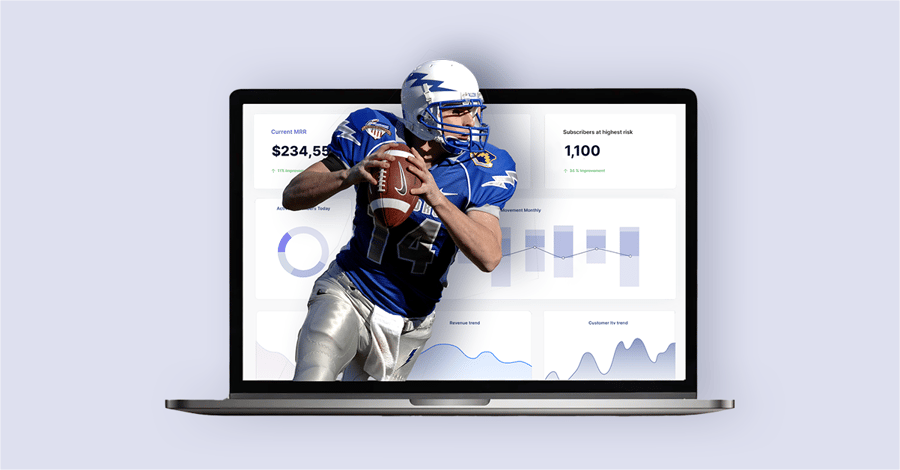 Signing off, we'd like to take this opportunity to thank our clients for placing their trust in us. A special mention of thanks to the Cleengers who deliver their best every day and partners like Synamedia, Accedo, QuickPlay, Red Bee Media and Sportradar (to name a few), who work with us closely like an extended team.
We're looking forward to better times for us all and raising the bar higher. Wishing you a happy 2023!
---
To get a personal sneak peek at the 2023 product plans: