Amid the movement restrictions and newer ways of life, the COVID-19 pandemic unfolded significant economic structural changes. While many industries faced dents, direct-to-consumer video platforms clocked promising growth. Research estimates that media revenue from OTT should surpass $210 billion by 2026, nearly doubling from the 2020 numbers.
The industry is now at an exciting crossroad with rising demand and competition. While there's hope to thrive and grow, there's a simultaneous need to consolidate intelligent business practices for long-term survival and success.
IBC 2022 presented an excellent opportunity for conversations around the present and future of media and entertainment businesses. Amidst the four-day event in September 2022, Cleeng CEO Gilles Domartini shared his thoughts with Stuart Thomson, the Editorial Director of Digital TV Europe, in an exclusive interview. Their discussion flowed through the nuances of navigating a successful, modern, direct-to-consumer streaming business.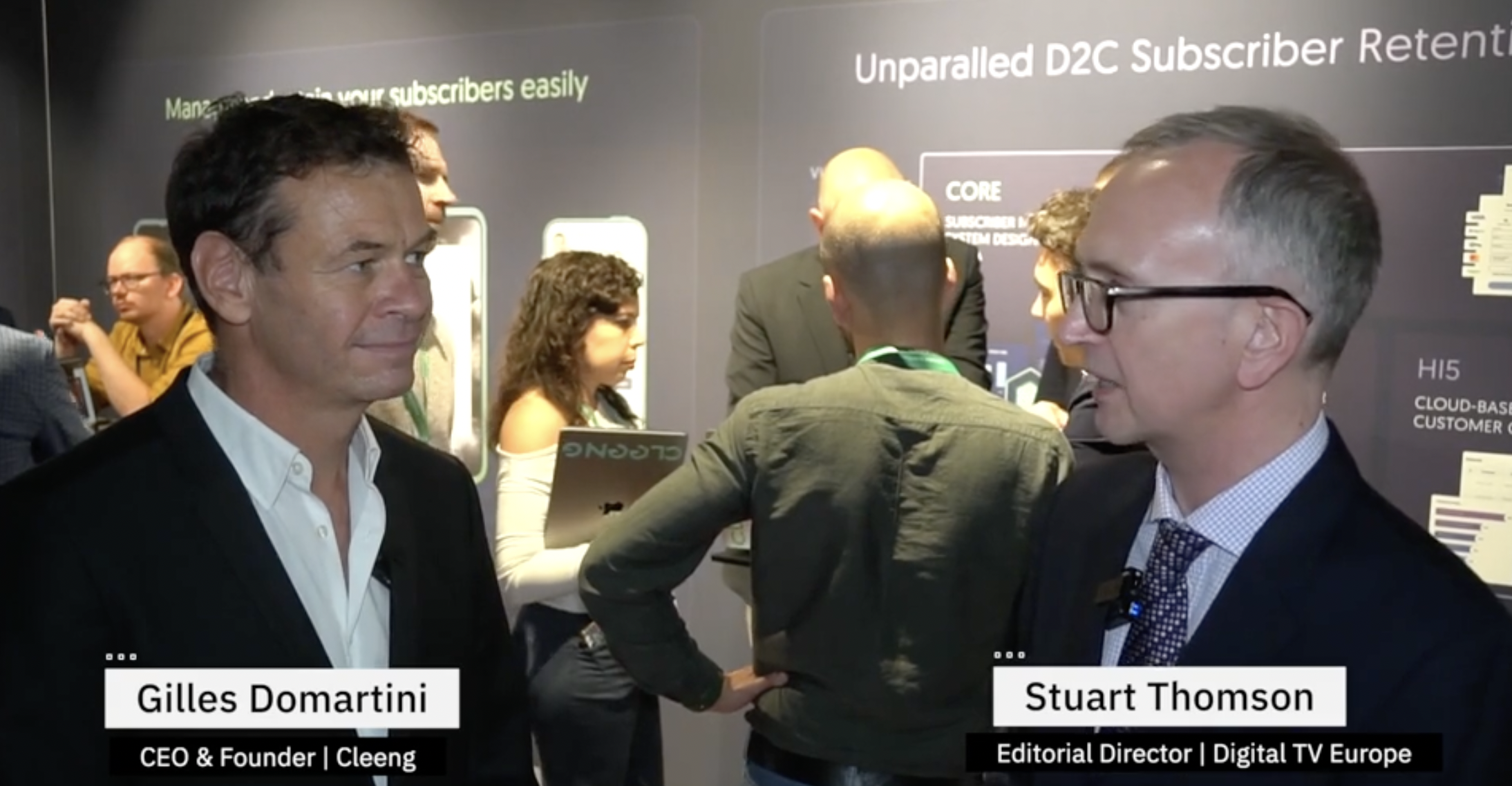 Here are the 4 key insights shared by our CEO for D2C video streaming success:
1) Embrace eCommerce essentials
As the OTT market matures with agility, there's a steep rise in direct-to-consumer video streaming. Deloitte Insights suggest that 82% of US consumers have a video streaming subscription, with four subscriptions being the average, compared to 67% of people having a pay-TV subscription in 2021. This indicates that competition is now fiercer, demanding broadcasters to evolve from traditional conduct.
Most broadcasters aren't ecommerce natives and are mainly focused on advertising or distribution rights. However, now is the time to start looking toward other equally relevant dimensions to thrive in the competitive environment. This implies revisiting the drawing board and learning eCommerce best practices to acquire customers and manage churn.
Actionable Takeaway: Learn the nuances of implementing eCommerce strategies and tactics like free trials and promotional campaigns to increase subscriber conversions. Similarly, get creative and attempt strategic win-back campaigns to reverse churn. Finally, ensure to deliver stellar customer care to enhance customer loyalty.
Learn More: How to set up coupon campaigns with Cleeng
2) Pay attention to price and price elasticity
As the OTT market grows, competition between broadcasters is rising, changing market dynamics and putting pressure on prices.
Digital TV Research confirms that Netflix was the most popular streaming service worldwide in 2021, with over 201 million subscribers. Amazon ranked second with 117 million subscribers. However, based on cancellation rates for Netflix in 2022, Disney+ could be the leading streaming service by 2026, replacing Netflix and Amazon Prime Video in the top spots.
Further, the growing inflation and classic subscription fatigue are increasing subscriber price sensitivity. These changes are making it essential to experiment with new pricing dimensions.
Statista estimates that OTT video advertising should have ad revenues of $119 billion by 2023, comprising 51% of all OTT revenues. This also explains the rise of FAST channels and other ad-supported offerings lately.
Actionable Takeaway: Innovate your pricing with alternative monetization models. It will be helpful if you also examine elasticity or how price changes impact the responsiveness of demand and incorporate measures accordingly. Broadcasters offering different monetization schemes and allowing their subscribers to jump from service to service, tier to tier, and adjust their prices as they go will benefit.
Learn More: How to set up different prices for content offers with Cleeng
3) Empower the subscriber
Churn continues to be a staple industry concern. Recurly Research confirms that OTT services' average monthly churn rate stands at 10.8% in 2021.
An intelligent way to mitigate this lies in making every customer feel special and delivering personalized experiences. Many broadcasters leverage marketing campaigns to nurture customer relationships. But to really stand out, you will have to go beyond the typical CRM approach, to really make your subscriber feel seen.
Actionable Takeaway: Experiment with ways to create a special place in the consumer's minds. Try innovative measures like marking a user's anniversary, highlighting content only available to premium users, or providing loyalty rewards after certain earmarked months of user engagement.
Learn more: How to use segmentation to grow subscriber retention with Cleeng
4) Dig deeper & differently into the data insights
As modern OTT subscriber management platforms provide the luxury of closely tracking user behavior, D2C video broadcasters must leverage the secrets revealed by the abundant data. Moreover the perspective of looking at that data also needs to evolve.
Instead of only using the data for "business benefit," OTT providers need to factor in "the end users' benefit" and aim to reap their own benefits as a result of that. With this mindset change, there's a considerably enhanced chance to deliver long-term satisfaction to the user, win loyalty, and control churn.
Actionable Takeaway: Start using data for more than just micromanaging and targeting customers. Broaden your horizon and study data with the objective to "benefit and please the customer." If you study churn patterns closely, you'll indeed find a recipe for providing customers with the models and choices they will prefer.
Learn more: How did CBC leverage data analytics to achieve 36% subscriber win-back rates?
Bottom Line: Observe, identify, and act
Watch the full interview below:
Despite the rising competition, inflationary concerns, and subscription fatigue, there's a rainbow of opportunities for direct-to-consumer video streaming businesses. The way to embrace it lies in gathering relevant data, studying it, and acting on it with agility.
Therefore, it will help if you start with identifying the right target audience and maximizing your D2C video conversions using modern ecommerce tactics. To make the most of churned subscribers, analyze the key drivers of their cancellation. Doing so will help you identify at-risk customers beforehand and take actions to reverse it.
Specializing in the OTT industry, Cleeng has tailored the right mix of operational tools for the media and entertainment industry's unique needs.
Equipped with reliable, user-friendly tools for subscriber retention and management, payments, data analytics, stellar customer care, and several integrations, Cleeng can support scaling your media and broadcasting business with agility. Moreover, robust SMS and tax management support is also available to help you focus on core growth aspects.
Want to experience Cleeng in Action?
Stop by our booth, F08, at Sportel 2022 for a live demo. You can also have a chat with our CEO Gilles on navigating through your specific concerns.
Book a demo: