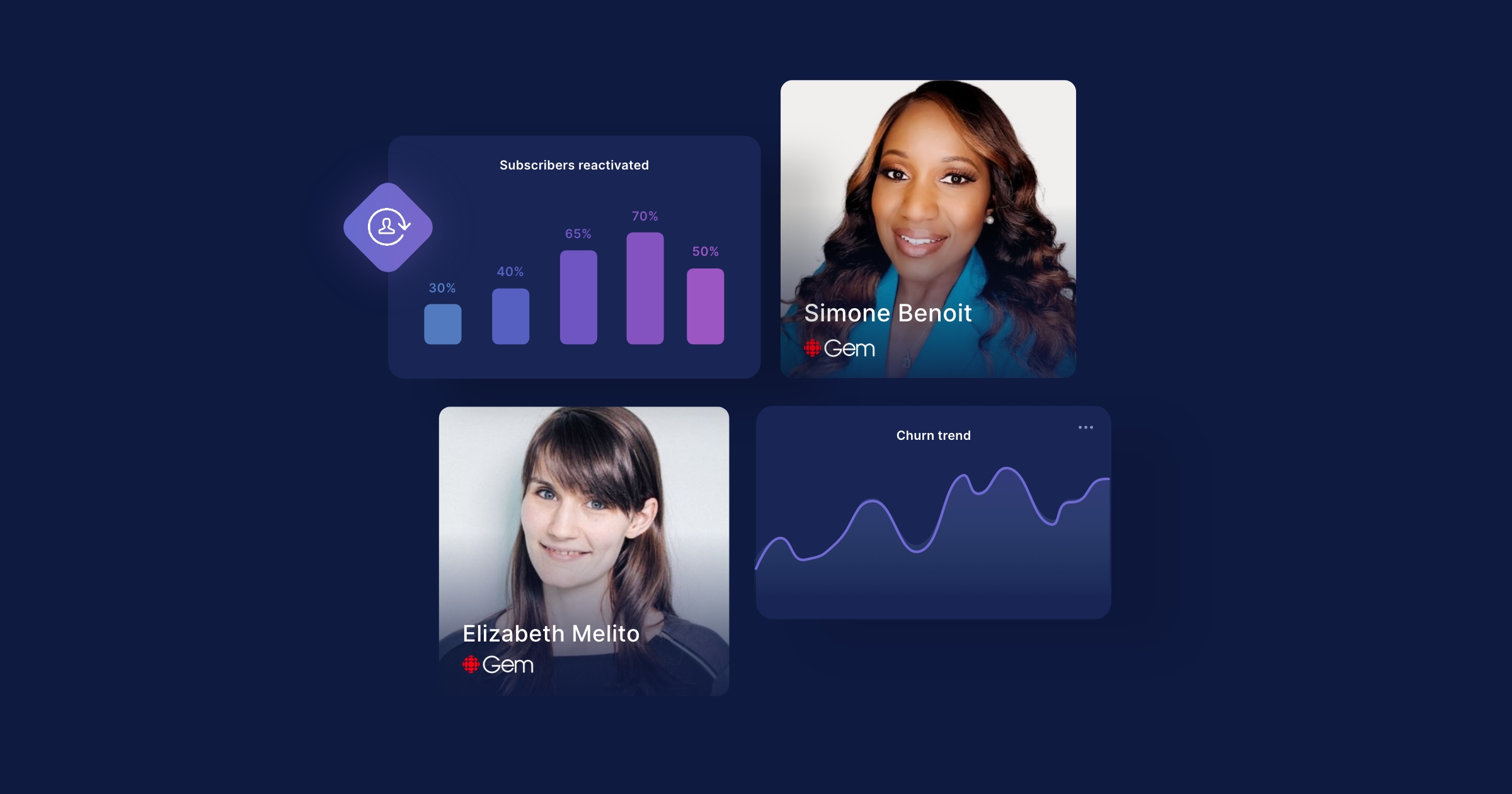 Streaming services are facing uncertain times. Industry research shows that people are uncomfortable with having multiple subscriptions. This creates more pressure to churn, but also makes people less likely to start new subscriptions, especially in the current climate.
This creates a pressure cooker where only services who get the subscriber relationship right are going to succeed. The challenge is to make your services one of those few that customers will see as indispensable.
What's more, as churn becomes more and more common, the second challenge is knowing how to make the most of a churned customer. A canceled subscription no longer means the end of the line. "Churn and return" has become a norm in subscriber behavior. So the factor that will really set apart the streaming war winners, is whether you're able to win back a churned subscriber after they leave.
This is the story of how CBC recognized these challenges - and used their analytics to build campaigns that massively outperformed normal trends in OTT.
What is a winback campaign?
A winback campaign, also known as a resubscription campaign, is a marketing campaign focused on bringing a lost subscriber back to your platform.
Data savvy OTT services understand that winning back churned customers is a huge opportunity. Omdia's recent study found at least 19 million US customers churned and then reactivated their service in the last year, representing over $500 million in monthly revenue.
This trend is particularly prevalent amongst the younger generations, suggesting that this behavior isn't going away any time soon.
Why do subscribers churn and return?
There are several reasons for subscribers who cancel their subscription and then resubscribe. The most prominent reasons were a new season of their favorite show, a free or discounted fee for subscriptions, or new desirable content being moved to that platform.
In all countries surveyed for Deloitte's 2022 Media Trend survey, customers are becoming increasingly savvy about deciding how much they want to spend on content. This trend is particularly strong amongst Gen Z's and Millenials. Deloitte's conclusion? Consumers are winning the streaming wars.
The CBC story
One video streaming platform with a keen understanding of the value of winback campaigns is CBC.
Working with CBC GEM at Cleeng, we've seen how intensely focused they are on building great subscriber relationships, and their belief in the power of data to make this happen. It's no surprise that they picked up on this winback opportunity.
How did CBC plan their winback campaign?
We spoke with CBC Gem's Senior Manager of Planning & Operations, Simone Benoit as well as Product Owner, Elizabeth Melito, to learn more about their successful winback campaign experience.
Their first winback campaign was prompted by an interest in improving annual performance explained Simone:
"Closer to the end of the year we realized we were not pacing as well as we would have liked to, and we decided that we should do a winback campaign" Simone recalled. "For this, we used Cleeng's Segment builder, it's great for tweaking and building the segment that we want, and then to schedule the segment workflow from there."
Simone, Elizabeth and their team set about defining the types of customers they wanted to target with their winback campaigns:
"We would use the customer lifetime revenue set between 2 bands, and at 2 levels to target how long that user had been one of our premium subscribers. We also targeted engaged users with specific levels of engagement - so we could be sure of what their attitude was towards the product before we started re-engaging them."
The team then worked on the tactics they would use to reach out to their former subscribers. "We built our segments with the customer attributes we have in Cleeng, and then worked on marketing tactics that reminded these customers of what they have missed by not having premium access."
Once your target segment has been arranged, another challenge of executing successful winback campaigns is transferring this list to your marketing platform. To address this challenge, CBC used Cleeng's marketing webhook feature:
"We used Cleeng's webhook feature to export lists of emails that were filtered to create the exact right segment" Elizabeth explained. "So that allowed us to schedule, and then that import would automatically start that winback process from our service providers side. So that was really cool for some of those winback campaigns that were really targeted."
How did the CBC winback campaign perform?
The results of their first winback campaign caught even Simone by surprise - "I monitored everything closely in Cleeng's ChurnIQ. You get a lot of detailed information on a daily basis, so from the campaign from the first day that the email was sent, I can see that there was a huge spike that day, I'm like wow! It was more than we expected!"
Omdia's research found that between 6.5% (2018) & 15.6% (2022) of streaming customers re-subscribed to a service they had canceled. CBC's winback campaigns delivered an astonishing winback rate of 36%!! About 2.5 times higher than the 2022 average and an incredible 6 times higher than the 2018 rate!
By creating carefully targeted campaigns that worked with the right audience - Simone, Elizabeth and their team had in effect reduced CBC Gem's churn rate by more than one-third.
Tips for a successful winback campaign from CBC
In addition to sharing the details of their winback experience, Simone also gave some practical tips for any other subscription platforms looking to start their own.
Build a cross-departmental, highly collaborative team for the best brainstorming
Take time to play around with subscriber attributes, to find the best mix for your campaign
Be specific and eye catching with your messaging (clear value proposition)
Be informative about how to use your platform & take advantage of special offers
Experiment! (e.g. with sending times, messaging etc)
Want to learn more about using segments for targeted winback campaigns?