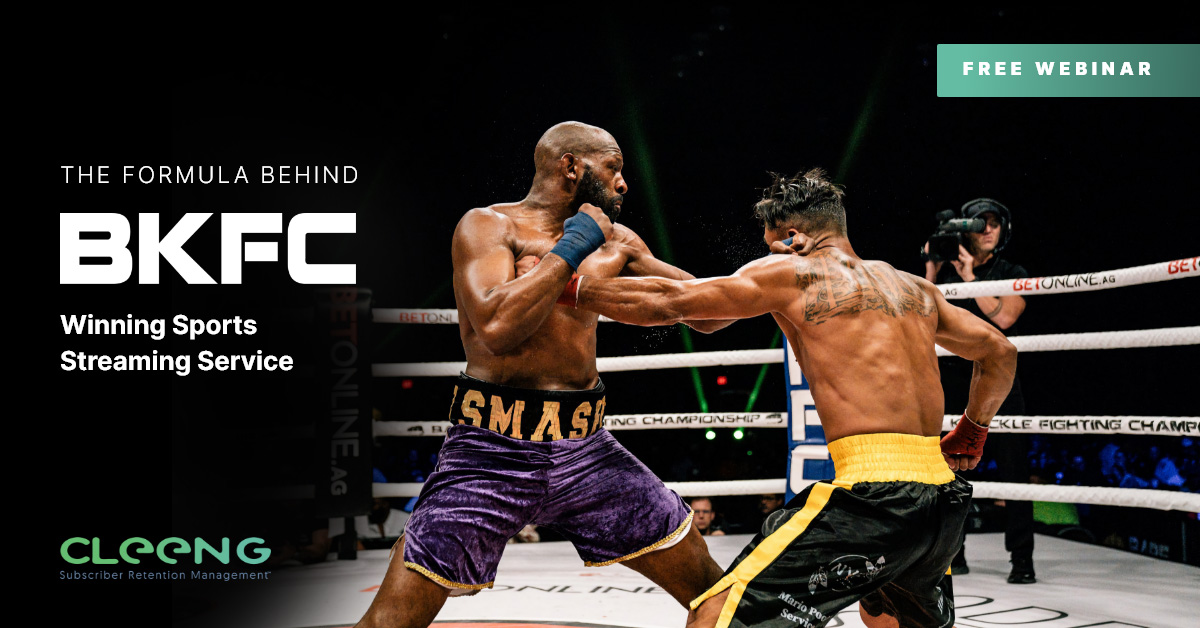 As multi-device OTT content consumption grows, more and more sports broadcasters are taking the direct-to-consumer route. This changing business pattern makes robust sports-streaming technical partners necessary for ensuring excellent viewer experiences and business growth.
BKFC recently embarked on their journey to launch a new and improved Bare Knuckle TV app to extend multi-device streaming for combat sports. They partnered with Cleeng, Applicaster and Fanreach to extend an excellent sports streaming service.
In a recent interactive webinar, BKFC, Cleeng and the other key technical partners came together to discuss the project. Speakers included:
Christy King | CTO, BKFC
Gabriel Smallman | President & Founder, FanReach
Laura Tapias | VP, Americas & Spain, Applicaster
Stijn Derksen | Director of Enterprise Sales, Cleeng
Together the panel explored the learnings from the successful project, shared practical tips for launching an OTT platform in today's competitive industry and considered the most important trends emerging on the sports streaming horizon.
Read on for actionable clues into successfully streaming sporting events.
What is BKFC?
Originating from Philadelphia, Bare Knuckle Fighting Championship (BKFC) is the first promotion allowed to hold a legal, sanctioned, and regulated bare-knuckle event in the United States since 1889. They preserve the historical legacy of the most accurate form of bare-knuckle fighting while utilizing a specifically created rule set that emphasizes fighter safety.
The organization hosts and streams live bare-knuckle fight events across the world. In addition, BKFC now enables fans to access the fights through the BKFC App, their latest multi-device subscription service.
Launching BKFC's OTT sports streaming service
Building an engaging base for bare-knuckle fighting fans
As BKFC decided to stream content with a mobile app, they wanted to build a robust platform based on the subscription model. In addition, they were looking to stand out by providing best-in-class promotions like coupons, seasonal offers, giveaways, etc. And lastly they wanted this platform to function both on the website and via apps to cater to as many fans as possible.
In the words of BKFC CTO, Christy King, "We wanted basically to do everything, and we saw no reason why we couldn't do this."
To help achieve this, BKFC turned to Fanreach as a central support point for handling relationships, integrating the fan experience and overcoming any ongoing friction with their bespoke product. With it, they combined with Applicaster at the backend for their content distribution and app development and the entire suite of Cleeng's subscriber management tools to streamline payments, deliver custom experiences and ensure customer satisfaction across the board.
Quick launch times with a great mix of technical partners
BKFC's choice of combining expert partners emerged as a powerful driver in the seamless launch of their streaming platform. Delayed launch times is a common setback for content vendors looking to launch a platform with all the engaging features that BKFC was after. By partnering with 3 deeply integrated technical partners, BKFC was able to sidestep this.
Speaking on the seamless launch, Christy King from BKFC commented, "It was incredibly refreshing to me that I had to do almost nothing... It was a very easy process to launch in all of those platforms."
Stable streaming - on any platform
A third element to the platform launch that was essential to BKFC, was stability. The most important factor for any sports fan is that the platform works, and that they're able to access their content when they want to.
This made stability a priority for BKFC, and this was satisfied by the three partners working in perfect synchronization - seamlessly streamlining the workflow for the BKFC team.
Speaking on the combination of Cleeng and Applicaster's operational tools, Gabriel Smallman, President and Founder of Fanreach explained, "One of the reasons that we really liked them was that the way that their platforms worked, allowed us to extend our platforms. They think the way we do, which is 'How can we engineer this to be driven automatically?' The thing that is the most important to the fan is, it just works."
Keep fans happy, to keep subscriber numbers high
Some of the most exciting benefits that came from this 4-way partnership were the tools for "stickiness" and general subscriber retention. Some of the game-changing features discussed in the webinar were:
Granular app-usage tracking to optimize apps for maximum customer engagement
24/7 customer service that can mitigate immediate problems and keep customers happy
AI-powered churn prediction that ensures your retention campaigns target the most important customers
"Eye-tracking" on streaming apps so vendors can build their platform around customer behaviour patterns
Want to learn more about these unique features and find out how to make fans stick?
Watch the webinar for expert insights:
How to grow a sports streaming platform
While content production and delivery are pertinent for successful sports streaming, revenue growth in sports requires paying focused attention to retaining subscribers. Simply focusing on acquisition and growing the subscriber base with a leaky bucket on the other side commonly dampens efforts and derails growth plans.
Effective subscriber retention in the competitive sports landscape is made possible by:
Experiment with multiple VOD offer types to accommodate all fans
Handle international billing and local media tax easily
Using AI technology to better understand and predict fan behavior
Leveraging industry leading customer support for large scale matches
By combining these 4 elements, it allows the design of desirable customer experiences to stand out and grow in the competitive sports streaming ecosystem today.
Looking for more detail on running a successful sports platform? Want to know why 70% of sports rights holders operate some kind of D2C service.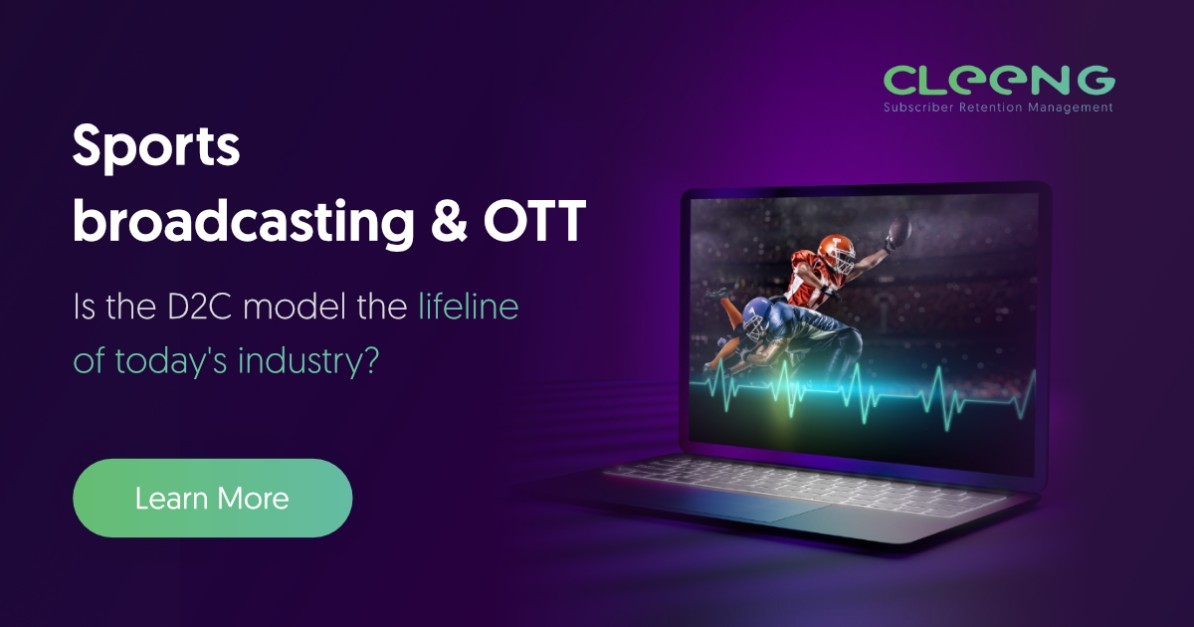 OR if you're ready to discuss plans for your own sports streaming service: