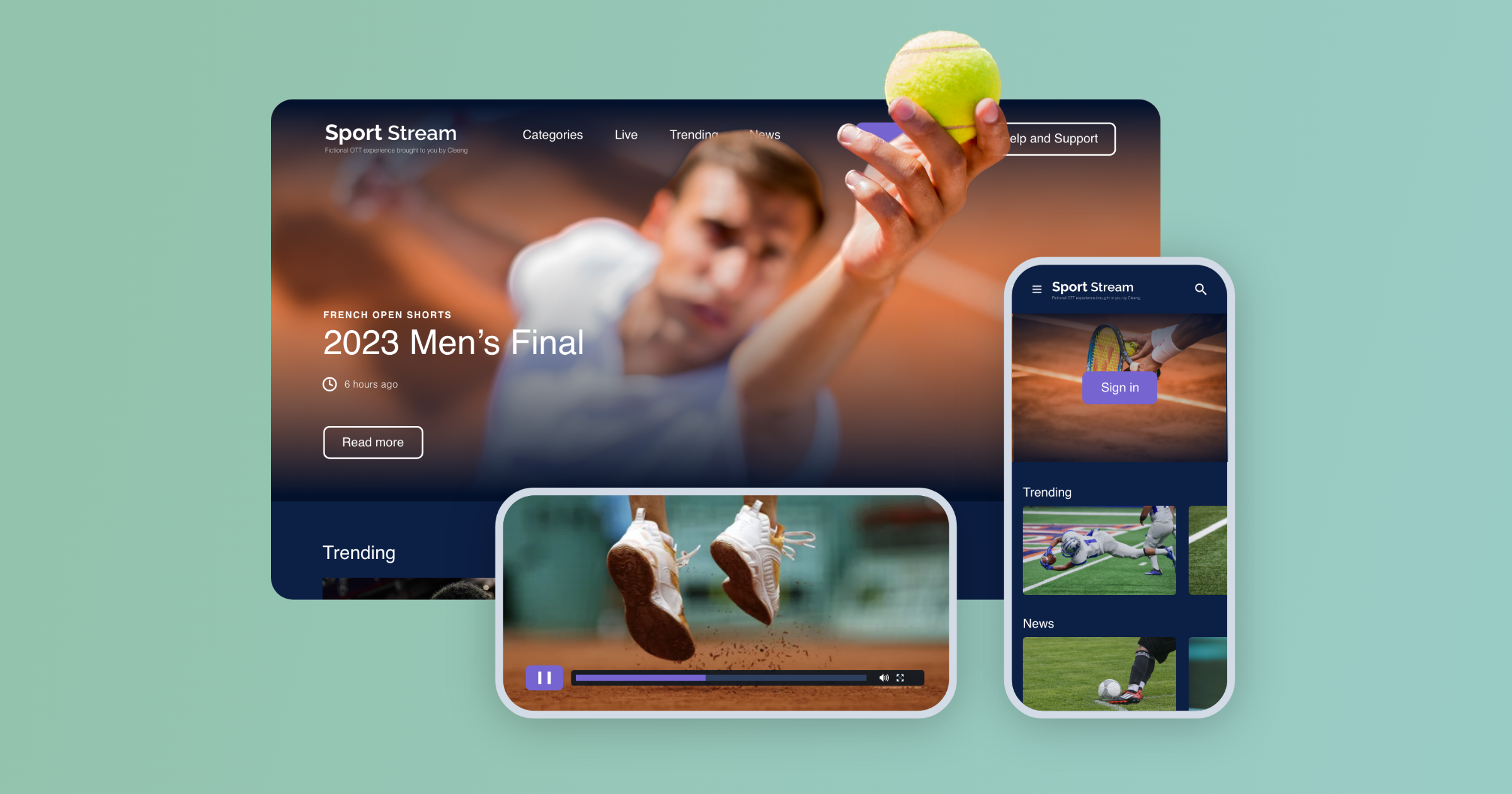 Over the last decade, the media and entertainment industry has significantly transformed. OTT streaming services have disrupted the way content is consumed. As a result, traditional television networks are increasingly losing viewership to online platforms, and ott streaming for sports is no exception.
Statistically speaking, in 2021, about 57.5 million viewers in the U.S. watched digital live sports content at least once a month. This number is projected to increase to more than 90 million by 2025, according to Statista. Moreover, a pool of over 318 million eSports enthusiasts are expected to demand sports content worldwide by 2025, a significant increase from 215.2 million in 2020. This reveals a large addressable market size for sports broadcasters. Moreover, according to Strategy Analytics, OTT revenues are likely to surpass pay TV for the first time in 2024. Much of the momentum is expected to come from live TV, particularly sports, with rights holders expanding on current direct-to-consumer (D2C) experimentation by placing more properties online.
Facts like these make it increasingly clear that the momentum for OTT sports video isn't going anywhere.
But how can you stand out?
With the increase in industry value comes an increase in competition. It's not enough to just have good content and a good platform. In this blog, we explore what it takes to stand out in the lucrative OTT sports space from a pricing, software and UX perspective.
How can sports broadcasters stand out amongst the competition?
The benefits of selling sports content on your own OTT platform are well understood. However, running a successful platform and reaping high ROI is another ballgame.
We have collected the most important platform features that helped our clients stand out amongst their peers.
1. Cut costs by ditching the custom work
ROI. The acronym on everyone's mind in 2023. Once you've built the video platform, how do you make it a financial success?
One component that may be holding you back is custom work. One drawback of custom work is that every innovation requires you to reinvent the wheel. By working with a single-tenant system, there is no room to benefit from additions driven by your peers. On top of that, you need to dedicate resources to coordinate the project. Finally, you'll need to pay for every change request you make.
This is why we recommend working with SaaS partners whose streamlined solutions will save you both time and money. And to top it off, they will guide you and provide strategic consultation on how to drive your business up and optimize your ROI.
2. Experiment with flexible pricing models
As per Cleeng platform data, tailored pricing and upselling recommendations has revealed a 15% positive impact in revenues for broadcasters on average. By incorporating a backend that supports such pricing capabilities, there's a good chance to up your ROI. You can achieve this by enabling different pricing models to suit different fans. For example, offering yearly subscription models for F1 fans, pay-per-view options for perhaps a boxing match, and so on. RED.Sport leveraged such subscription management capabilities to experiment with multiple offer types simultaneously, fueling their sharp growth trajectory.
With one steady, consistent offer type, you'll be competing with all other sports video subscription players. However, with a variety of offers, prices and payment models, you'll place yourself right at the top.
3. Stand out with top-of-the-line customer support
Where there is competition, holistic success is only possible by guaranteeing a seamless experience for subscribers. To that end, you need to offer round-the-clock customer service to address any issues. You need to provide this, while being mindful of customer service costs.
Self-service options and AI chatbots built for OTT customers are an excellent way to get this sorted efficiently. This has formed one of the key elements of BKFC's winning formula. Amongst Cleeng's customer base we have seen clients improve support costs by up to 80% by leveraging high-end, automated services.
4. Ensure a robust and scalable technology base
The right set of technology and infrastructure is pivotal to deliver high-quality and reliable streaming of live events. For this, broadcasters need to be prepared to invest in high-speed internet connections, reliable servers, and top-notch streaming technology that can handle high traffic volumes and provide an optimal viewing experience. At the same time, this technology base must also be cost effective, easy-to-implement and allow scalability to maintain a competitive edge.
It is by using a robust, market-ready multi-tenant solution that sports streaming giants like BTN and Red have enjoyed the benefits of agile implementation, a stable platform, and a future-proof infrastructure and that's something you should look toward having.
5. Use in-depth analytics and AI technology to retain subscribers
Making your video service stand out from the rest also requires an advanced understanding of your customer base. This is best achieved through a robust analytics strategy, used to measure performance and understand your audience's behavior and preferences. Analytics tools can provide you valuable insights into viewer engagement, preferences, and behavior. This can put you at an advantage to tailor your content and marketing strategies to meet the audience's needs. As per Cleeng platform estimates, if you use AI churn prediction, you can identify and save 25% of at-risk customers, by sending personalized messages at just the right time.
Tennis Channel was able to grow by a whopping 640% in five years thanks to customer intelligence that helped them match suitable offerings to the right audience.
Watch the video to see what else they did to stand out from the competition:
6. Offer a wide range of content
Finally, it helps to remember that the success of any OTT platform largely depends on the content streamed on it. Thus, as a broadcaster, you must provide a broad range of content to cater to the diverse interests of your viewers. This includes not only live games and events but also sports news, highlights, and documentaries to keep your viewers engaged and coming back for more. This has become increasingly important as sports engagement centers more around the athlete than just the game. By providing a variety of content, you can appeal to a broader audience and keep them engaged with their service. This is particularly more important for sports, given the seasonality element around it.
Partner with vendors that can push you to the top
Running a successful sports video platform is complex. Running it better than your competitors is another matter. Partnering with video technology experts can make this process easier by giving you the technical advantage that the others don't.
Cleeng's Subscriber Retention Management™ suite is a plug and play SaaS solution designed for OTT broadcasters. It can help you cut costs, increase efficiency and ignite ARPU. While Core helps with end-to-end subscriber management, Merchant streamlines payments, and Hi5 simplifies support. Additionally, ChurnIQ provides intelligent subscriber retention capabilities using data.
We can help you create a well-oiled revenue engine with a single, easy and quickly implementable solution to attain enviable growth numbers.
Position yourself for success in OTT streaming for sports.