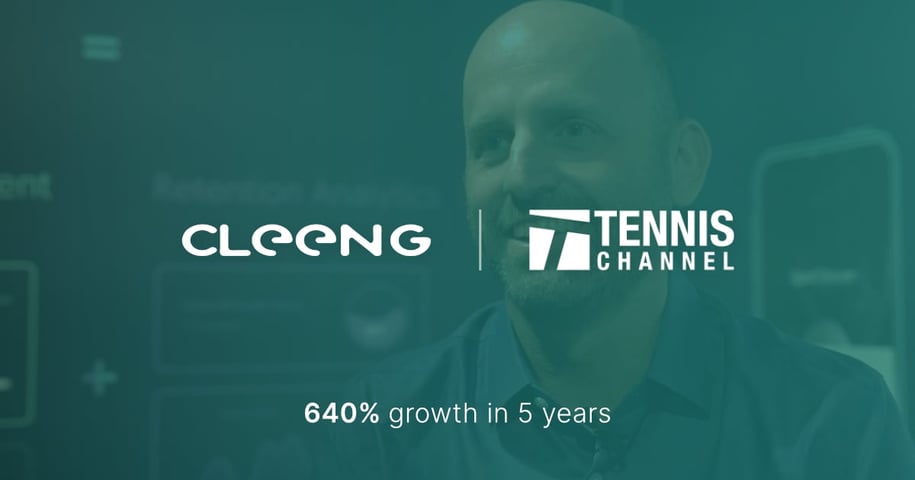 Growing a sports streaming service internationally requires global market knowledge, strategic planning, and disciplined operations. Thus, achieving a successful outcome largely depends on the partnerships one forms, as it can be prohibitively challenging to don so many hats alone.
Take, for example, the traditionally cable-focused Tennis Channel. With a thoughtful approach, the Sinclair brand managed to take its OTT broadcasting channel to the next level and grow internationally with Tennis Channel Plus.
In this blog, we review the Tennis Channel's commendable growth story and the factors that contribute to their future-proof streaming business.
What is Tennis Channel Plus?
Tennis Channel Plus is a digital sports streaming channel catering to the interests of tennis enthusiasts. It provides an excellent avenue for watching the professional sport of tennis and creating a lifestyle around it.
The channel covers over 650+ select matches from over 20 tournaments worldwide, including Roland Garros, Indian Wells, Miami Open, Citi Open, Davis Cup, and more.
Its beauty lies in the fact that it is the only provider extending 24x7 access to much more than can fit on television, making the sport of tennis more accessible to its loyal fans.
Tennis Channel's 5-year strong collaboration with Cleeng
Traditionally, Tennis Channel is a cable-focused company. In 2017, they embarked on a collaboration with Cleeng to support the end-to-end management of their direct-to-consumer (D2C) streaming app.
The idea was to partner with a provider that would tackle operational hurdles outside of their core competencies, so they could maintain their focus on providing world-class content.
The partnership between Tennis Channel continues strong to the present day. The most recent display of collaboration is a reimagining of their mobile app in an effort to modernize their user-experience and grow their business internationally.
How did Tennis Channel achieve 640% growth in 5 years?


Tennis Channel Plus continues to witness remarkable growth and expansion across international borders.
Let's explore the key ingredients in their recipe for success:
1. Setting up smooth operational processes
Before launching their platform internationally, Tennis Channel aimed to replicate the successes of their existing operations, while respecting the additional complexities of going D2C in international markets (e.g. customer acquisition, legal compliance, payment capture, customer service, and subscriber retention).

Tennis Channel experimented with different

pricing plans

to build an offer that works for their customers. All offer types are managed through Cleeng's flexible offer management system, Core.
Next, they ensured robust billing systems to drive smooth checkouts. The systems also efficiently managed the varying tax compliance from any territories to accommodate all customers, and avoid any compliance concerns. This was managed through Cleeng's subscriber billing and tax management solution: Merchant.
Finally, the tennis giant leveraged advanced viewer care systems to provide quick support at all times, for maximum customer satisfaction. This was achieved using Cleeng's customer support solution, Hi5.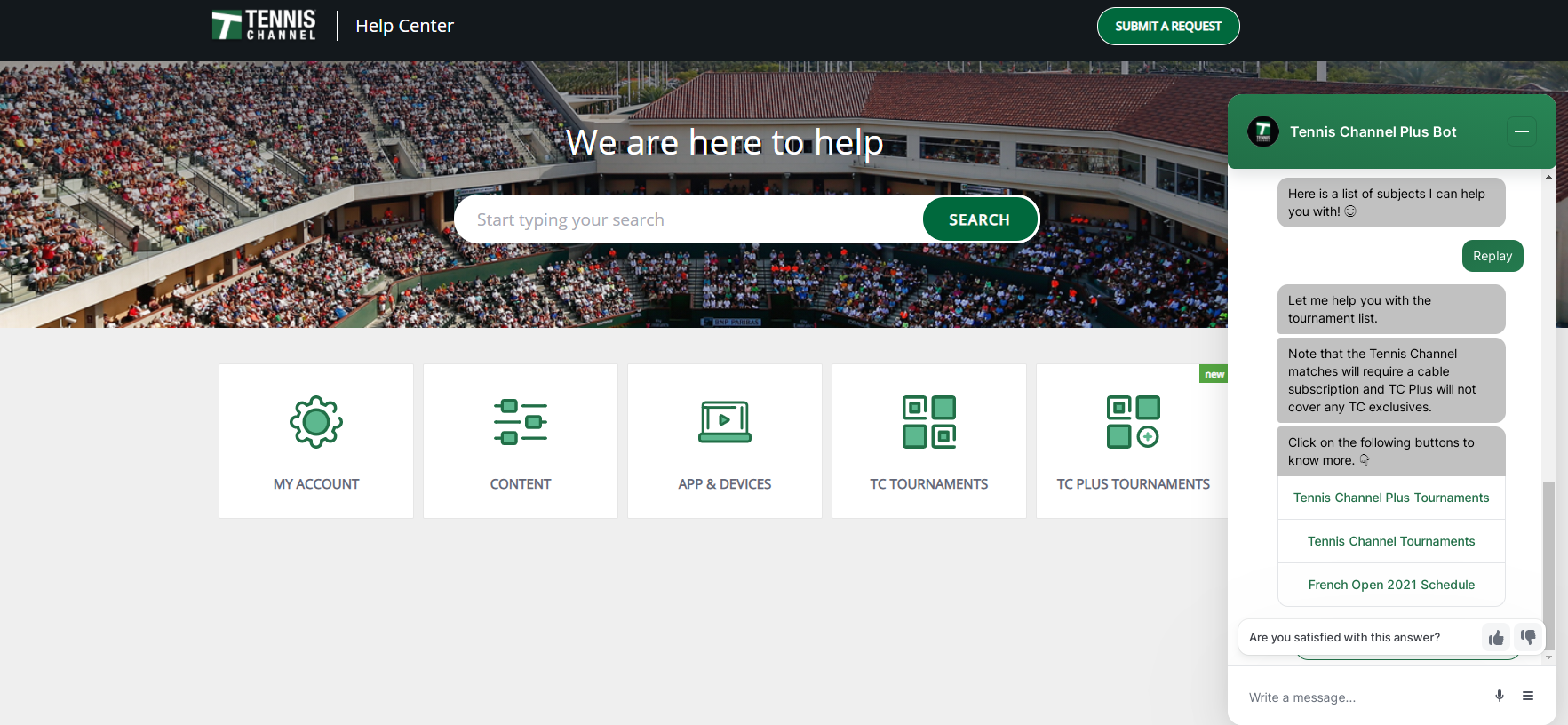 Image: Tennis Channel Help Center and Chatbot
With the proper tools at their disposal, the Tennis Channel managed to launch a robust service in unfamiliar markets with a small, extraordinarily efficient team.
2. Making strategic customer-focused decisions
From their experience with the domestic (US) OTT service, Tennis Channel appreciates the importance of gaining a strong understanding of their customers' needs.
For instance, sports streaming engagement is often highly seasonal. Many viewers may only be interested for a couple weeks of the year. In such cases, it is necessary to be mindful of matching the right offerings to the right audience, to understand the stages of the subscriber journeys, and to target them accordingly in a segmented fashion. To that end, they focused on data-driven insights to make better-informed decisions.
"As you know your customer, you're able to actually produce and deliver better content to your customer. This way, you can retain them and increase revenue," shared Ari Brock, Executive Director, Digital Media & Products at Tennis Channel.

Find out how Tennis Channel increased and retained subscribers using data.
3. Forming the right partnerships
Given the competitive nature of the streaming ecosystem, Tennis Channel recognizes that content is their key differentiator. Streaming services are ultimately measured by the uniqueness of their offering. In other words, what does the service offer that cannot be found elsewhere?.
The content cannot simply exist alone, however; the richness of the user-experience is also crucial. Consumer expectations increase drastically year-over-year, putting a premium on the expertise required to offer a world-class experience.

To this effect, Tennis Channel embraced the industry's demand for further specialization by evaluating and selecting dependable partners. Leaning on experts like Cleeng allows Tennis Channel to focus on the core strengths of the organization. They leverage efficiency gains to unlock internal resources and aggressively pursue new content rights and distribution channels.
Watch the full interview with Tennis Channel:
Finding an extended team in Cleeng
"The biggest highlight for us is that it's a true partnership. In any true partnership, it's a collaborative process with a common goal to make the product shine and grow your business. I think there's no better example of that than Cleeng," shared Ari.
Cleeng's Subscriber Retention Management™ suite doubled up as an extended team for Tennis Channel, giving them peace of mind regarding acquisition, servicing, and retention. While Core, Merchant, and Hi5 helped to streamline subscriber acquisition and simplify operations, ChurnIQ supported intelligent subscriber retention using data. This way, they could channel their efforts effectively to create a well-oiled revenue engine and attain their enviable growth numbers.
Want to follow the footsteps of Tennis Channel & take your
sports streaming platform to the next level?