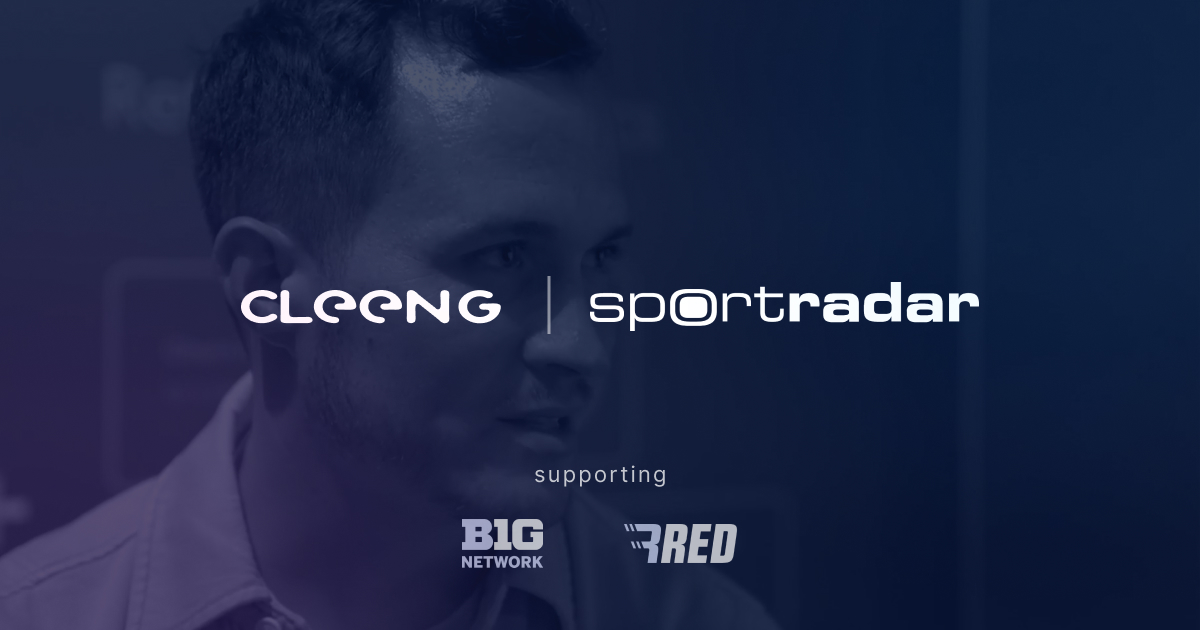 The interest and excitement for athleticism and sporting events is universal across demographic groups. With OTT channels and the simplified streaming of sporting events, global fans can now come together to watch a game of their choice - anytime and from anywhere. This ease is turning sports streaming into an increasingly popular entertainment choice.

Research indicates that the live sports streaming market is expected to grow by over $87.3 billion by 2028 at a CAGR rate of 21.26%.

Alongside these optimistic projections, there is significant competition and a lower entry barrier for sports broadcasters to combat today. Further, handling immediacy in sports content efficiently is also complex.

If you're a broadcaster with a focus on sports streaming, staying in the game and being noticed requires getting some essentials right. In this blog, we explore how streaming platforms like Big Ten Network and RED are making their mark with the support of partners like Cleeng and Sportradar.


Classic Sports Streaming Success Stories: Big Ten Network & RED.Sport
Big Ten Network: Navigating a seamless migration
Big Ten Network (BTN) is one of the biggest brands in the US for collegiate athletic conferences.
Given the remarkable standing of Big Ten Network, migrating into a new platform and switching vendors was no simple task. They had to ensure a smooth migration of their significant subscriber base from their previous vendor without leaving anyone behind. At the same time, they needed operations to work efficiently from day one.
Through their collaboration with Cleeng and Sportradar, BTN managed to achieve this challenge and grow beyond their current standing.

RED.Sport: A smooth launch in 3 months
Ringier Sports Group wanted to launch the new Red Sports service in Switzerland for football fans.
They built an incredible platform with a great UI-UX in a significantly low time to market. The best part was that the platform was highly stable and worked smoothly from day one. Moreover, their team has a transparent 360-degree view of everything from content offerings to billing and analytics to customer support. And all of this is managed from a single source - a central control point for all subscription management elements.
Learn More: How RED.Sport has a 360-degree view of its customer base
Watch this short clip to hear the project highlights directly from Cleeng's VP of Sales and Sportradar's Global Director of Video and Streaming products:
What supported the streaming achievements of BTN and RED?
Big Ten Network and RED.Sport relied on the proven strengths of the Cleeng | Sportradar integration to navigate excellence in sports streaming.
What is the Cleeng | Sportradar integration?
Cleeng is a SaaS solution providing end-to-end subscriber management and billing solutions to help media and entertainment companies launch successful direct-to-consumer platforms. Sportradar is the leading sports technology company, using data and technology to support betting operators, media companies and sports organizations.

Together, Cleeng and Sportradar launched an integration in 2021 to simplify the complexities of sports streaming. The collaboration aims to empower broadcasters to please their fans with an excellent customer experience. The combined offering includes the exact backend support broadcasters need to navigate the complex sports streaming landscape efficiently and quickly.

How does this integration benefit broadcasters?
The Cleeng | Sportradar integration is trusted by some of the biggest names in the sports streaming industry due to its array of meaningful benefits. Together, the collaboration has demonstrated excellence in the ability to deliver:
1. A robust and stable platform
For any sports streaming platform, the most important outcome is that the platform works. Platform stability is the ultimate decider for financial success and happy customers. The combined offering between Cleeng and Sportradar ensures that broadcasters get a market-ready solution they can confidently rely on.

With the backing of robust partners, broadcasters have the peace of mind from knowing things will always work when their users hit the play button. In addition, the multiple interrelated complexities at the backend are always taken care of.
2. Agile implementation
Since sports is a business that requires immediate, fast solutions, a speedy time-to-market is essential. The combined offering infuses tremendous speed and agility in the development and launch times for sports broadcasters.
The pre-integration with almost no ramp-up or integration duration enables a significant competitive edge. Moreover, there's also notable scalability in terms of delivering to many customers with smooth payment processes.
3. A future-proof infrastructure
Finally, any choice of backend infrastructure is a legacy decision. Making technical changes isn't easy for any broadcaster.
Therefore, any partner or combination of partners for sports streaming solutions needs to be robust enough so broadcasters can stick with them for a long time. This is only possible by working with best-in-class companies that constantly evolve to provide the best experience.
"Together, we deliver a better fan engagement experience together. That's why clients jointly select us with confidence," shares Alexis Gai, Vice President - Global Sales, Cleeng.
Grow your sports streaming business
If you're looking for robust sports streaming solutions, the Cleeng | Sportradar integration offers technical solutions to give you a smooth-running platform and peace of mind. Get in touch with our team to know more about how we can help you scale efficiently and grow your sports streaming business.