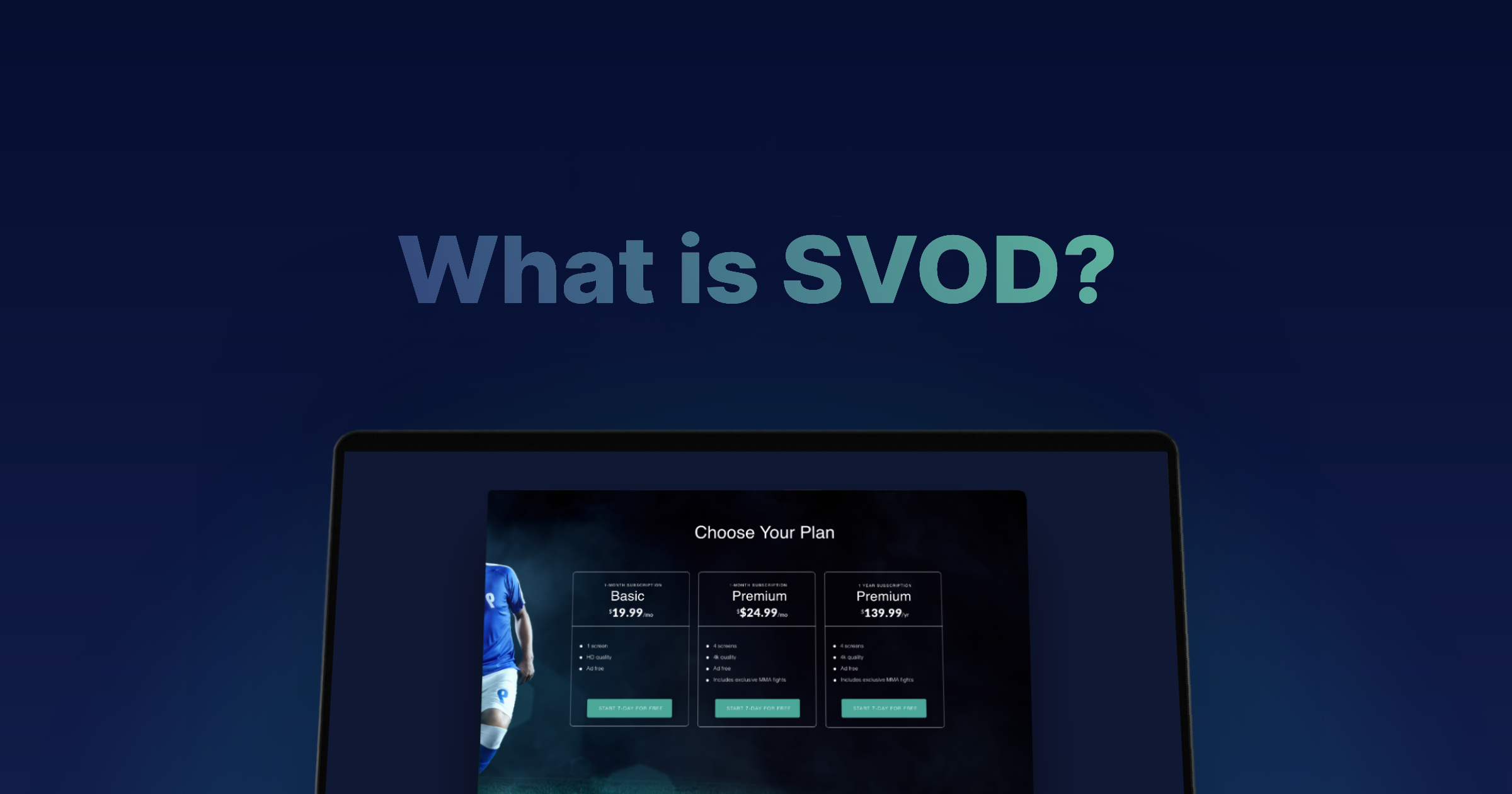 Learn all there is to know about SVOD Services and how they compare with TVOD and AVOD.
With the entertainment world at our fingertips, we're living in exciting times. Over-the-top content is increasingly being streamed on mobiles, tablets and TVs, fuelling the growing demand for Video on Demand (VOD) services. Estimates suggest that the VoD market should touch almost $90 billion by 2024.
The following VOD models are the top content monetization model choices for broadcasters:
Subscription Video On Demand (SVOD)

Advertising Video On Demand (AVOD)




Transactional Video On Demand (TVOD)
This blog takes a closer look at what exactly SVOD services are. It also provides clues on its efficacy as a monetization model and whether broadcasters should consider it.
What is SVOD?
The term SVOD is an acronym for Subscription Video On Demand. It is a popular content monetization model that media broadcasting companies increasingly follow.
SVOD models enable broadcasters to offer their viewers monthly, quarterly or annual content streaming subscription plans. Against the subscription fee payment, the subscribers get the right to limitless content access on the streaming platform during their subscription period. Once that period expires, subscribers can renew their subscription plans.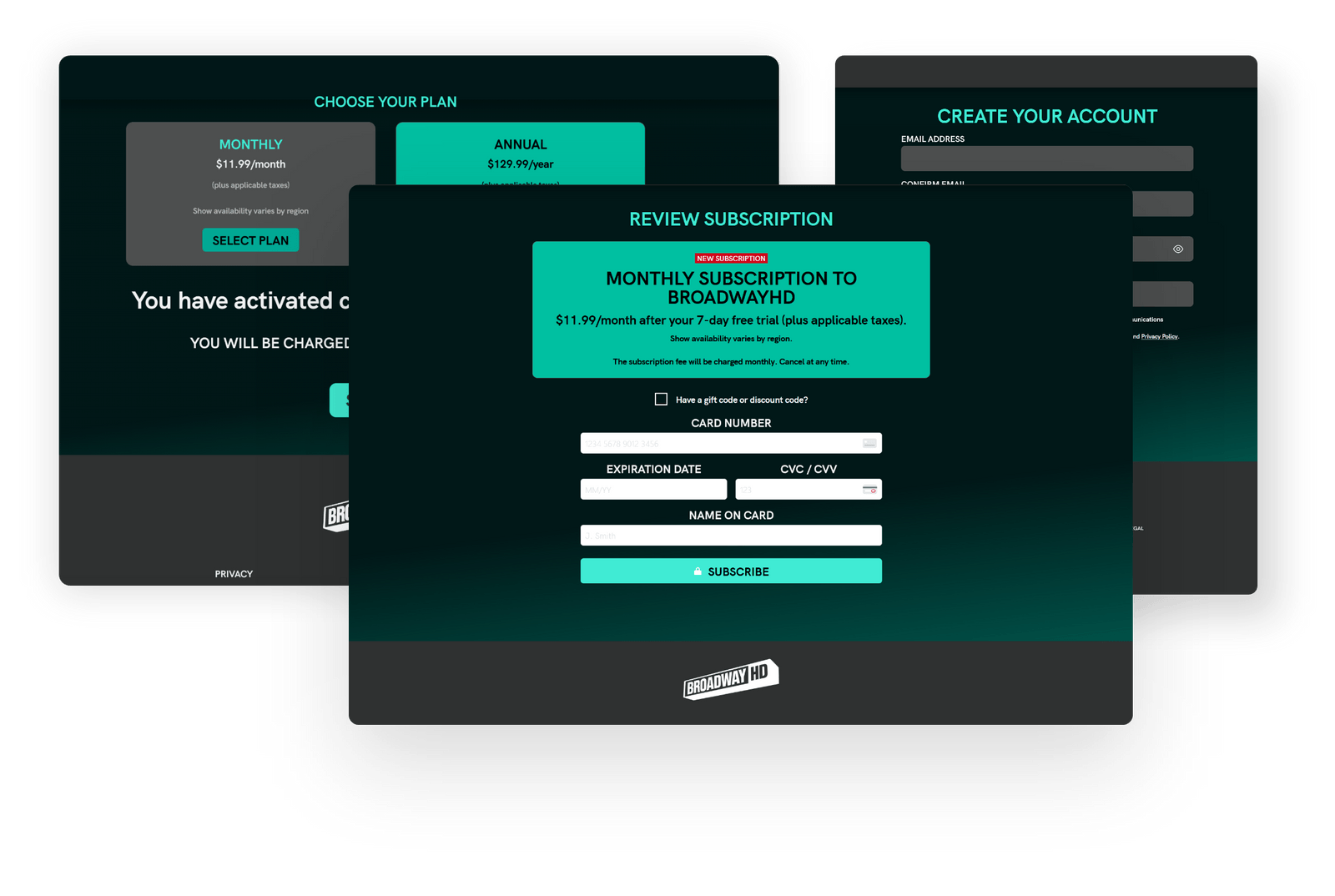 Examples of SVOD services
The streaming world is full of SVOD examples today. Media giants like Netflix, Hulu, Amazon Prime, Disney +, and HBO Max are among the popular SVOD entertainment services available in the market. In addition, several specialized sports SVOD services like NFL+, ESPN+, Tennis Channel Plus and, BKFC are also quite popular.
SVOD isn't limited to only entertainment channels. SVOD channels also include those providing educational content like Australian broadcasting company Kanopy or religious content channels like Upfaith & Family.
How is SVOD different from the other monetization models?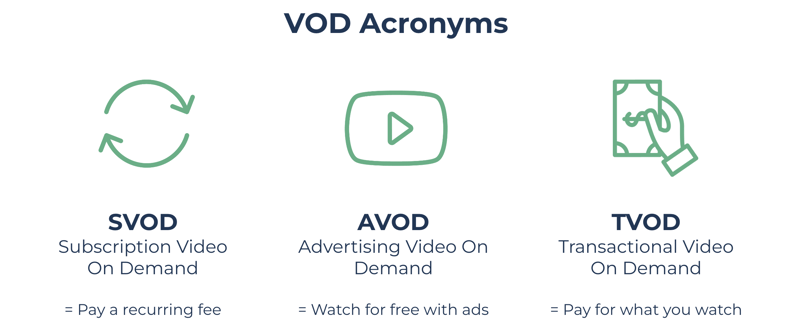 SVOD is only one of the OTT content monetization models. AVOD and TVOD are the two other popularly followed models. However, SVOD is quite different from both AVOD and TVOD.
AVOD monetization allows viewers to consume free content without paying fees. As AVOD content comes without any access cost, the content has no uninterrupted viewing option. Therefore, the AVOD model is dotted with commercial advertisement breaks to provide broadcasters with revenue. As a result, AVOD is more common among television channel apps and platforms for user-created videos.

Examples of AVOD service providers include YouTube, Facebook Watch, Peacock, and IMDb TV.
TVOD monetization models allow viewers to pay-per-view. With it, they get access to a piece of content as a short-term rental or long-term license. The purchasers of a TVOD service usually don't own the content. Instead, they have the right to view it, subject to the service's terms and conditions.

Examples of TVOD service providers include Vudu, Google Play, iTunes and Redbox.
Data suggests that of all the streaming revenue, as much as 40.16% comes from SVOD services. You may wonder why SVOD is so popular. Let's understand that by taking a closer look at their key attributes.
What are the advantages & disadvantages of SVOD services?
The SVOD service model offers several benefits for broadcasters. These include:
A steady revenue stream due to recurring payments: With subscription fees flowing in at preset intervals, earnings become more predictable. This predictability gives broadcasters more control and enhanced ability to make better-informed decisions.

The freedom to decide their offering: Besides complying with the market dynamics of demand-supply, there are no pricing restrictions for SVOD services. This way, the SVOD providers have greater control over their revenues.

A chance to introduce exclusivity around the channel's content: Today's viewers are inundated with streaming choices. Exclusivity is something that appeals to all, and helps a broadcaster stand out. With SVOD, building a sense of exclusivity across a tightly knit community is possible, making it attractive to viewers.
On the flip side, the SVOD model also brings a challenge. That challenge is churn.
When it comes to recurring revenue models, churn is an inevitable reality that impacts the bottom line. Therefore, SVOD providers constantly need to be on their toes to manage churn and increase the subscriber lifecycle. The efforts need to be holistic in terms of delivering excellent content, streaming experiences and service.
Read the ebook: Fight subscriber churn using data
How to price an SVOD service
The explanation for accurate SVOD pricing is a complex subject often without a single correct answer. The right price tag depends on several factors, such as the size of the business, its current popularity and how competitive it is in the market. As a result, SVOD providers often keep experimenting with different ways to stand out in the streaming market.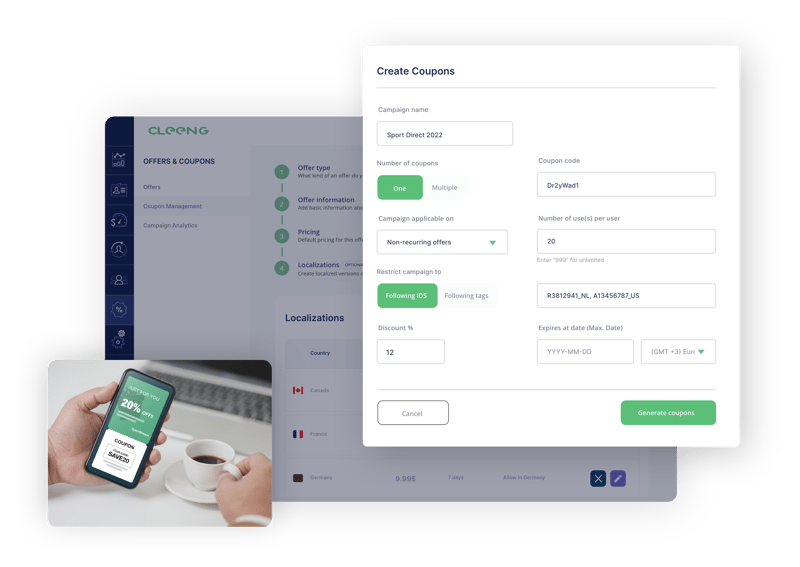 To that end, some popular strategies and experiments concerning pricing include:
Offering

free limited-period trials

Unique rate slabs for first-time subscribers

Tiered pricing models

Offering a Freemium model

Upgrade or downgrade options

Content Bundles
Read More: Pricing strategies for retention-focused subscription businesses
SVOD vs. AVOD vs. TVOD: How to decide if your streaming services should be subscription-based
If you're a broadcaster trying to solve the SVOD vs. AVOD vs. TVOD riddle, here are some considerations you must make before finalizing your model:
The quantum of new content you can provide on an ongoing basis is an important determinant of the right monetizing strategy.
If you use the subscription billing model, you need to roll out new viewing options consistently. This means you'll have to consider how many new episodes you have on the horizon and how many seasons you can provide.
If your content is more often structured as one-off events or films, customers may be less interested in a long-term subscription. Hence, TVOD may make more sense.

Customers who are burnt out with what you already have m
ay not be willing to renew SVOD services. Similar fundamentals apply to AVOD, as advertisements will only pay out depending on the active viewer base, which shouldn't burn out as well.
Another factor you need to consider is your customer's willingness to pay. This often depends on familiarity and popularity. If your audience is already familiar with your content, they will be much more willing to spend a monthly or annual fee to access it. Conversely, if the material is new or your brand is not so well known, an AVOD model may make more sense until you have built up customer loyalty.
Your platform's technical capabilities must also sync with your monetization plans. Suppose you want to run an SVOD service. In that case, you'll need a robust recurring billing system with dunning capabilities to ensure smooth recurring revenue. On the other hand, to run an AVOD service, you'll need to ensure that custom ads are displayed on your streaming platform appropriately. If you're monetizing as per the TVOD model, your ability to collect data will be limited due to a possibility of fewer repeat customers. In that case, you'll need to ensure advanced capabilities to promptly identify the user's location to process payment and provide content in the correct language.
Your broadcasting channel's audience composition is also an important consideration that should impact your monetization choice. Statistically, adults aged 18-34 make up the most significant percentage of subscribers to SVOD. Therefore, subscriptions can be excellent if your platform's viewers include that demography.
Finally, your OTT platform's overarching vision must also influence your monetization choice. If you aspire to create a broad video distribution platform with various exclusive content offerings, you can safely consider SVOD. Others may be suitable if you want to focus on more event-based and timely content.
Why do hybrid models matter?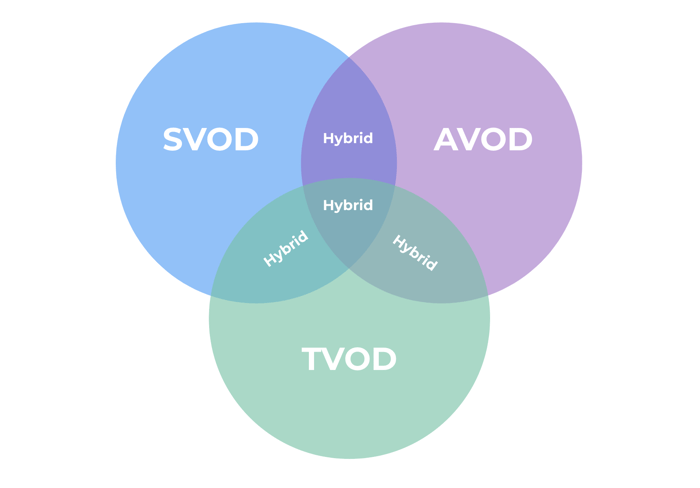 In addition to the specific differences between models discussed above, the state of the video industry can also play an important role.
The modern-day streaming environment is complex. With growing subscription fatigue, recessionary fear and cut-throat competition, it is rare for one model to solve all challenges. In such cases, it's the hybrid monetization models that often triumphs. This implies offering a combination of different monetization methods to suit your content and audience.
For example, consider the case of YouTube. It provides user-created content for free, as per the AVOD model. Yet, viewers can also access premium content that they can rent or purchase per the TVOD model. And to top it off, they also offer a subscription-based entertainment service with live TV (SVOD). Similarly, Netflix also provides a combination of both subscription-based and ad-supported offerings.
If you are struggling to find one model that suits you perfectly, it may be time to consider a combination.
Read More: Maturing OTT market calls for hybrid monetization
Want to monetize your streaming platform effectively?
Successfully navigating the current streaming landscape complexities is a lot about discovering and providing the most effective offer to audiences. Testing out different structures, locations and pricing can help craft offers and enhance subscriber acquisition and lifetime value.
If you're looking for a robust platform to monetize SVOD services and work with some powerful Subscriber Retention Management™ tools, Cleeng is a robust choice.
Test out your own VOD offers with Cleeng: