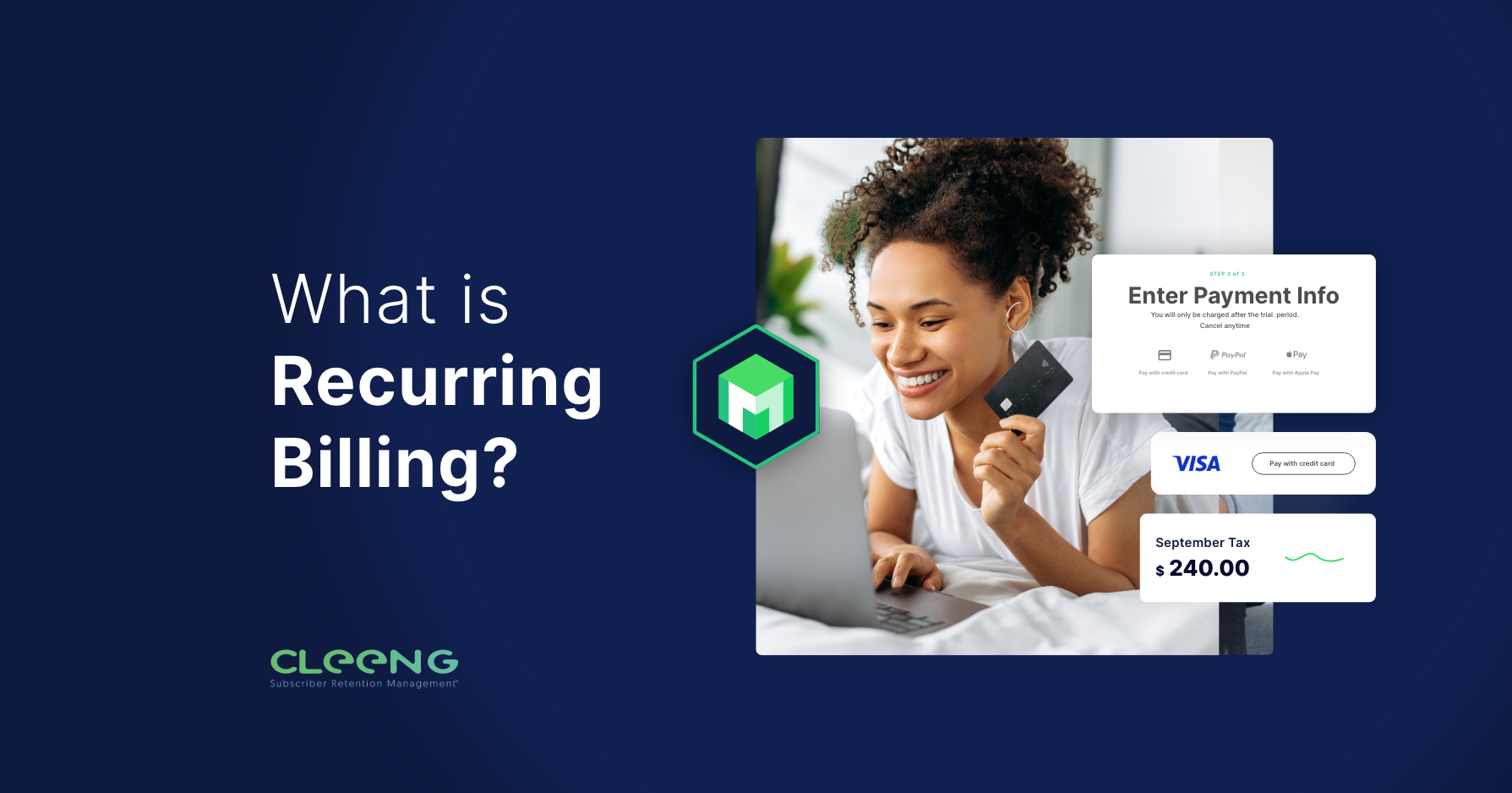 Recurring billing models have been gaining the spotlight for their varied benefits in helping companies achieve revenue goals smoothly.
A pre-covid Salesforce survey of finance executives suggested that 40% of their current revenues came from recurring billing. Even more of the respondents expected to reach the 40% mark within five years.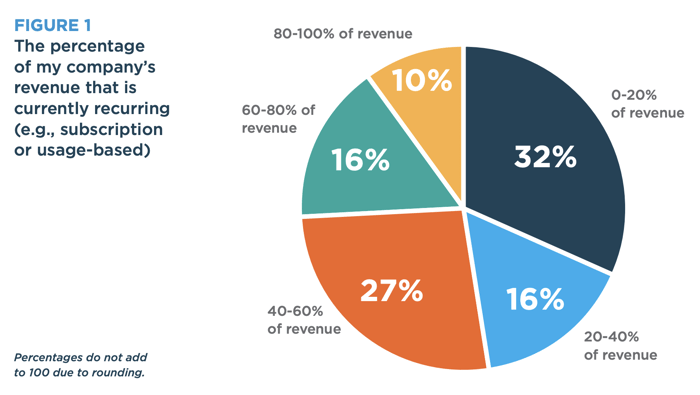 The pandemic further accelerated the penetration of recurring subscription billing.
Recurly research confirms subscription billing growth rates between 31%-42% above pre-COVID levels.
Interestingly, a few moments of looking back make it clear that the recurring charges model has existed for quite a while. Most of us can easily recall paying regular billing charges for essential payments like access to newspapers, and milk, remitting utility bills like electricity and water, or paying school fees. But, fast forward to today, this billing model is redefining the conduct of modern e-commerce.
In this blog, we examine what precisely recurring charges or subscriptions mean. We also provide perspective on why it makes sense to consider introducing recurring payments for your business, along with how to implement it effectively for media and entertainment businesses.
What is recurring billing?
Recurring billing or recurring charges refers to a billing mode where businesses regularly charge their customers a fee for the continuous delivery of a product or service.
In the recurring payment model, customers sign up for regular payments and share their payment information with the merchant, authorizing them to deduct charges at agreed frequencies.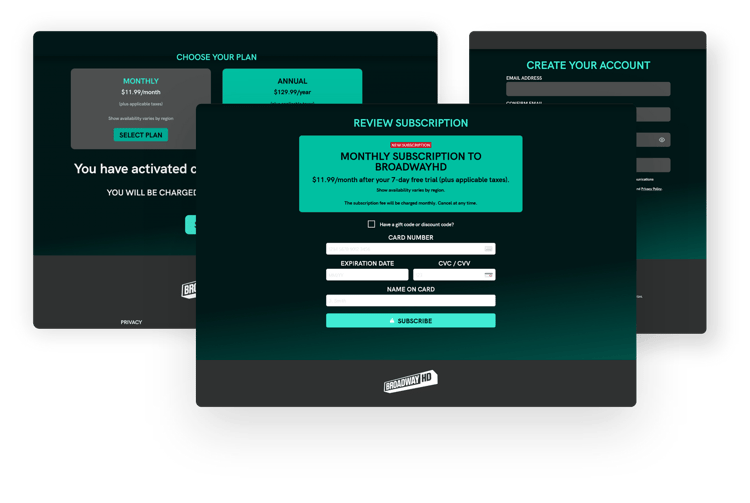 Today, recurring billing is seen as a standard across various industries, right from media and entertainment broadcasting to SaaS, health, or learning.
For example, payments of auto-renewal insurance policy, subscriptions to OTT streaming services, etc.
Is there a fixed frequency of payments in recurring billing?
There's no fixed notion of the recurring payment frequency. It may vary monthly, quarterly, or annually, depending on the nature of the goods or service offered and what the customers choose to sign up for.
Is the recurring billing model fixed or variable in nature?
Recurring charges can be both fixed and variable.
Fixed or regularly recurring billing involves creating and sending invoices on a regularly scheduled cadence—for example, fixed-price subscription packages for accessing OTT services like Netflix, Hulu, etc.
Variable recurring billing involves invoicing that occurs on an irregular or uneven cadence. It could vary based on factors such as usage. For example, measured service costs like the number of emails sent using a SaaS tool.


Do the "recurring payment model" and "recurring subscription billing model" mean the same?
The recurring payment model closely resembles the recurring subscription billing model, and they're often used interchangeably. They're similar in the sense that they both support automated, periodic payments and share the customers' payment information.
However, there is a significant difference between the two. Subscription billing models often have multiple pricing plans, enabling customers to move to a higher or lower plan per their wish. On the other hand, recurring payment models are used for a set price.
Subscription billing is actually the most common type of recurring billing, as it is well suited to include a recurring balance to be paid for the continued delivery of a good or service.
Why is recurring billing becoming so popular?
Introducing recurring payments has many benefits for merchants, making them a popular choice today. The key benefits of recurring billing include the following:
Predictable cash flow: Introducing a recurring billing cycle ensures significant predictability in the revenue flow. Thus, it provides a safety net against unpredictable turbulences in the volatile and competitive marketplace. Moreover, it makes accurate forecasting possible with greater control over the revenue, contributing towards improved capital allocation and improved Return on Investments (ROI).


Tapping into revenue expansion opportunities: With the help of tiered pricing plans, recurring billing models provide the scope to upsell and cross-sell to existing customers with add-ons. This ends up elevating customer lifetime value for merchants.


Greater customer satisfaction: Recurring charge models enable merchants to offer discounts to their different

customer segments

for longer commitments due to decreased customer acquisition costs. This often ends up contributing to greater customer satisfaction and loyalty.


Decreased incidence of late payments: Automated recurring billing also helps merchants to save resources in terms of time and money to track late payments. This provides greater room to focus on growing the core business, instead of being caught up in long-winded administrative tasks.
What are the steps to introduce recurring billing?
To set up recurring pricing models, you need to first start by defining the different pricing plans you want to offer. Next is setting up the payments framework for recurring billing, which usually involves two key steps. These cover:
Payment Authorization
Payment Capture
During Payment Authorization, the merchant sends a payment request to the payment acquirer. For example, this may be a payment gateway like Stripe or PayPal.
The acquirer then requests the payment issuer for payments, which checks the customer's account for the sufficiency of funds to process the transaction. An authorization hold is made if funds are available, reducing the customer's credit for the sale amount. Then an authorization code is sent back to the issuer, which responds to the merchant with a code for approval or error.
Next comes the payment capture. At this stage, the transaction moves out of the pending state, and the merchant receives their money for transactions completed in the previous step.
In some cases, recurring billing is restricted to a single step of only payment capture. However, that's less common.
The most efficient way to do the above is by using a robust recurring billing management platform to streamline your process flow and make it efficient and friction-free.
Implementing recurring billing in the media and broadcasting business
If you want to integrate a recurring subscription billing model for your OTT streaming services, an OTT-specialized SaaS platform like Cleeng is ideal for managing the process seamlessly.
Meet Merchant: Cleeng's payment and checkout optimization tool. Merchant provides authentication, billing, and tax management - helping you to easily manage all payments for your subscriber base. Through Merchant you can also easily test different pricing plans and leverage customer behavior analytics to optimize your checkout setup.
Essentially, for setting up recurring billing, there are two main ways you can create a connector on Cleeng:
You can manage it yourself, where gateway-specific rules apply to notifications about successful/failed payment attempts or subscription status changes.
Alternatively, you can introduce Cleeng-Managed Recurring Billing. This is a recurring billing flow that Cleeng manages when an authorization/ capture/ termination is made.
Cleeng supports that in two ways:
Split, Authorize & Charge Integration: A two-step process covering authorization and capture
Basic Direct Charge Integration: A one-step capture process without authorization
See a visualisation of the payment authorisation payment flow below: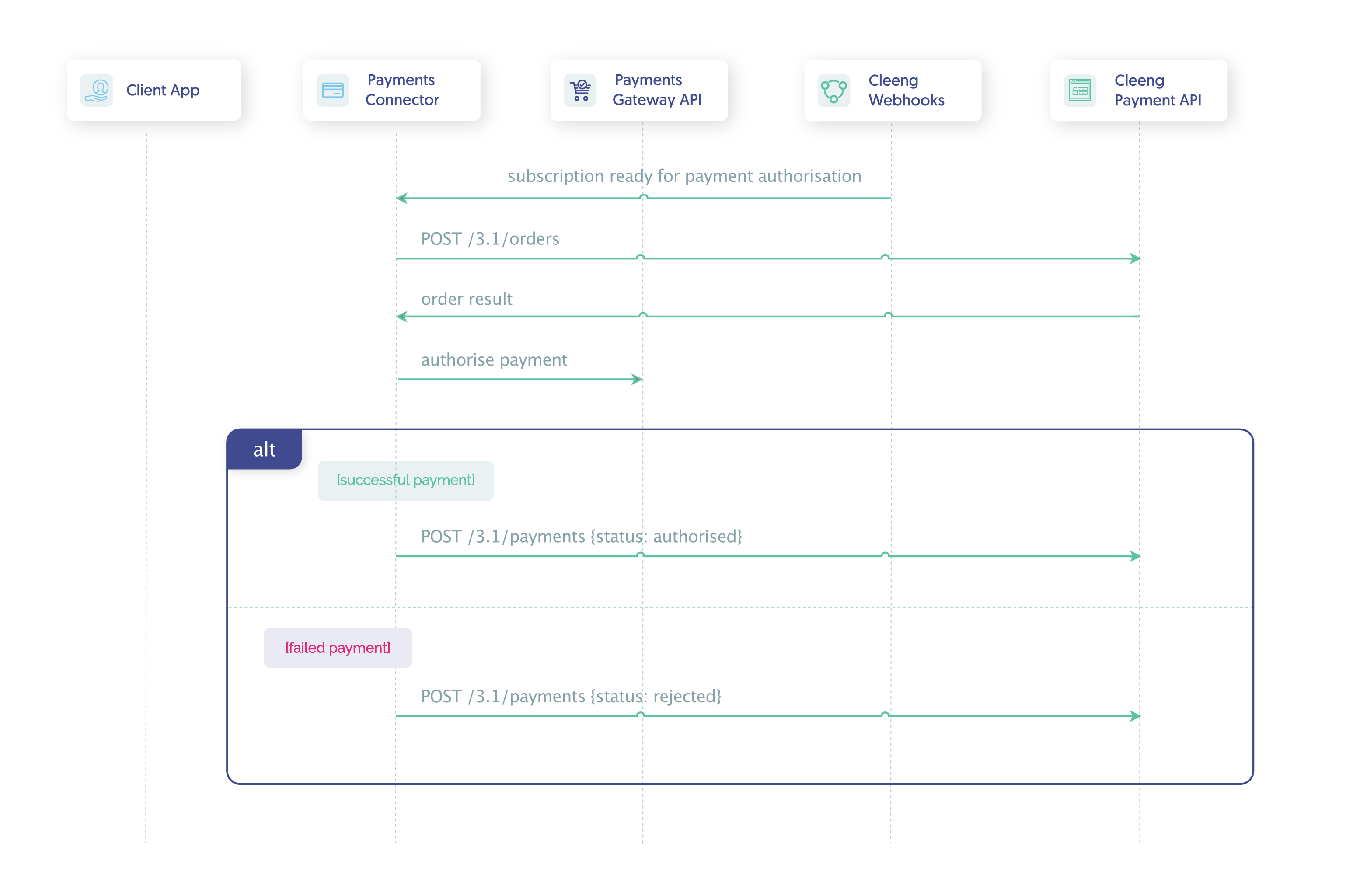 Both these methods require complying with some basic requirements, including configuring webhooks and setting up dunning actions. Post these preliminary steps; the two options have their own respective execution steps.
Read More: Step-by-step Guide for implementing Cleeng managed recurring billing.

Wish to enable a secure, dependable framework for simplified recurring billing?