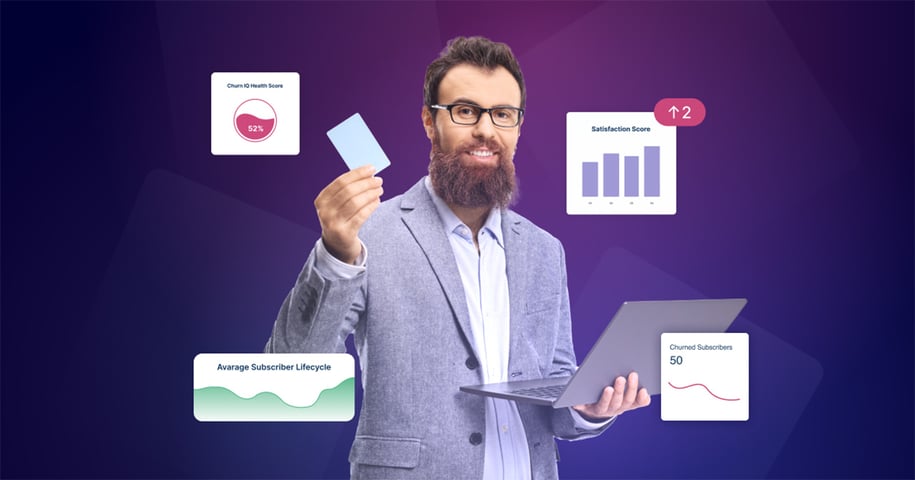 Customers like demand personalized experiences.
In 2024 and beyond, you must focus on offering more value to your customers, or you'll likely lose them to the competition.
Now, creating personalized user experiences isn't something that just happens on its own at the press of a button. It requires strategic thinking, as the experiences you want to create must align with who your subscribers are and what their pain points are.
The simplest way to do this is to create subscriber segments.
This comprehensive article explores four types of OTT segments you should consider to fight churn and grow your revenue.
—
Click to jump to:
You can't erase all churn. But you can mitigate it with the right approach.
How to create smart OTT segments
A few simple segmentation tactics can transform your retention performance exponentially. The key to building high-value customer marketing campaigns in OTT is momentum.
Analytics platforms like ChurnIQ can turn customer data into actionable insights.
Now, you don't need 100 segments to improve your churn rates; the most effective retention strategies are usually built around four customer attributes that count.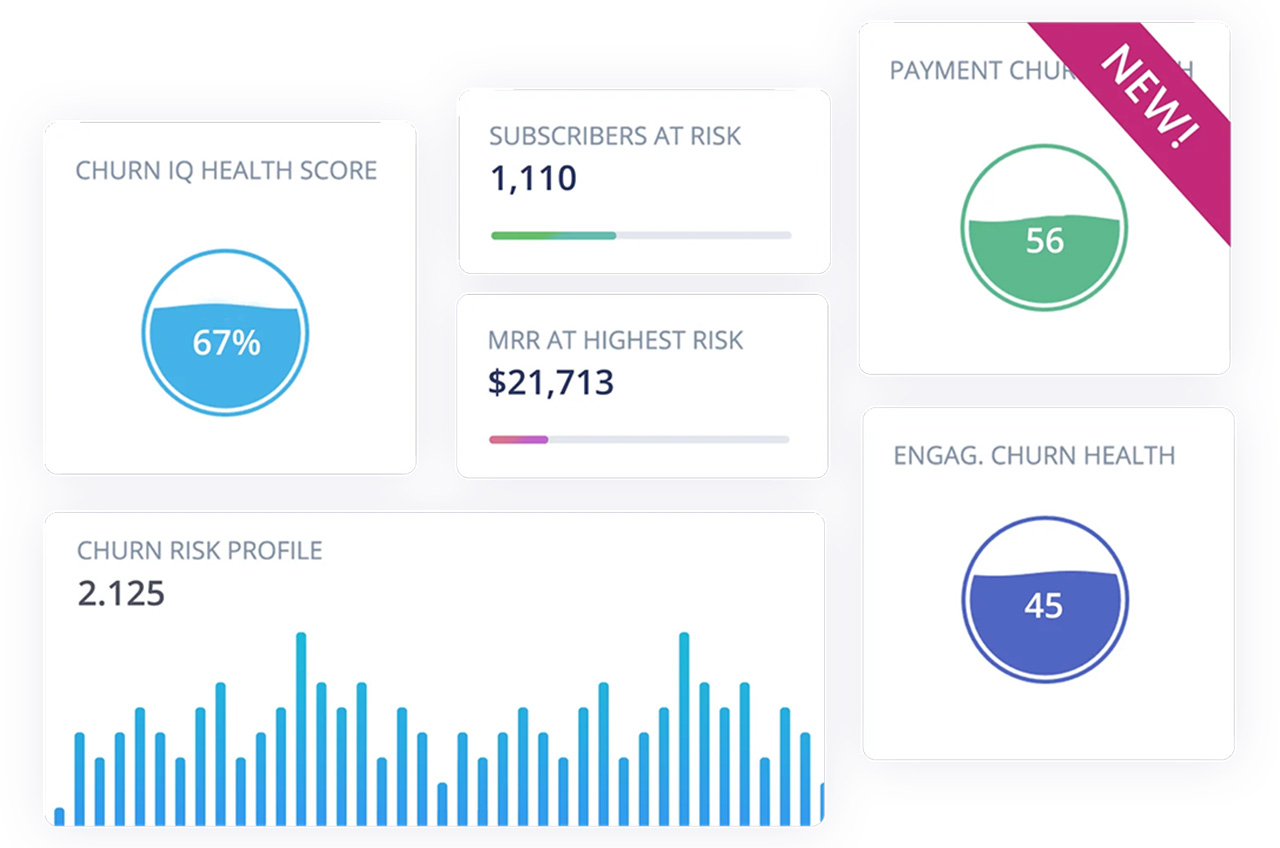 4 segment types to reduce your customer churn rate
Here are 4 types of segments we know are interesting to consider based on what we've learned from analyzing over hundreds of millions of interactions in the past years.
Let's explore.
1. Lifecycle-based subscriber segments
How much do you know about your current subscriber lifecycle?
Perhaps you know how long the average subscriber sticks around, but do you know how many mature subscribers you have right now? How many evaluators? Or how many of your subscribers are at risk of churning?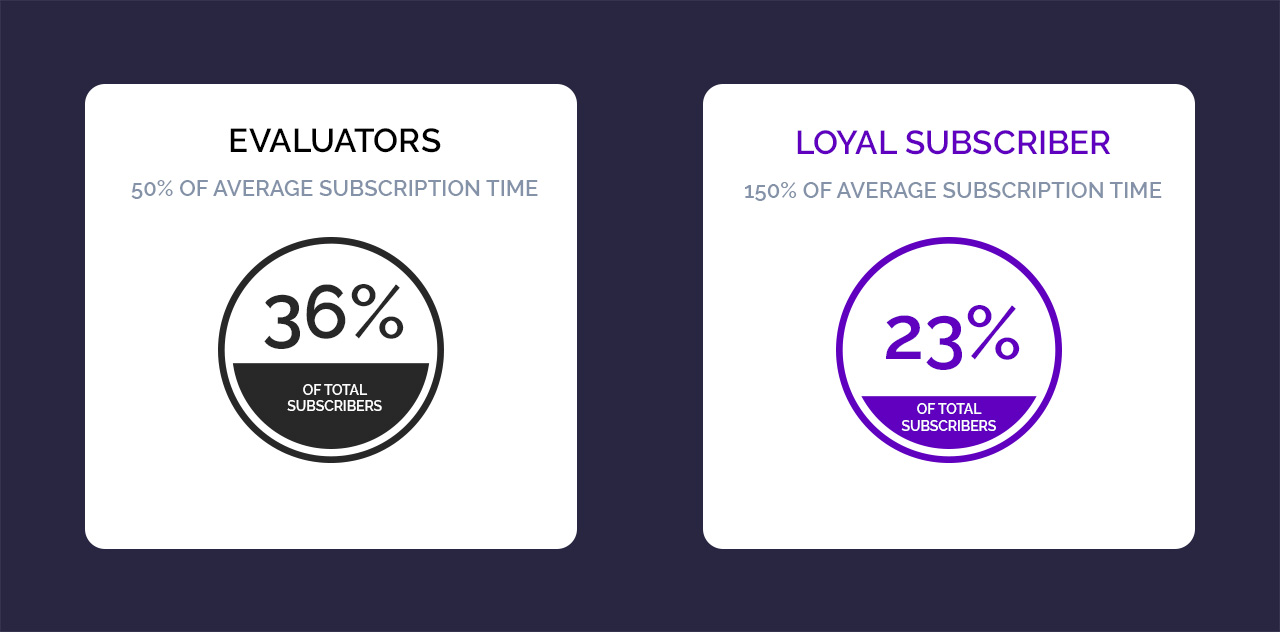 The subscriber lifecycle model is the foundation of your retention strategy - and one of the most critical bases of segmentation you have at your disposal.
An evaluator (less than 50% of your typical subscriber lifecycle) will have a different mindset than a mature and loyal customer (over 150% of your typical subscriber lifecycle).
For instance, an evaluator will likely still wonder if they made a good purchase and will appreciate tips to get more from their subscription. In contrast, loyal subscribers will understand the value they receive from you and might be more receptive to upgrading their subscription plan.
Segment example: Honeymooners
Subscription upgrades are the most powerful way to increase subscriber lifetime value in OTT.
An interesting upgrade strategy could be targeting highly engaged customers on a monthly plan who have already renewed twice or thrice. They've been around a while, know what to expect from your products and services, and will likely be among the most receptive subscribers to longer subscription plans.
It's a 50/50 win.
Switching to an annual subscription plan means cheaper access to the service for subscribers (and more value for money).
Switching from a monthly to an annual plan increases customer lifetime value by 2.3.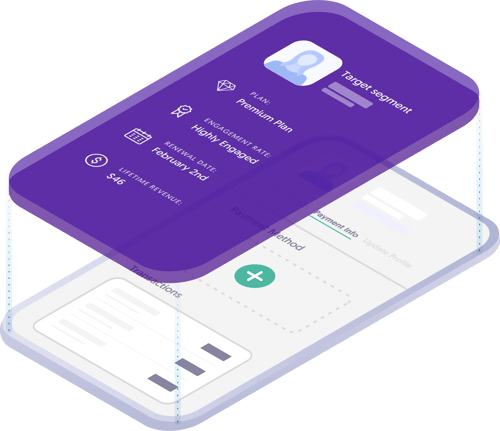 Segment example: free users.
Free users are a large pool of growth potential for your OTT service.
With ChurnIQ, you can create an 'active' free users segment to highlight users with a recent login. The key is to get those users to keep coming back until they reach the point where they'll either have to pay (free trial model) or want to unlock more from your platform (freemium model).

An interesting campaign could be to tease active free users with discount campaigns on annual subscriptions or season passes.
Is there a specific subscriber lifecycle structure to follow?
No.
Your lifecycle structure should be 100% tied to your OTT business and subscribers' behavior.
2. Usage-based subscriber segments
Do you know how often your subscribers are using your streaming platform?
Of course, the higher the customer engagement with your OTT platform, the less likely you are to lose them. On the other hand, your most poorly engaged users are likely churners.
It's all about the value they get from your service.
For instance, on a $10 monthly subscription, a subscriber with 30 days of use pays $0.33 a session to benefit from your services.
A second subscriber who only logged in twice during the same time period ends up paying $5 for each session. Yaiks.
Of course, in a time of economic uncertainty, where subscribers have to make tough decisions, they'll keep the services they benefit from the most.
Now, an advanced churn management solution such as Churn IQ can analyze your customers' behavior and create segments based on how likely they are to churn.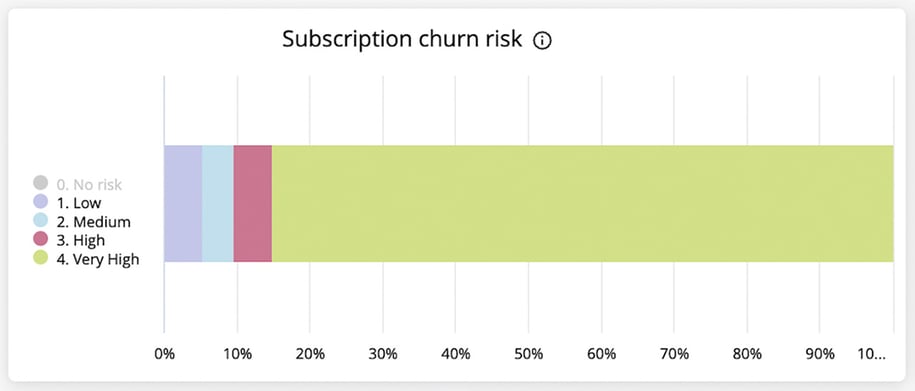 You can then focus on creating relevant and automated campaigns to reach at-risk customers and break the likely churn momentum.
Segment example: Trial expiring in 3 days
Suppose you offer prospective subscribers a chance to experience your OTT platform through a free trial.
In that case, you probably are confronted with significantly high churn rates in the first 30 days, especially if said users … don't use the service.
Intensifying your content discovery efforts at the tail end of the free trial can prove very effective.
An interesting campaign for freemium users could be to use the premium content they enjoyed during their free trial and remind them that they won't be able to access it when their premium trial period ends.
3. Seasonal content-based subscriber segments
Can you tell when subscribers sign up? And can you tie it to specific content releases?
One of the key questions every business needs to know is, 'Why us'? After all, knowing what attracts the most subscribers will help you convince more similar prospective subscribers, especially when your content is seasonal.
There are three steps to running an effective seasonal segmentation strategy:
Step 1. Run a cohort analysis
Use cohort analysis to track when a subscriber signed up.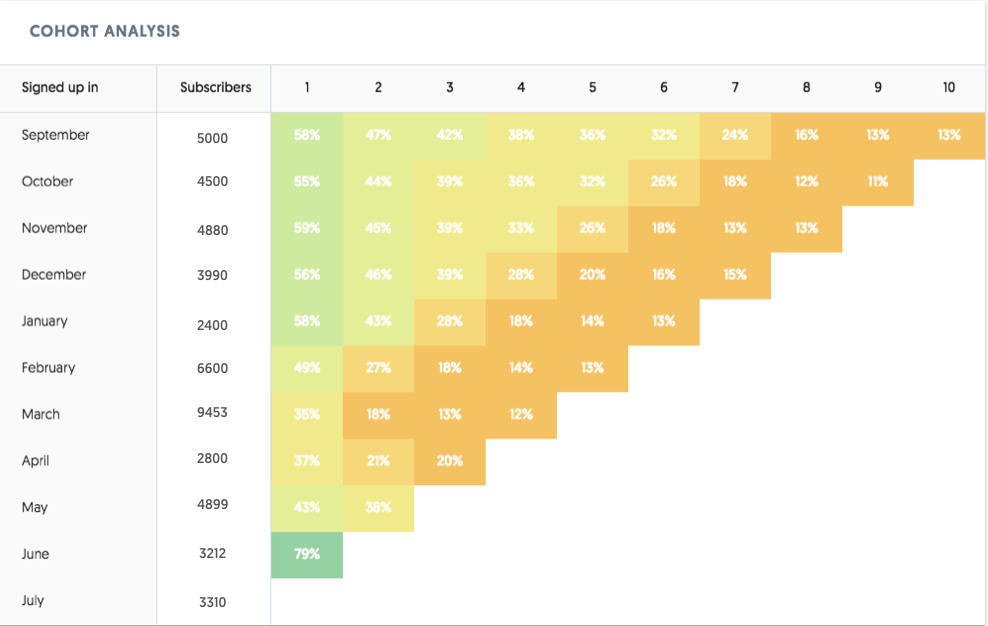 With the ability to segment users according to their start date, a cohort analysis serves as a valuable graphical depiction of the average lifecycle of your customers.
Step 2. Attribute tags to specific events
Tag key time periods with your most logical explanation for what could explain sign-up spikes and drops (new campaign, new series, special events, known seasonal change, etc. In this case, winter programming makes a good example).
Step 3. Create campaigns around those remarkable events
Use these tags to (1) identify at-risk customers for that cohort & (2) tailor retention messaging.
—
Anticipation is key.
Waiting for a series or a sports tournament to end before you start thinking about post-event retention is beyond late. Anticipating a spike in churn risk will allow you to provide your subscribers with targeted reasons to stay with your service long before they've even thought about leaving.
Example: Annual subscribers canceling in the previous 24 hours
One concrete use case for cohort analysis is identifying when annual subscribers cancel their subscriptions.
If your content is seasonal, you may observe that an important chunk of subscribers cancel their subscription at the end of a season (something sports OTT teams face a lot). The problem is that you can't know for sure if those subscribers will subscribe again when the content they came for in the first place returns. What is certain is that you'll have to run costly re-acquisition campaigns to get them back.
So, your best course of action is to convince them to stay.
There are multiple ways to do so:
Offer coupons
It's always about value for money. So, you can always count on coupons to have a strong persuasion power to turn likely to churn subscribers into renewed customers. However, discounts also eat your margins.
Another option is Seasonal subscriptions.
Meet Seasonal subscriptions
Seasonal subscriptions by Cleeng give you the opportunity to offer subscribers the ability to auto-renew their subscriptions at the beginning of a new season (instead of having to manually renew between seasons).
This is the best way to ensure happy customers stick around.
4. Winback subscriber segments
Now, if you can improve your customer retention rates, you can't prevent all churn.
But you can get churned customers back.
In fact, our data suggests that a churned customer is five times more likely to sign up again than any other potential customer out there.
This is why targeted win-back campaigns are a powerful way to support your growth at a low cost.
You're talking to people who already know your service
With the right tools, you can have the advantage of knowing why they left in the first place and tailor your messaging in context.
Segment example: Payment failure (passive churn)
Up to half of your churn could be due to payment failures. This is passive churn, an instance where your subscriber has not even chosen to unsubscribe.
The key to winning back passive churners is to act fast; do not just wait for the subscriber to realize what's happened themselves.
You could, for instance, send an email highlighting that 'something went wrong with the payment' to get subscribers to correct the error and renew their subscription.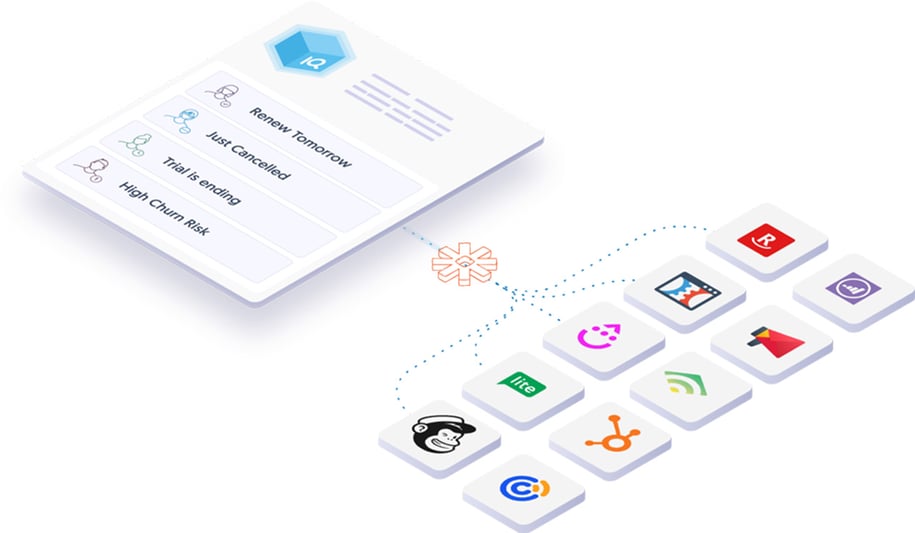 Best even, if their payment method has expired before the deadline for the payment, you could automate a series of emails to let them know that they'll lose access to your services in X days if they don't update it.
Segment example: Seasonal subscribers
If you identify that a particular chunk of subscribers joined during a seasonal spike and canceled their subscription once a specific show or event ended, reach out back when a similar show or event is coming and/or when the event or show they subscribed for in the first place is about to air back on your platform.
—
In any case, understanding why your subscribers churned in the first place is essential to get them back.
Are there specific winback segments to consider?
Yes, there are.
We recommend grouping churned subscribers by the most prominent reasons for churn: cost, content, customer support, performance, and UX, and preparing personalized win-back campaigns for each group.
It's that simple.
You can't erase all churn. But you can mitigate it with the right approach.
Customer retention is vital for your OTT company to grow.
But it doesn't have to be complicated.
You don't need to create hundreds of segments to beat churn - you'd only spread yourself too thin.
The key to efficient subscriber retention is to create high-value segments based on the customer lifecycle and usage of your services.
—
Cleeng can help you achieve and exceed your subscriber retention targets. Contact our experts here to take the conversation further.