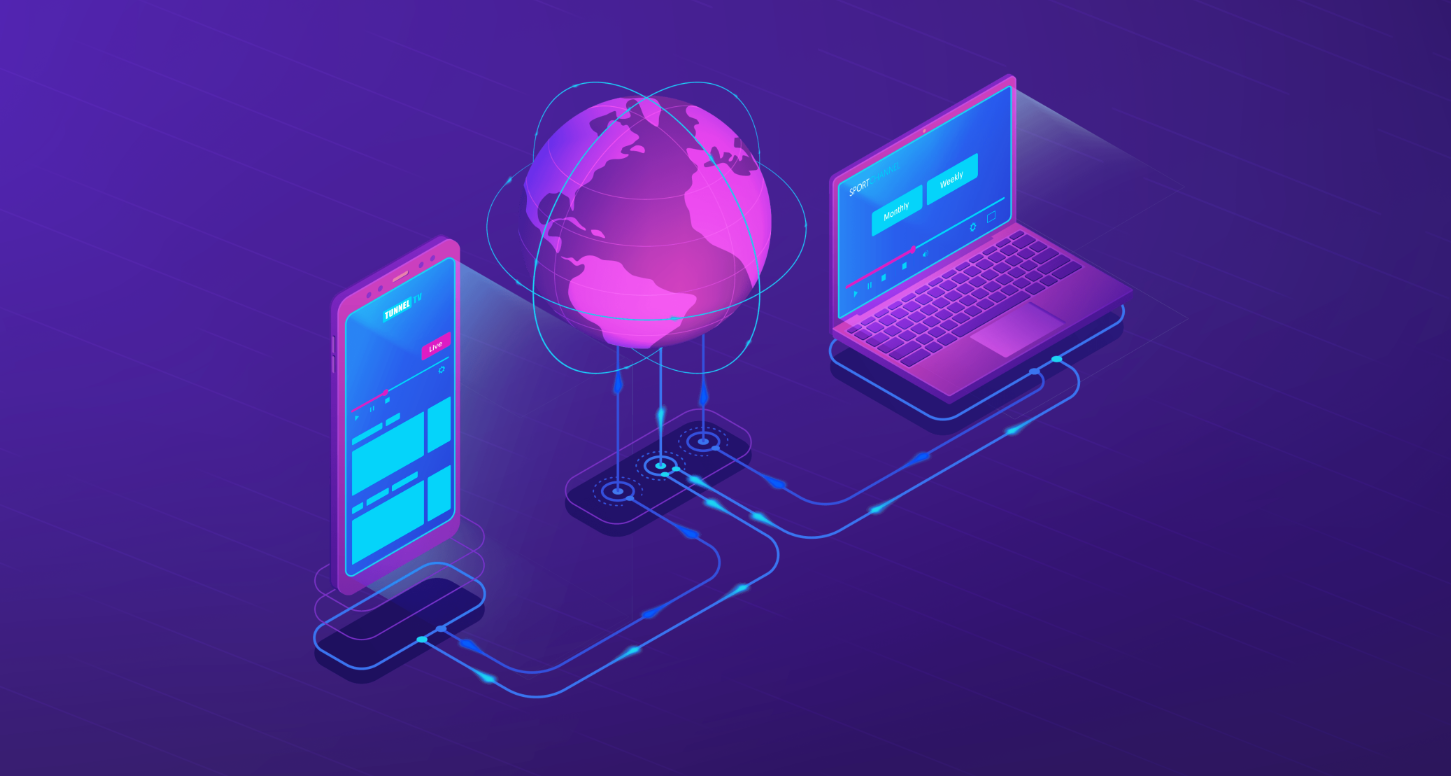 Global forecasts for 2026 indicate that the OTT business and subscription economy are expected to grow from $80 to $135 billion.
As media companies snowball, they're also stretching their playing fields across borders and offering streaming subscription services to global audiences. Data from Ampere Analysis suggests that the proportion of scripted Netflix originals produced outside the U.S. grew by 15% from 2018 - 2021. Further, estimates from Digital TV Research predict that revenue from global subscription video-on-demand (SVOD) should surpass $126 billion by 2026.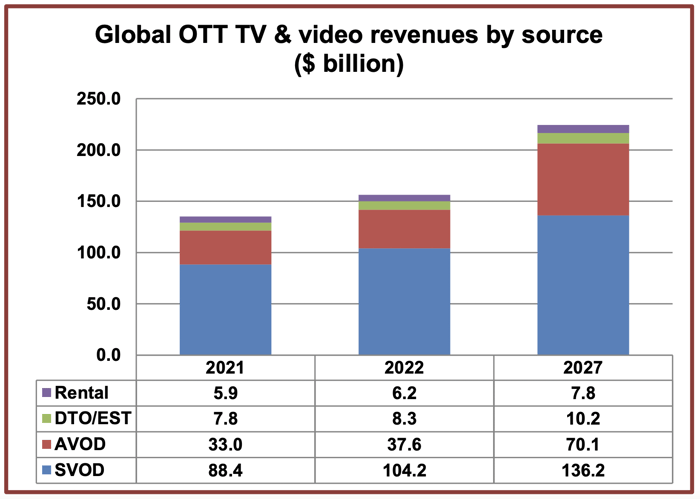 Image: Graph of the growing recurring revenue per OTT TV and video streams between 2021 and 2027 (Source)
Such projections make it clear that subscription offerings for international OTT businesses are set to be a mainstream source of revenue for media companies. This blog examines the critical facets of OTT subscription and billing management to succeed in the modern global markets.
International

media service

offerings are

a multilayered process
When traversing cross-border territories, broadcasting companies must offer OTT users the right mix of local and original content accessible on television and mobile devices. Additionally, intelligent, targeted marketing campaigns to drive traffic and free trials with offer localization are necessary.
At the same time, the subscription billing models in place need to be robust and compatible to monetize that content. Finally, checkout experiences must also be smooth to convert customers seamlessly. Solid customer acquisition is realistically possible only when all these elements are taken care of.
Now, while subscriber acquisition is essential, satisfying and retaining OTT subscribers and lengthening the customer lifecycle is the other part of the puzzle. After all, if there's customer churn, there's an overall loss in average revenues and the cost and effort to acquire new subscribers.
Read More: The real cost of a loss SVOD subscriber
Consumer satisfaction: An essential priority for OTT revenue growth
Subscriber count and resulting revenue form the main foundations upon which OTT platforms either scale up or slide down.
It's safe to say that the relationship between subscribers and over-the-top content providers is a fragile asset needing continual renewal.
However, that renewal isn't just about updating recurring billing agreements. Subscribers' confidence in your product represents more than recurring revenue. It represents a belief system that moves the relationship beyond the subscription business and elevates it into a world of shared values and fair trade. Therefore, well-rounded OTT business models emphasize taking vital steps toward excellent customer satisfaction.
Modern subscribers expect excellent customer service
When customers sign up for recurring billing systems on OTT platforms, they expect ongoing excellence in the quality of service and variety in the premium content choices they can access.
Modern subscribers also expect solution-oriented information and responsive assistance should they face any issues. These issues may concern payments, renewals, or even help to access the content. If they don't receive the assistance to their desired levels, they don't hesitate to cancel subscriptions and switch to other streaming providers available. In that respect, customer-focused service is necessary for ensuring good experiences and mitigating churn risks.
There's a reason why they say ensuring customers have no reason to churn is one of the best methods for any OTT business to retain customers!
Think about it. Reducing your monthly churn by only 2% can improve your financial health significantly, thereby raising monthly recurring revenue (MRR) by 24% in just one year. As the subscriber fatigue continues to rise, it reveals the value of customer retention rather than customer acquisition.
Read More: The Role of Customer Care in OTT
The necessity of r

obust subscription management software
Steve Nason, Research Director at Parks Associates, said: "OTT services are offering free trials and promotional offers to drive initial service uptake, but these tactics are also leading to sky-high churn rates. To secure long-term subscriber fidelity, providers need to offer… personalized user experience."
As rightly pointed out, pricing in the modern needs to evolve from a standardized approach to a more personalized approach. In other words, hybrid monetization plans are necessary to stand out in front of varied target audiences.
Cleeng offers sophisticated cloud-based subscription management solutions that seamlessly tailor the entire subscription billing and management journey. With it, there's a lot you can do, from drizzling appealing coupons with your pricing plans to offering frictionless subscription billing processes that lead to smooth checkout. So let's unpack this journey of subscription management and examine what it entails.
Critical facets of OTT billing and subscription management
The three primary challenges and solutions to operating an international OTT platform are as follows:
1) Payment Methods
Accepting online payments for subscription offerings in different countries can be complicated. There needs to be a mechanism for listing subscription pricing in foreign currencies and a smooth setup to streamline recurring billing as per their localized tax laws.
Cleeng Merchant comes integrated with ready-made payment integrations to support simplified recurring billing. With 186 payment options supported, the Merchant API lets customers pay how they want, using methods they know and trust.
Merchant is engineered to support 1-click registration and payments, enabling OTT providers to process millions of secure transactions with a seamless customer experience every time. Moreover, with Cleeng as the Merchant of Record (MoR), broadcasters also enjoy respite to eliminate compliance hassles, fees, and penalties.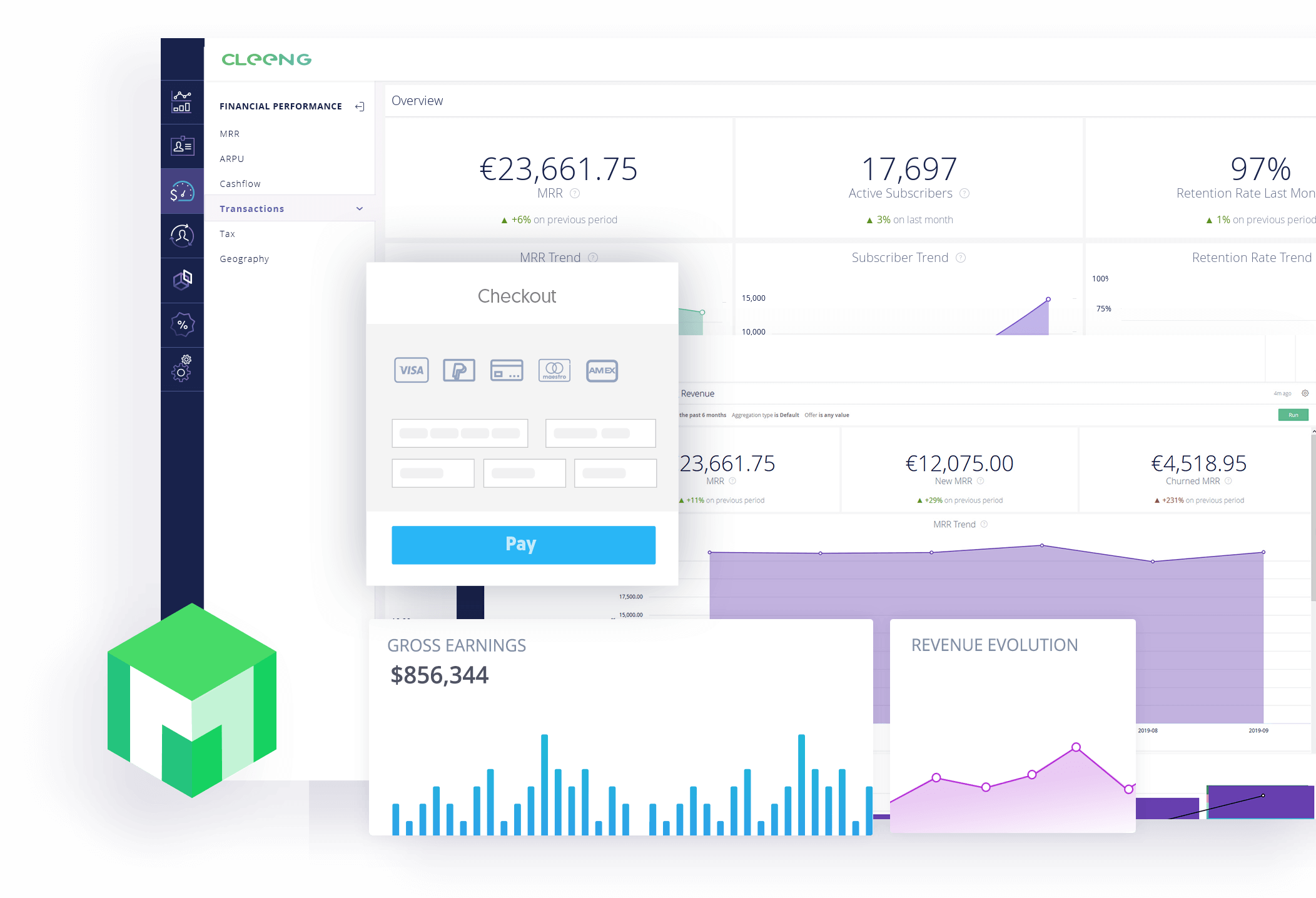 There's also the advantage of payment gateway integrations with leading payment processors, such as Adyen or PayPal.
What if you have a specific payment processing method of your choice?
You can integrate that too with Merchant via a payments connector and unlock every level of benefits from Cleeng's Subscriber Retention Management! It constantly monitors beneficial outcomes for both subscribers and providers.
Here are some reasons why an Integrated Payment Gateway is supremely beneficial for every OTT business:
Increased sales: Having an integrated PSP helps to lessen the frequency and severity of credit card fraud.
Customer trust: Through PSP, subscription user data is locked and securely barricaded, resulting in greater customer safety and trust throughout the subscription lifecycle.
Familiarity: A familiar payment gateway makes customers comfortable entering their payment details.
Easy access: Using a payment gateway allows the users to pay without the trouble of too many pop-up new pages, elevating their experience.


2) International Taxes and Fees
Navigating taxation challenges in international OTT subscription services encompasses four critical elements:
Definitions of taxable services: These can be difficult to determine since it varies country by country, territory by territory, and sovereign state by sovereign state.
The location of the consumer in a mobile-based digital age: Elimination of third-party cookies adds an extra layer of complexity for subscription businesses.
Tax policy is a work in progress: New interpretations, codes, and court rulings end up perplexing and overwhelming even the most experienced tax consultants.
Cleeng Merchant adapts automatically to the customer's local tax codes, ensuring the correct application of taxes at the point of purchase with a unified subscription billing system.
The dedicated payments team handles the financial and legal complexity of payment processes. With full General Data Protection Regulation (GDPR) compliance and tax compliance software integration, it allows merchants to focus on building their channel's brand instead of worrying about fees and penalties. Through the strategic partnership with Avalara, Cleeng Merchant also includes an optimized checkout, the consolidation of multiple reports and finances, the handling of chargebacks with banks, optimization of credit card settings for optimal acceptance rates.
Read More: How OUTtv utilizes easy reporting & tax management with Cleeng
3) Overcoming Language Barriers
When subscription offerings are made across borders, the content needs to speak to users in a language that resonates with them. This isn't just restricted to the media services and content available for streaming on the OTT platform but also the landing pages that impact conversion rates and navigate to ensure online payments.
Merchant's deep integration allows instant access to over 170 countries with 18 languages supported.
Add-ons, upgrades and next-level subscription billing solutions
To complement Merchant, Cleeng has developed a uniquely specialized OTT video support team called Hi5, which is capable of supporting viewers in 29 different languages. The technology uses both AI and a human translation pool of people to enable high-quality and localized translations.
Cleeng Hi5 provides access to embeddable self-care assets, real-time customer analytics, impressive service level agreements, and email and chat support channels in multiple languages to control a service.
Hi5 also includes the following components to strengthen customer care for subscription businesses:
Globally staffed OTT specialists: The support team specializes in authentication and

e-commerce.

This ensures end customers have one point of contact for all inquiries, both

billing

and non-billing related.

24/7 support: The Hi-5 team supports viewers in 29 languages.
Pre-built FAQ help center: With more than 180 FAQs, Cleeng provides videos and tutorials to ensure your customers can find the answers they are looking for.
Integrated support work flow: It includes embeddable contact forms, industry SLAs, customizable online payments refund policies, and detailed financial and usage reports.
Real-time customer analytics - The SRM™ dashboard displays holistic customer analytics for every stage of the subscription lifecycle. This includes transaction history, contact reasons, and refund requests to support and simplify your subscription management.
Efficient refund and chargeback management - The Hi-5 team efficiently manages refund requests congruent with an OTT provider's refund policy. It also works directly with payment providers like Adyen to minimize chargebacks. A chargeback is when a payment is reversed after a customer disputes a charge on their account statement. Adyen automatically defends chargebacks if the case appears defensible.
For example, if you've already refunded a transaction before the cardholder filed for the chargeback, Adyen's auto-defense feature will defend it with no action needed on your part.
AI-Based Customer Service for Subscribers
Hi5 can be upgraded with Miles, a customer care chatbot with conversational capabilities.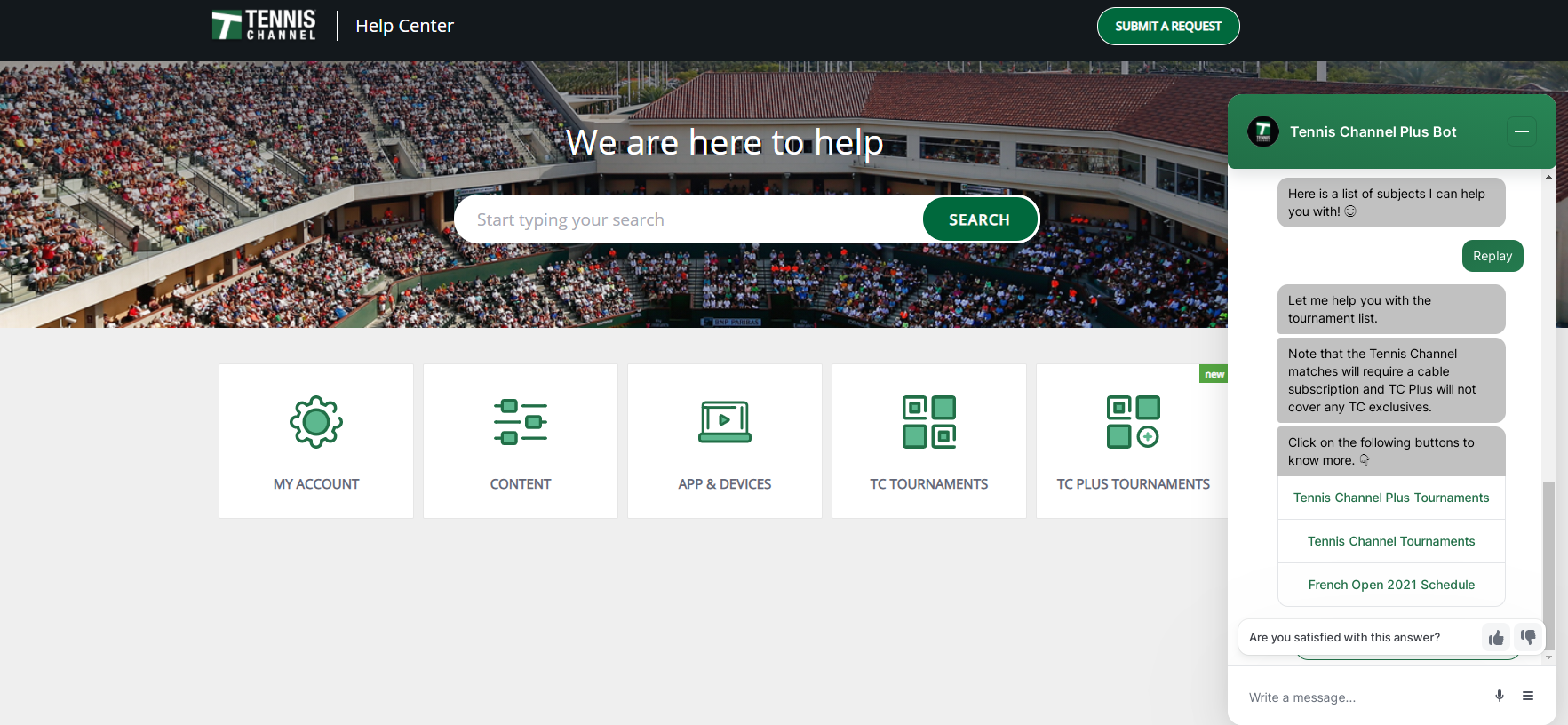 Image: An example of the Cleeng chatbot, shown on the Tennis Channel help center.
The artificial intelligence-powered chatbot can efficiently resolve approximately 70% of customer inquiries. This clears up the communication channels for subscribers who need personalized assistance directly from the Hi5 team.
A high bar for quality standards and service allows for more appreciation, engagement, and opportunities to cross-sell or upsell.
Think of Miles as a good friend who listens to your subscription management problems and helps resolve them courteously and professionally.
The Bottom Line
The international expansion of OTT broadcasting services is a lucrative opportunity. As the industry grows, the average revenue potential for a subscription business does too. However, it has its own intricacies that must be dealt with to optimize subscriber acquisition and retention. The suite of specialized tools at Cleeng enables managing the international OTT subscription business seamlessly and setting the stage for robust growth.
Embrace the opportunity for international OTT expansion with Cleeng's Support: