1,2,3 … 10 year anniversary!
This month, we are very excited to be celebrating 10 years of Cleeng. Yes, you heard correctly, 10 years! In internet terms, a lifetime!
This great journey began in 2011, when the founding team: Gilles, Donald, Benedicte and Mateusz (along with Nicolas back then) brought Cleeng to life in our basement and then made our official launch at The Next Web.
TheNextWeb - Cleeng winning the jury prize for Best B2B Startup!
Where it all started
This journey began for us after 15 years working in large, corporate entities - PackardBell, then Apple, and then Philips. After years of seeing the development of amazing startups, meeting with Sergey Brin (Google), Jerry Yang (Yahoo!), Jeremy Allaire (Macromedia, Brightcove) and of course Steve Jobs, it was time for us to take a shot at building our own company.
The idea was simple: combine the strengths of iTunes (ease of use, 1-click payment, digital library) with B2B software (open, flexible, cloud-based).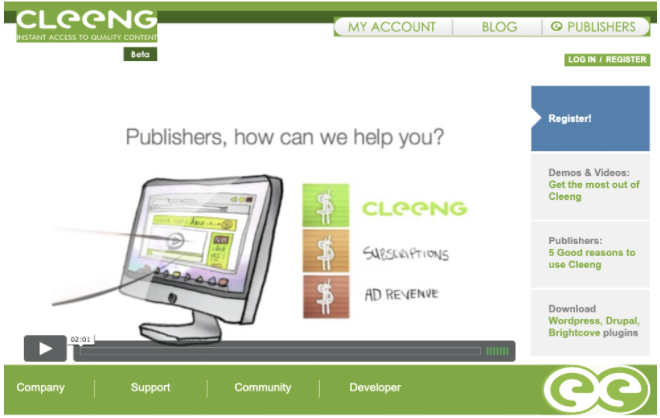 Cleeng's very first home page.
A 10 year evolution
Cleeng has experienced several key shifts over its first decade, proactively evolving with changes in the media and entertainment industry.
We started out first with a general focus on content monetisation, covering press paywall, pdf document protection and videos. We learned a lot about business models, and realised that for our small team of 6, it was simply too much to absorb.
We narrowed our interest to video content in 2013, following two successful client cases, Metamoris and Organo Gold, as well as signing Dailymotion to power their monetisation in 26 markets. In 2014, we refocused once more to specialise in live pay-per-view, signed the Cirque du Soleil, and supported the FIFA WorldCup throughout the Caribbean region. Cleeng pay-per-view was, and has continued to be a great turnkey SaaS solution that grew fast worldwide, with up to 10,000 events a year. Conversely, the transactional model was not the most sustainable, with no constant MRR development and very high risks due to large, sudden traffic spikes.
During the 2010's, the subscription model was clearly winning as proven by Netflix and Spotify. Fortunately for us, Cleeng was uniquely positioned to address such a market. Specifically, video subscription services (typically OTT services) have a great challenge when it comes to reducing churn and boosting subscriber retention due to the problem of siloed data. Our years of experience managing PPV at scale allowed us to build "analytics bridges" to optimise such a service.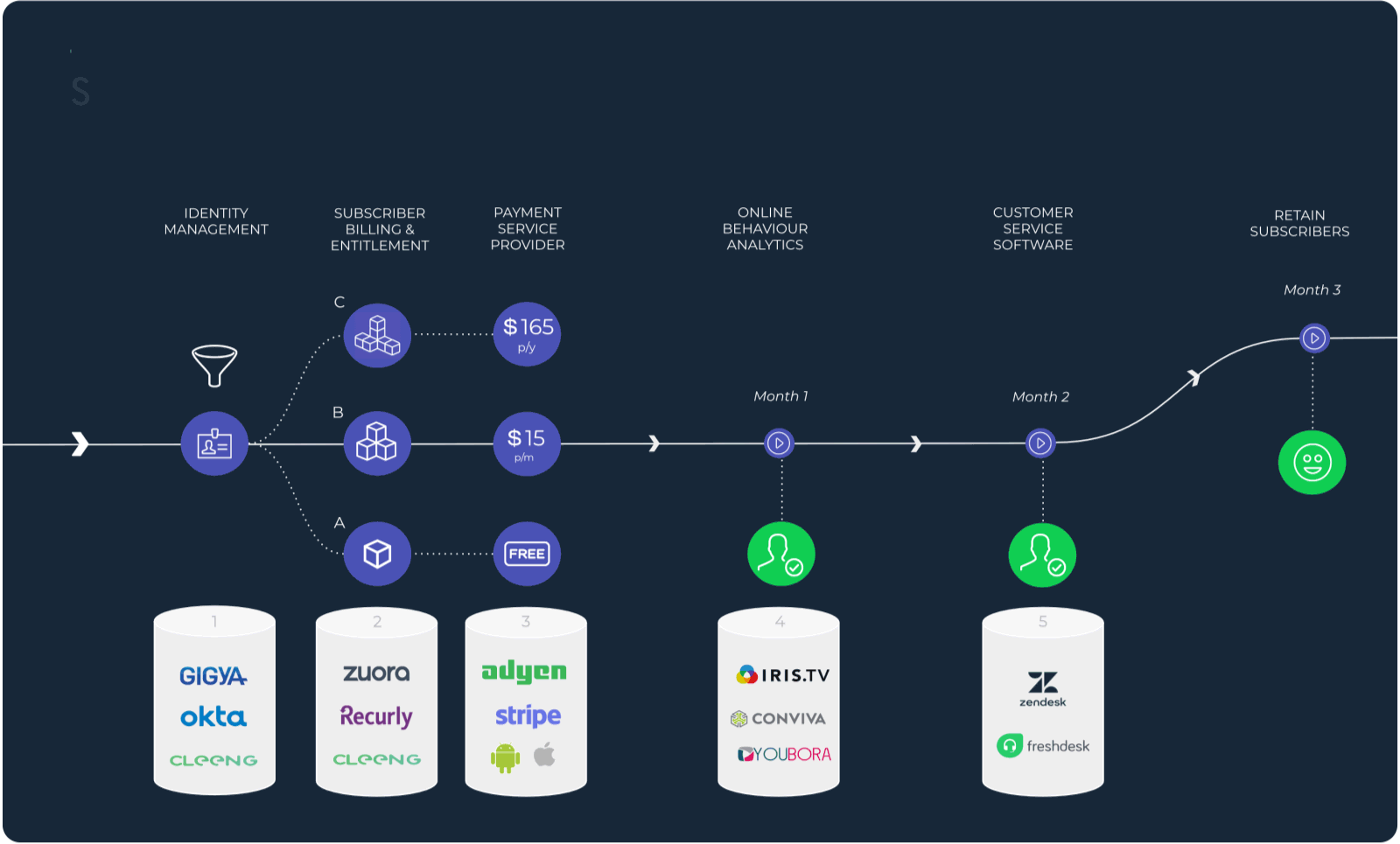 Next, we made our most critical pivot in 2018 by re-inventing Cleeng into an OTT subscription model and coining the term Subscriber Retention Management™ (SRM). With SRM, broadcasters around the world can better compete with Netflix, Apple, Amazon or Disney, by receiving highly granular analytics and automating their segmented retention campaigns. Cleeng offers all the necessary solutions to operate your OTT Service at scale, from subscription management APIs, to fully-fledged, turnkey data lakes, along with end-user support and billing.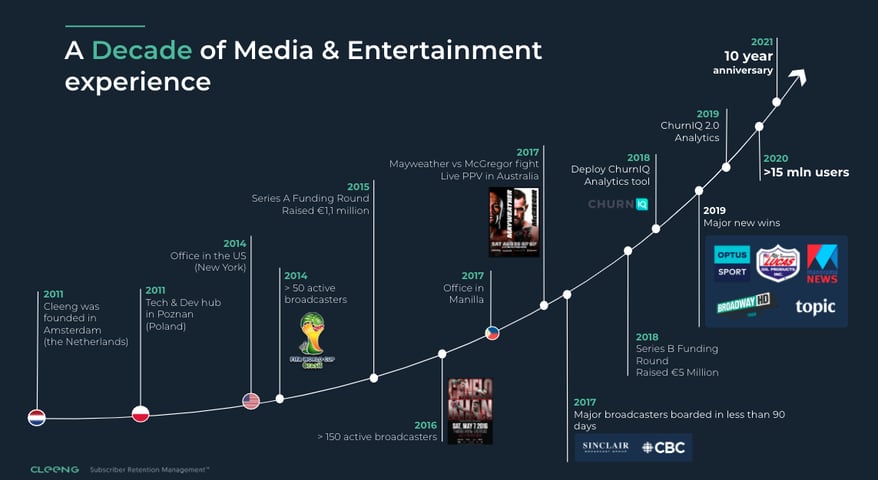 For the past 3 years, we have been fully focused on SRM, and now in 2021, we are so excited to continue paving the future of subscriber retention, and thrilled to be working with streaming innovators such as Verizon Digital Media, JW Player, Accedo, 24i and Brightcove, for clients all around the world including Tennis Channel, Optus Sport, McFit, CBC and KCP among others.
Key lessons from our first decade
There are some crucial learnings that can be taken from the last 10 years.
For one, we have discovered the true value of resilience. Throughout our journey, we faced obstacles but we relied on our solid technology backbone and teamwork and this has continuously paid off.
Secondly, our timeline alone reveals how important adaptability has been for Cleeng to grow and thrive. We all make mistakes, all that matters is how you learn from those, and adapt for the better.
Today, we know what we are best at and all our focus is on being the go-to subscriber retention partner of the leading media and entertainment brands, worldwide.
To all to-be entrepreneurs, do find a recurring business model. It took me much longer than needed to fully appreciate the benefits of MRR (Monthly Recurring Revenue).
And finally, simplicity. If you do create a simple yet focused solution, and manage to adapt without creating clutter, you will succeed with your online business.
Obviously, nothing would be possible without the right people. I have been very lucky to find partners like Benedicte, Donald and Mat, and build such incredible relationships throughout the years. We met many great people along the way (and some as*** too!), and it is so important to choose carefully who you work with if you want to succeed!
With that said, we would like to say a huge thank you to all our partners, investors, and employees that have supported us over the past decade. We can't wait to see what Cleeng will become in the next, and look forward to sharing it with you all.