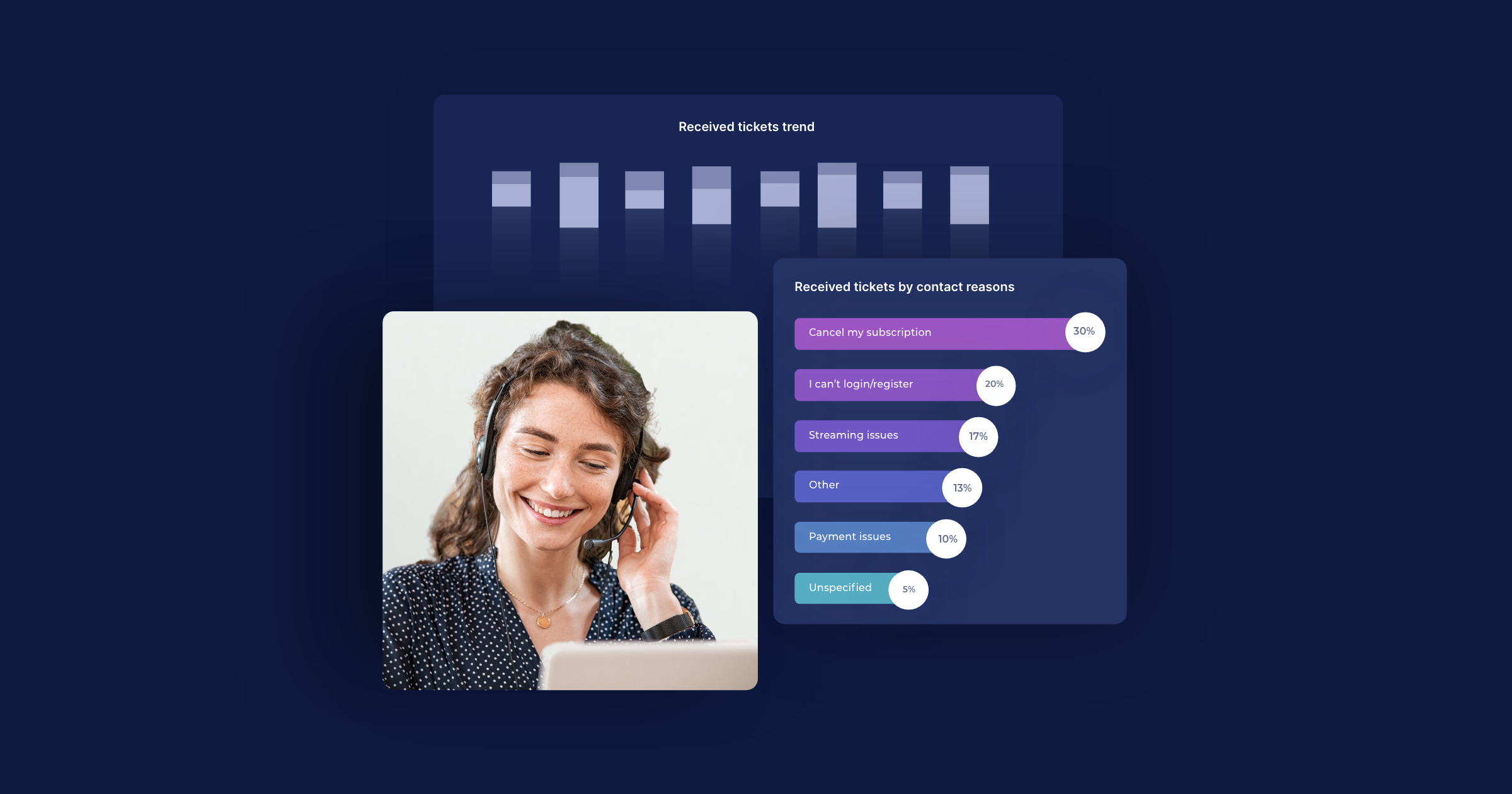 Maximizing subscriber acquisition and retention are the twin objectives for SVOD providers that are looking to grow. In that respect, delivering excellent customer support is crucial to attaining these objectives.
Studies suggest that 90% of Americans make purchase decisions, at least partially, based on their perception of customer service. Furthermore, research from Bain & Company echoes that customers are four times more likely to buy from a competitor if a problem is service-related than price or product related.
It's not hard to understand why. Support helps customers resolve issues and reduce any friction concerning conversion or retention. Moreover, support insights also provide clues on meaningful product improvement initiatives to stay competitive in the crowding OTT landscape.
This blog examines what good support means and highlights ways to use customer support analytics to make your customer care an avenue of growth.
What is good customer support in OTT streaming?
Providing excellent customer support is paramount in today's competitive and maturing OTT landscape. A study by Hiver has found that 30% of consumers will not give brands more than one chance after a bad customer service experience. In addition, as many as 57% of customers can switch to a competitor after a bad experience. Therefore, understanding what good customer service means is essential to help your business thrive.
In that respect, here are some key attributes that describe excellent support in the OTT domain:
Help is available round the clock: In the internet era, OTT viewers from across the globe access a streaming platform's content. This makes it essential to deliver 24x7 customer support, as geographical locations have varying time zones. Moreover, providing multi-language service is also necessary to service the different demographics smoothly.
Multiple touchpoints extend support: It's vital to support customer queries from multiple channels. Different subscribers often have preferences regarding how they want to interact and what touchpoint works for them. In that regard, delivering flexibility and convenience with an omnichannel support presence is a vital sign of good support. For example, offer support via email, chat and a comprehensive help center.
The support team is efficient: In today's world, the customer is truly the king or queen. Their natural expectation, whenever they seek support, is a fast, personalized service that provides their answers promptly. Thus, good customer support today means quick resolution to queries. For that, the support team needs to be efficient to resolve customer queries in a speedy and effective manner. Statistically, 62% of customers believe support agent knowledge or resourcefulness is critical to a good support experience.
In short, excellent support translates into easily accessible and responsive support, which broadcasters must seek to provide. Further, learning from your customer support experiences to make product improvement decisions can help build a solid edge to future-proof your business.
How to use OTT customer support data for growth
Smart broadcasters make it a point to deliver excellent support and pick intelligent insights from it. Each customer support experience is an opportunity for you to learn about your customer and your own service. If you're looking to improve results with data from your customer support, here are some useful metrics to track:
1. Tickets received: This includes the number of support tickets received in a selected date range. This metric accurately indicates the number of people that need and are reaching out for support.


2. Received tickets trend: This includes the number of tickets received daily in your selected date range. A higher-than-average number on a given date can indicate something demands immediate attention.

3. Top tickets by contact reason: Once you understand trends, it's essential to go deeper. Studying the top tickets by reason gives good context on the top issues the customers are experiencing. Any spikes here help identify areas that require more attention than the others.

4. Open tickets: This includes the number of tickets received in the selected date range that are currently assigned to a support agent. These include queries that aren't closed. A higher-than-average number should raise concerns about the team's efficiency or a problem that needs more attention to be solved.
5. One-touch tickets percentage: This includes the percentage of tickets solved after one agent replied. This is an excellent indication of how efficiently your support reps are performing. It also provides a direction to improve your service by emulating practices that are working well.
Tracking these metrics can bring a granular understanding of your customer inquiries. It also allows you to proactively address viewer concerns, adjust your business strategy, and improve the overall user experience.
Grow your streaming business with AI-enhanced customer care
Cleeng's support suite, Hi5, provides an expert support team at your disposal that you can deploy with ease. In addition, it ensures that the processes are scalable with no need for lengthy infrastructure for building or implementation planning.
You can also track the efficacy of your streaming business's customer support using a Customer Support Analytics dashboard. This dashboard is made available via Cleeng's churn analytics platform, ChurnIQ.
The Customer Support Analytics dashboard ingests critical support data and provides sharp insights so that you can:
Better understand your customers

Find out how to improve your support service

Ensure that your customer touch points are contributing to your overall growth
Want to see the platform in action?