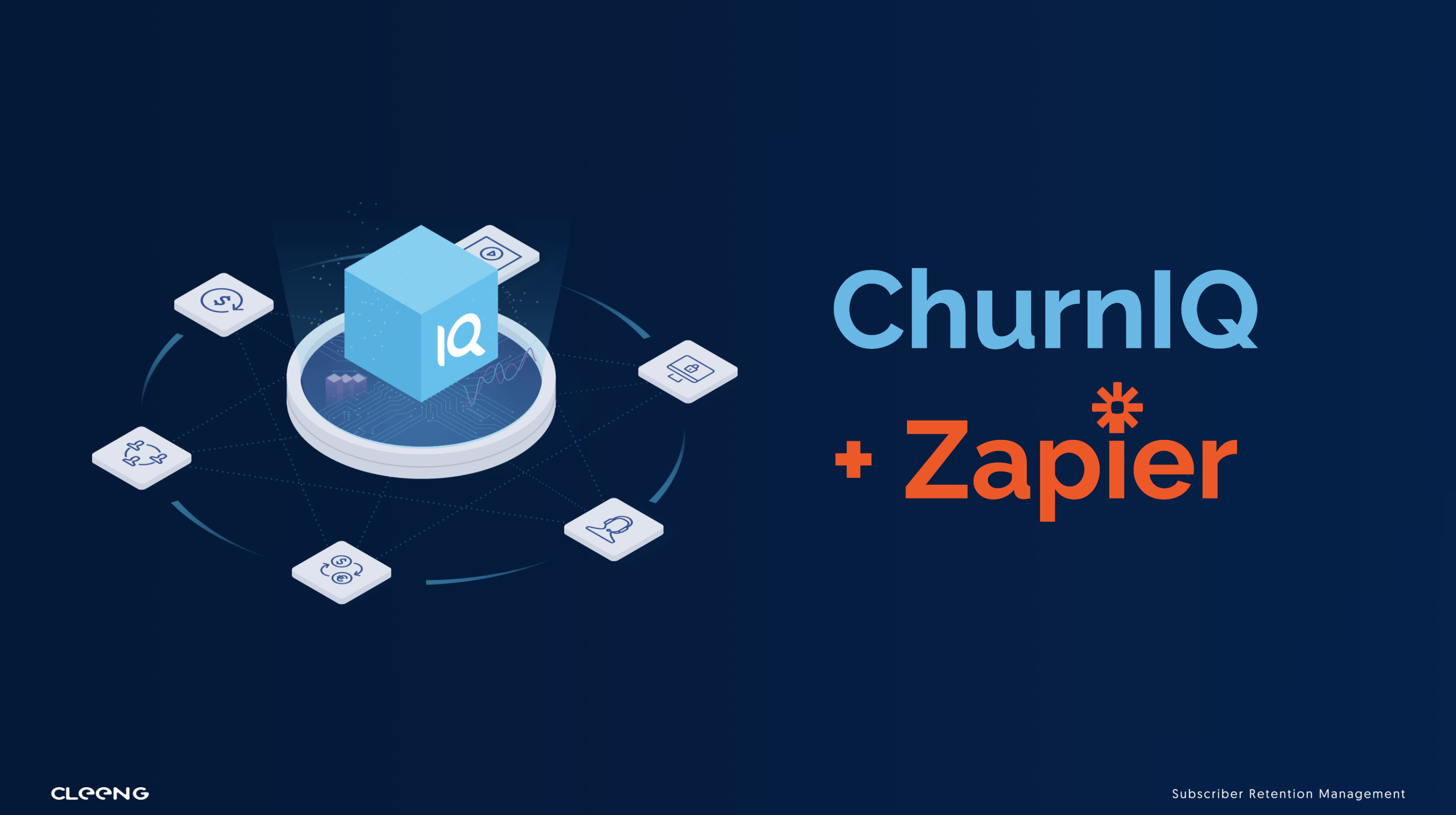 In this article we are introducing the ChurnIQ - Zapier integration. This feature gives you the freedom build a data-powered marketing automation engine without a single line of code.
---
Making Data Powered Campaigns Easier
Zapier allows you to connect applications through automated workflows. In one application you create a trigger (like the export of a customer list), and in the other application you create an action (adding customers to an email campaign).
ChurnIQ's Zapier connector lets you set up automated customer actions, that can be triggered from ChurnIQ within email, notification, or advertising platforms.
Zapier acts as a connector for these different apps. In fact, Zapier connects to over 2000 applications, and is used by millions worldwide every day to seamlessly integrate applications into unified, time-saving workflows.
Using Zapier, you can use ChurnIQ as a trigger for email campaigns with tools like:
or to campaign management tools like:
You can find a complete list of apps that work with Zapier here. And if you want a quick introduction about how to create these connections with Zapier, check out this video.
Each of these tools provide new options to professional marketing teams as they look to build relationships with their subscribers. We will describe just a few simple examples of how you can get started on this today with ChurnIQ, but first we will quickly explain how ChurnIQ can be connected via Zapier to any of these tools.
Integrating ChurnIQ with Marketing Tools Without a Single Line of Code

Cleeng's Zapier integration allows you to automatically send subscriber segments to a marketing app without any development work. Here we will show you how user friendly Zapier's workflow setup is, and explain Zapier 'webhooks' which is how ChurnIQ's integration works.
Zapier Webhooks
Webhooks instantly transfer data payloads from one app to another without any additional code. It is a method by which ChurnIQ can tell Mailchimp what customers to contact about new content.
When you create a new workflow on Zapier, you will be provided with a unique URL that you paste into your automation setup in ChurnIQ. This URL is like a unique address that ChurnIQ will always send data to for that task.
So when something happens in ChurnIQ, your marketing tool will know that it has to take some action.
Zapier Workflows
Creating a Zapier workflow for connecting ChurnIQ data to a marketing tool has 3 steps.
1. The first is requesting Zapier to catch a hook from ChurnIQ. In practice this means getting a URL that ChurnIQ will send your data to.

2. Second, you can paste this this URL into the ChurnIQ action scheduler. This is also where you can define the segment and set your schedule.
3. For the third and final step, you instruct the marketing tool to take some action. In this case, we are telling Constant Contact to add our new subscribers to a list we will use for campaigns.
And that's it. Your workflow or 'zap' is good to go!
Creating Action Chains
One of the best Zapier features is the ability to create action chains. This means that by sending one segment from ChurnIQ, you can automate multiple further actions.
So for example, you can trigger a notification for a group with OneSignal, but also add that subscriber to an audience in Mailchimp.
Getting started with ChurnIQ & Zapier
The ChurnIQ - Zapier integration presents so many possibilities for use that it can be difficult to figure out where to get started. Fortunately Zapier themselves have lots of guidance on how to start building marketing automation or advertising engines using their workflows.
To help you get a better sense of what sort of customer segments you should export from ChurnIQ, our next blog post is going to describe 3 simple use cases you can started with. In the meantime, you can check out Zapier's guide to email marketing automation.
It provides almost 500 pages full of great tips on topics like segment organization, drip campaigns, and A/B testing your emails. All the inspiration you need to put your ChurnIQ data to work.
---
If you are interested in learning more about pricing strategies that foster subscriber retention, grab this eBook.