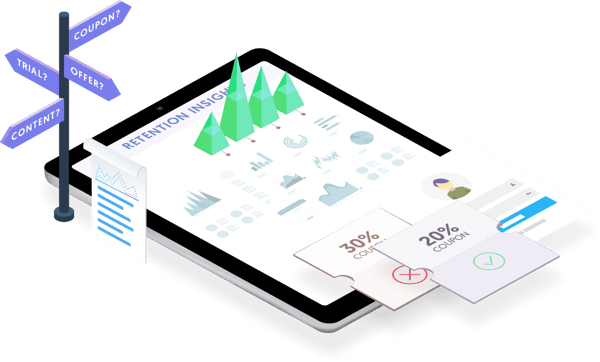 Coupon campaigns are one of the most important tools available to you as a growth driver of subscription businesses. However, coupons can also seem like a complex system to manage, making it difficult to use them both strategically and consistently.
In this article I want to provide you with a quick overview of the most important points to cover for using coupons to achieve growth targets.
---
There are three main points to think about:
The strategy
The coupon
The customer
Let's look at each of these in turn.
COUPON STRATEGY
The most important element to clarify is your coupon strategy. What specifically should the coupon plank of your marketing strategy deliver for you? There are at least 3 broad domains to focus on here, signups, churn prevention, and winbacks.
Focusing the strategy
At Cleeng we recommend a number of metrics to track across these domains:
Net subscriber growth rate
Trial conversion rate
Churn rate
Average customer lifetime
Winback rate
Each of these areas merit a dedicated coupon campaign, but if you want to start things simply then just pick one that you want to really want to affect. The most important thing is to have a target. Without it, you will quickly find it is difficult to evaluate whether your campaign is really helping you or not.
Measuring the strategy
To start with you are going to want to create some general success conditions for your strategy. Seeing a lift in the metrics mentioned above is one aspect of this, but you don't want a different set of rules for every campaign. That is far too complicated at the start.
Instead, define your general campaign goals in terms of the following metrics:
How long it takes customers pay back the discount you gave them (payback period);
How many customers pay back the discount (payback completion);
What is the excess revenue customers contribute on top of the discount provided (payback surplus).
You can either start with some basic rules here (ex. 80% customer payback rate), or run some campaigns first and set your benchmarks from there. The important thing to be sure of is that coupons are making the requisite contribution to your bottom line.
Another step to keep in mind when setting these rules is that A/B tests should be used to optimise these revenue metrics. But more on that in the next section.
COUPON DESIGN
If you have the strategy in place, the next step is to design the coupon itself. Here I will outline some principles of coupon design that you should use to define your approach.
Have a clear reason
The first principle is to always give your customer a reason for why your coupon is being offered. What you need to avoid is any sense a customer may have that there is no good reason the product should be discounted.
Luckily this is easy to avoid. From Valentine's Day to Easter Extravaganzas, there are no shortage of seasonal or special occasions to approach this from. We will talk about customers next, but here too you can always find some customer attribute to base a campaign around.
Have a time limit
Open-ended coupons simply don't work as well as time defined coupons. So your coupons should always work on tight expiry cycles. You generally will not want your customer to have more than 1-2 weeks to redeem their coupon, unless there are special circumstances (ex. compensating for poor customer experience).
Open-ended coupons tend to undermine the customer's sense of both the value of the product, and the value of the coupon you have given to them. Your aim should be to create a sense of urgency (and fear of loss) that makes coupon seem as exciting as possible.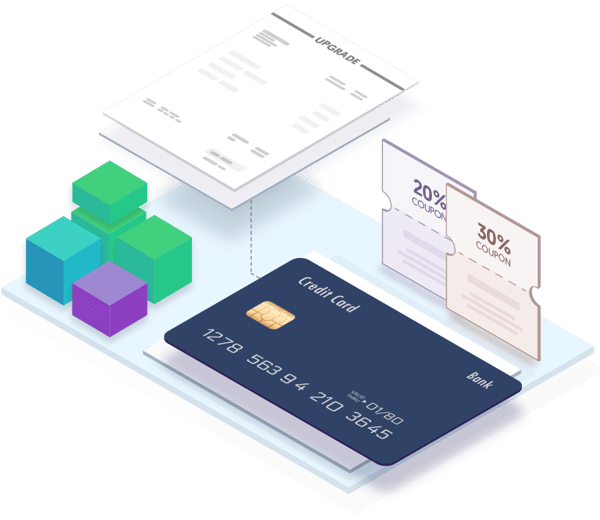 Use indirect channels
The coupon does not always need to come directly from you. In fact it sometimes works better if it doesn't!
A creative approach to coupons is to use alternative social media channels to hand them out to customers. If you have popular stars in your content library, you can create campaigns that they in turn can use to engage their social media followers. This can also be used to cross-promote with complimentary services.
From a practical standpoint you can bulk generate either customized or unique coupons to do this. For example, if you secured Kim Kardashian's services to promote your financial platform, then you could import the code 'kims-numbers' into Cleeng's coupon builder and let her tweet the news to her followers. If you can't secure a Kardashian for the job then don't worry, less popular channels will also work.
Always be testing
Remember that your main goal here is to grow the surplus revenue your coupon campaign generates. So don't consider yourself tied to a discount rate. New campaigns take less than a minute to create with Cleeng, so don't hold back. If you can win back customers with 50% off, then you don't need to offer them 60%.
Of course we all want to find something that just works, and stick with it. But unless you are a genius (and even if you are) you are unlikely to get it right the first time. We recommend A/B testing coupons simply because of how easy it is to do. If you want to issue 1000 winback coupons, just create 500 at 50% and 500 at 40%. It's as simple as that.
COUPONS AND THE CUSTOMER
We have said before on this series that personalisation matters. Nowadays customers expect that you know enough about them to tailor your messaging to who they are. But you don't need to go crazy here, there are a few simple segmentation approaches you can use that will allow you to deliver your coupon in the right context.
Lifecycle segments
Whether your coupon is trying to drive an upgrade, prevent churn, or win a customer back, it is helpful to distinguish between a customer who churned after 1 month, and a customer who churned after 10.
And personalisation is just one aspect of this. Customers who churn after a very long time have a much different relationship with your product than someone who churns very quickly. A 'we-miss-you' coupon will resonate very differently depending on which type of customer they are.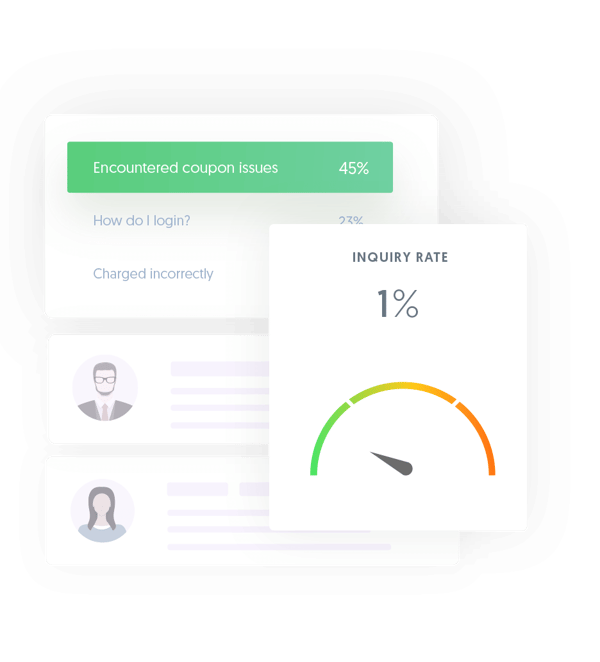 Usage segments
Another useful customer attribute to think about for winback campaigns is how much use this customer got from the product before churning? Cleeng's engagement model is useful for estimating value-per-interaction. But to simplify it you should just distinguish between low and highly engaged customers.
Highly engaged customers generally don't need a big financial incentive to reconnect with the product, and are more likely to be moved by either the promise of new content/features, or smaller discounts that acknowledge them as a customer.
Cancellation segments
Customer exit surveys are a great source of information for creating your coupon campaigns. To keep things simple, you can split cancellation reasons into 3 groups: content, price, and experience.
So customers who leave due to price reasons are generally those who are most sensitive to a coupon. Whereas as customers who left due a poor streaming experience, for example, might be more responsive to a smaller discount but with a larger acknowledgement of their bad experience with the product.
If you really want to focus on winback campaigns, then creating a unique strategy for each of those 3 groups is an effective approach to take. If you want to keep things simple however, you can always start with a one-size-fits all strategy and learn from how each group responds.
FINAL THOUGHTS
Coupons deserve time and attention because of how big a game-changer they can be when used effectively. The right approach for you might take a little time to figure out, but when you find the right balance coupons are a powerful part of your growth engine.
To recap our guide, your four steps to incorporating coupons should be:
Pick a performance area and set a target
Design a compatible coupon and follow best practices
Personalise where possible, without over complicating
Evaluate, refine & repeat
And always remember to only create the complexity you can manage. A simple strategy in action beats a sophisticated one on the shelf.
---
Learn more about pricing and incentives strategies of subscription business.