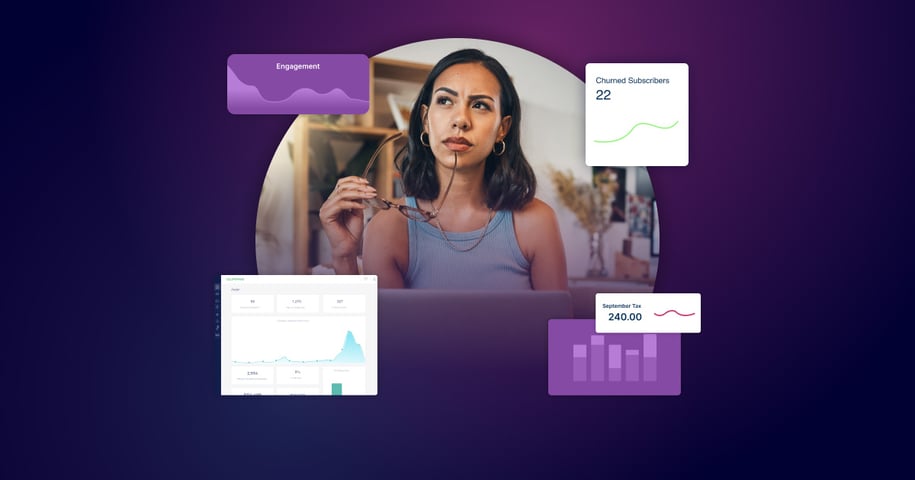 OTT subscription service companies are under a lot of pressure at the moment, and the latest challenge in town is called Subscription Fatigue.
In this blog post, we cover:
What Subscription Fatigue is
How it impacts the SVOD industry
and share a couple of golden nuggets to help broadcasters figure it out
In a hurry? Click to jump to the section you want to read.
This a widespread issue for all subscription video service providers
— Decision paralysis is gaining ground
— The financial burden of subscriptions
— A waste of money for many consumers
— A rollercoaster that's reversed with the end of the Pandemic restrictions
How OTT broadcasters can beat subscription fatigue
— Consider implementing flexible subscription models
— Focus on your added-value offerings
— Engage in high-value, data-driven marketing to increase retention
Retention is the only way to grow for SVOD companies
What is subscription fatigue?
Subscription fatigue refers to consumers feeling overwhelmed by the number of subscription services available. Ultimately, it is an important driver for churn.
Subscription fatigue is real and affects all subscription video service providers
With subscription businesses available for almost every conceivable service, the competition among OTT content providers is intense.
Now, consumers are tired of paying for multiple subscription-based OTT streaming services. What's more, economic uncertainty and inflation are making people tight-fisted. Such forces are making subscriber acquisition and retention more challenging for broadcasters.
And it's not just an isolated feeling. The 2022 Digital Media Trends Report (Deloitte) confirms the subscription service fatigue trend.
It affirms that consumers across demographics are indeed overwhelmed by the many OTT subscription services they have signed up for.
As a result, there's a decrease in consumer interest in paying monthly for OTT subscriptions.
This interest drop leads to higher "churn and return," i.e., frequent cancellations and re-subscriptions.
Similarly, a survey of 2500 SVOD subscribers (from Bango) shows that consumers are no longer excited by new streaming subscription services launched into the US market.
Decision paralysis is gaining ground
72% of users say there are too many video streaming services.
Juggling between different platforms doesn't generate the best subscriber experience, and worse, it may lead to decision paralysis. With a large selection of content scattered across multiple streaming platforms, users may struggle to choose what to consume because of the excessive amount of options available.
The financial burden of subscriptions
65% say monthly fees keep rising, and they find it challenging to pay for all of these services.
The reality is that U.S. households spend (way) more than they'd like on subscription-based services.
The average American household spends $219 a month on subscriptions alone, which is reportedly 2.5x more than what U.S. consumers thought they were paying in the first place. Additionally, the Kearney Consumer Institute reports that about 54% of consumers aim at spending $50 - or less - on subscription services. In other words, consumers will have to make choices and start cutting cords with the services they don't receive enough value from.
A waste of money for many consumers
34% confirm paying for a subscription they never use.
C+R research (2022) reveals that a staggering 42% of U.S. consumers have reportedly kept paying for a subscription they'd forgotten about. In the short term, this won't impact revenue for content providers as customers are still paying, but it will eventually lead to involuntary churn and, therefore, a loss of revenue.
A rollercoaster that's reversed with the end of the Pandemic restrictions
Interestingly, these data points sharply contrast with the trends observed during the COVID-19 pandemic.
Out of all the forms of digital subscription service, video streaming emerged most resilient during the pandemic, and OTT subscription businesses thrived, providing inspiration, education, and entertainment. They yielded the most significant adoption and customer satisfaction, followed by music-based providers.
However, as things slowly got back to the way they were, the same level of time indulgence is falling, lives get time-pressed, and inflation soars.
But what does it mean for broadcasters, and how can they beat the trend?
How OTT broadcasters can beat subscription fatigue
Let's make something clear: If left unattended, OTT subscription fatigue will negatively impact revenue for all subscription-based entertainment services.
Fortunately, it's not a fatality. Your best bet is investing in user experience to increase customer satisfaction.
Consider implementing flexible subscription models
Considering you've already implemented industry standards (mobile experience, personalization algorithms, or transparent cancellation policies), the next best thing is to consider implementing flexible subscription models to have users customize their streaming experience to their specific needs.
This could involve offering tiered pricing plans that allow users to select the platforms or content genres they are most interested in, allowing them to prioritize their subscriptions based on personal preferences and budget.
For OTT sports companies, flexibility can take the form of dynamic pricing throughout the entire season so that fans only pay for the time left.
Learn more about seasonal subscriptions and dynamic pricing for sports content providers.
Optimize your pricing
Pay attention to your pricing to ensure it's fair and inclusive, and offers value amidst multiple services.
People usually subscribe for content but unsubscribe for the price. Therefore, optimizing pricing will help you gain a slice of their subscription budget.
Offering hybrid pricing or a combination of paid subscriptions and free ad-supported offerings is also advisable.
Focus on your added-value offerings
If upfront prices are important, the value for money comes right after.
Start by identifying what makes you stand out from other subscription video on demand service providers.
Then, work on ways to tell your audience why your subscription is unique and better than the other entertainment subscriptions available regarding content, add-ons, etc. The importance of doing so becomes apparent with data.
For instance, research from Deloitte reveals that:
37% of consumers say they'd keep a subscription if they were given access to first-run movies.
51% of Millennials and Gen Z consumers would likely keep a subscription if it also included gaming, music, or another SVOD service.
34% say they'd likely keep a subscription plan if it included a loyalty program.
Now, this is good news. It tells us that while consumers want to spend less on subscriptions, they want to pay for services that meet their needs.
Engage in high-value, data-driven marketing to increase retention
Make it a point to promote your streaming services' most exclusive content, services, and features.
There are two ways to get this done.
You can shoot emails to your customer base to show how much value they get from you.
You can identify at-risk subscribers, create segments, and shoot targeted offers and coupon campaigns to encourage them to re-engage with your platform, reducing the likelihood of churn.
Whatever the method, the idea is to highlight your value to 'make the unaffordable look affordable' to your customer segments.
Retention is the only way to grow for SVOD companies
Whatever way you look at it, customer acquisition is always costlier than customer retention. So, you need to make subscriber retention your #1 objective to stand out.
Subscription fatigue and the current uncertain economic climate discourage customers from paying for different subscription offerings. This makes acquiring new customers and retaining existing ones for SVOD services more challenging.
However, despite the SVOD subscription fatigue and uncertainty, research suggests that global SVOD subscriptions will increase by 428 million between 2022 and 2028 to reach 1.76 billion. So it's safe to say that there are many opportunities to seize.
Now is the time to drill down into demographic and engagement data to evaluate your audience's churn risks and focus on loyalty-driving initiatives to increase the lifetime value of subscribers prey to fatigue.
To make it possible, OTT teams also need the right tooling. To learn more, follow our guide to pick the right subscriber management solution for your needs. Alternatively, you can also contact us, and we'll walk you through the options to take your subscriber retention strategy to the next level.