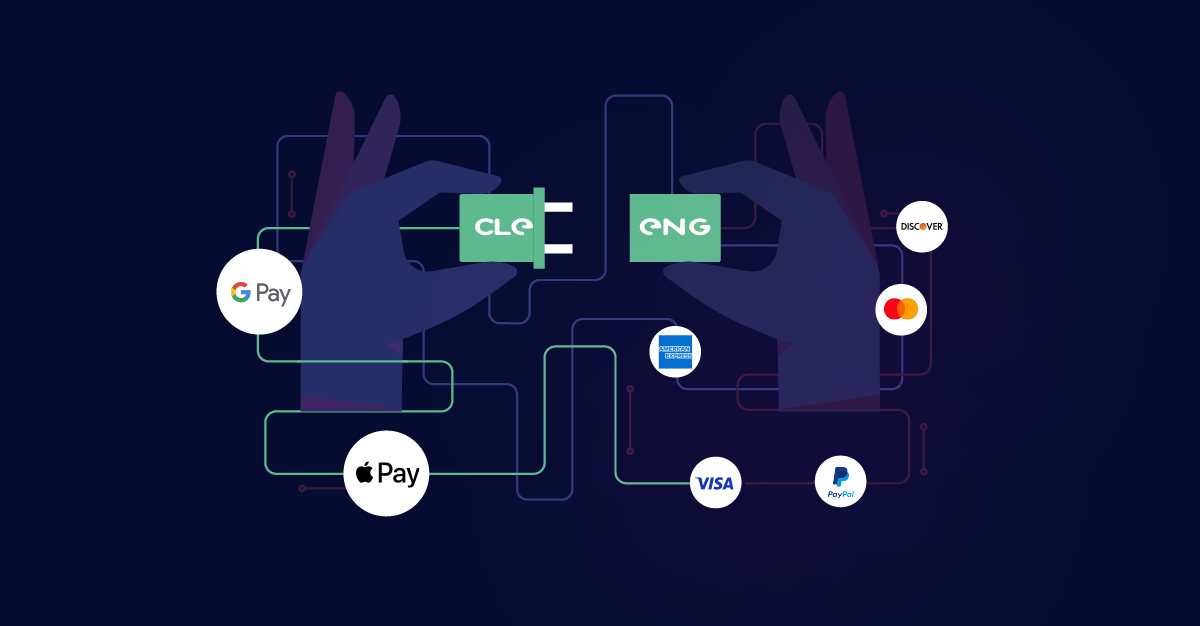 Mobile wallets like Apple Pay and Google Pay are emerging as preferred payment methods for online purchases. Data suggests that almost half (49%) of all online payments are routed through digital wallets, followed by credit cards (21%) and debit cards (13%).
This usage of mobile payments is not likely to slow down anytime soon. As per forecasts, the market is expected to reach $6.7 trillion by 2023. Apple Pay and Google Pay seem to attract the lion's share of users, projected to engage around 227 million users and 100 million users respectively.
Projections like these make it clear that it's advisable to offer these payment methods during checkout – especially in a competitive space like OTT streaming.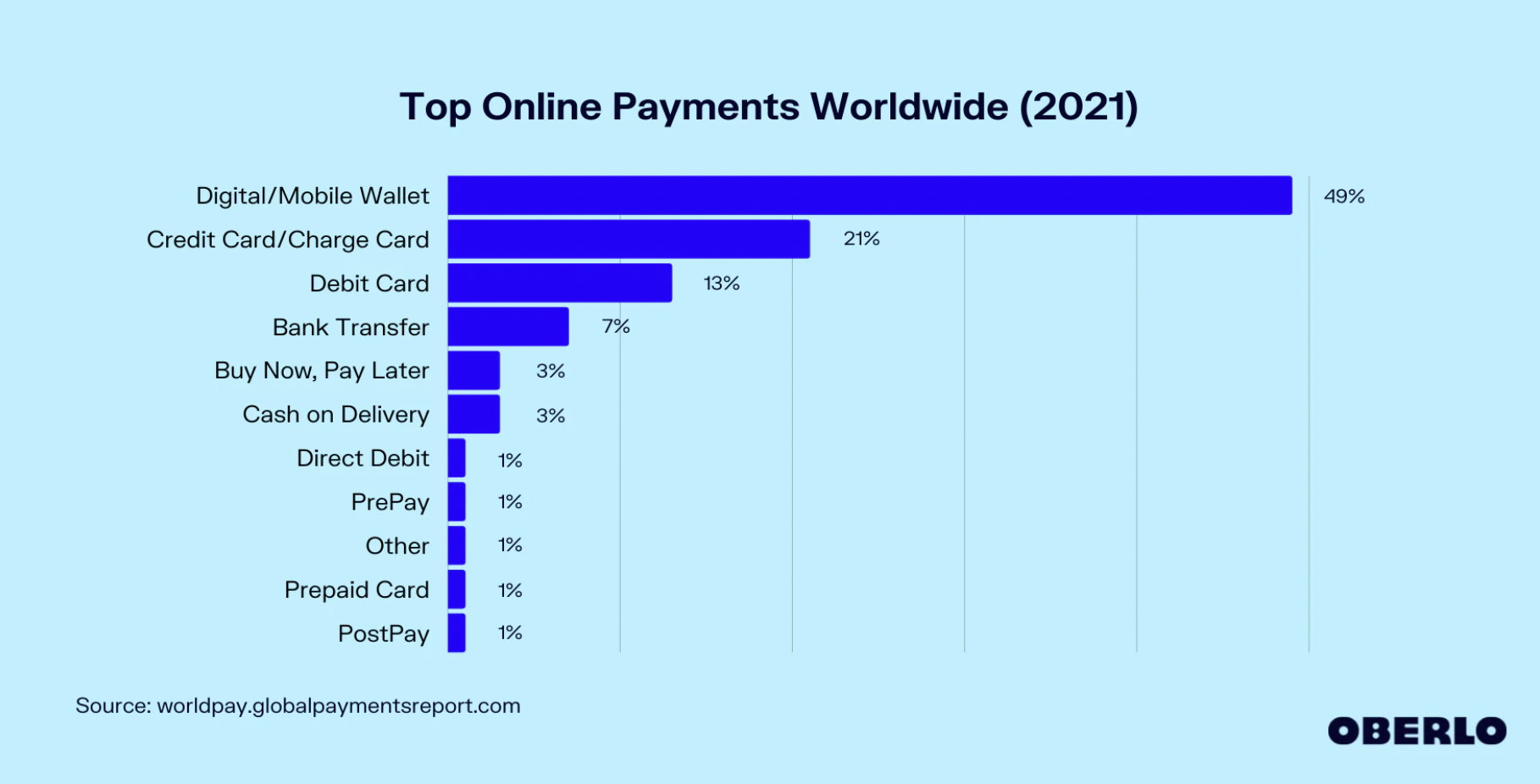 Image: Graph of the most popular payment types worldwide (Source)
In this blog we explore the benefits of offering wallet-based payment methods using Apple Pay & Google Pay to monetize OTT content. We also share details on the latest Cleeng update that allows integrating these payment methods.
Why offer Apple Pay & Google Pay at checkout for OTT streaming services?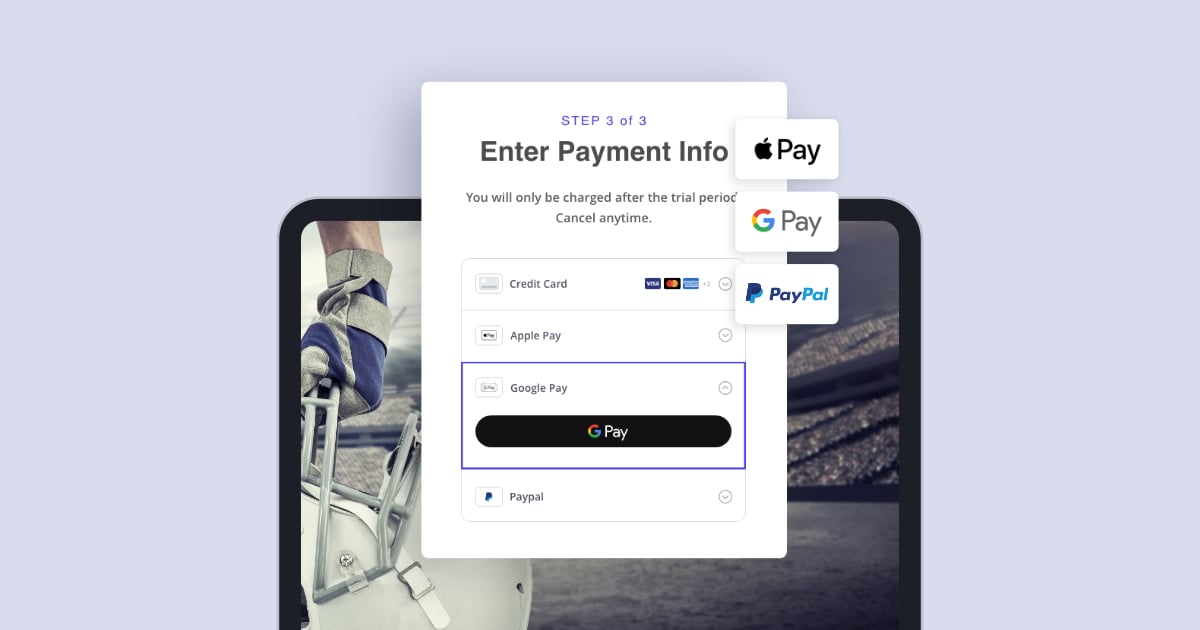 As a broadcaster already offering PayPal and credit cards, you may wonder why to add wallets like Apple Pay & Google Pay to customers. Here are some reasons why it is worth considering:
Increase conversion rates
Given the sheer volume of transactions routed through mobile wallets and its expected increasing trajectory, offering Apple Pay and Google Pay as payment methods is a good way to create a competitive advantage against content platforms that still don't offer these.
Data from American Express suggests that most consumers today expect multiple, flexible spending options at checkout, including 66% of millennials and 54% of Gen Xers. Moreover, research also indicates that 9% of consumers abandon their carts due to a lack of payment options.
Thus, given the fact that time to stream is finite and there's widespread subscription fatigue for media and entertainment recurring expenses, it's best to reduce any possible friction that impacts user conversion or SVOD subscription renewals.
While mobile wallets facilitate one-click payments for customers with several details already filled out, they simplify and expedite process flow for broadcasters too. It has been seen that mobile wallets are faster than traditional methods to clear customer payment settlements for merchants. This helps relieve cash flow issues and drives efficiency for broadcasters.
Elevated payment security
With the growth of online payments, eCommerce fraud is also increasing in the same direction. 54 percent of consumers have reported encountering fraudulent or suspicious actions on the Internet.
In this environment, having the comfort of payment security is essential for both consumers and merchants. Google and Apple Pay in that sense include multi-factor authentication with compliances like PSD2 for processing transactions, thereby elevating security. This helps safeguard the interests of both broadcasters and their customers.
A good number of payment disputes occur out of eCommerce fraud. With safer payments, the incidence of eCommerce fraud reduces, helping to reduce the volume of chargebacks. This helps build lasting relations with subscribers, better reputation and saves costs resulting from chargeback fees. Data suggests that merchants lose an average of $3.75 for every $1 lost to fraud. This is due to added fees, increased overhead, and other losses associated with chargebacks.
The good news is that enjoying all these benefits is now possible with Merchant.
Product Update: Cleeng Merchant supports Google and Apple Pay
Cleeng's subscriber billing solution, Merchant, is receiving an upgrade. In addition to supporting previous methods like cards and PayPal, Merchant now also supports Apple Pay and Google Pay to monetize SVOD, TVOD, PPV or live events.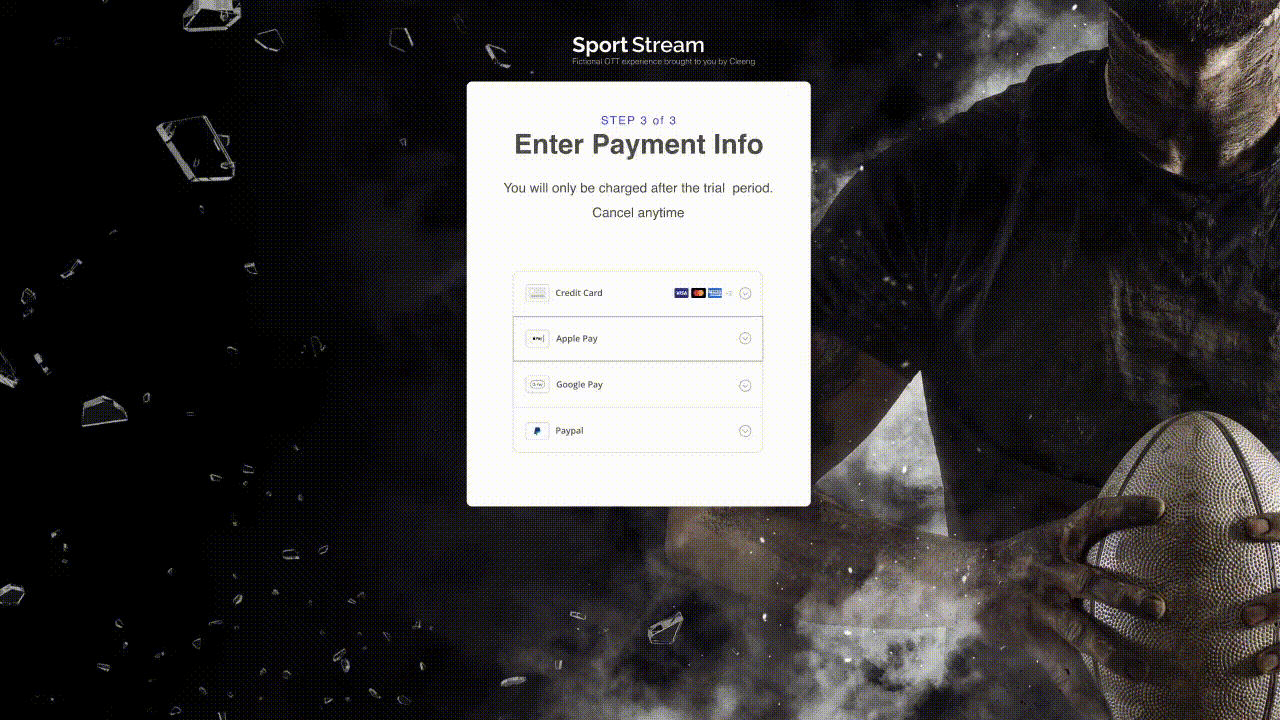 Image: Walk through example of the payment type selection process
How can broadcasters benefit from this upgrade?
By working with Cleeng, broadcasters can leverage the extensive benefits of a full integration with Adyen. Rather than handling the intricacies of the integration yourself, Cleeng manages it for you as your Merchant of Record. This gives you immediate access to all payment types and automatic access to any future updates such as this one.
Learn more about the intricacies of OTT infrastructure with this free guide: Is your architecture ready for the new era of OTT?
How can broadcasters access this upgrade?
Broadcasters can access these popular payment methods by integrating with Merchant, Cleeng's payment and checkout optimization solution. Merchant makes integrations easy and fast using our software developer kit, Mediastore SDK. Using Mediastore SDK, broadcasters have access to all the necessary building blocks for selling video. Enhanced accessibility, scalability and security with consistent updates is how Cleeng Merchant simplifies e-commerce for OTT services.
Note to existing Cleeng clients: Your payout process will remain unchanged after enabling Apple and/or Google Pay. The next payout will simply include settlements from the new payment method(s).
Bottom Line: Grow your SVOD business with secure, flexible payments
In the competitive streaming industry, it's vital to reduce all possible friction points to drive optimized conversions. Offering flexible payment methods helps you to achieve that.
Specifically, mobile wallets like Google & Apple Pay have a wide user base, and offer several benefits to users and broadcasters alike, making them a must-have payment option at checkout. Cleeng Merchant is now upgraded to support these features with development or testing.
Want to add Google Pay & Apple Pay to your checkout page?