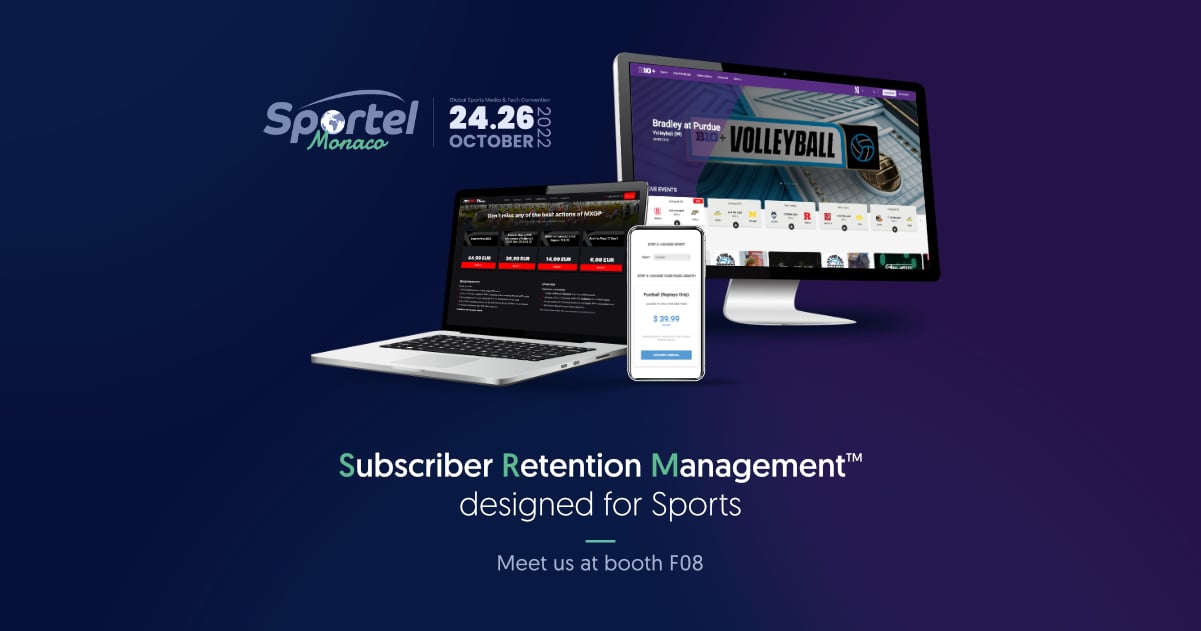 The industry returns to Sportel Monaco 2022
Between October 24th and 26th, Monaco will once again host the Sportel show to gather the leaders of the sports and technology industry.
Cleeng will be exhibiting to demo our Subscriber Retention Management (SRM™) solution, and share how our clients such as Tennis Channel, Big Ten Network, and the NFL leverage our SMS and retention analytics to grow their revenue.
Let's discuss how to remove the complexity of D2C sports video subscriptions
Working closely with leading international sports brands has enabled us to develop a solution that solves the unique challenges of running a successful video platform in the sports industry. Meet with us in person at Sportel to hear about some of our key solutions such as:
1.

Easy offer management for any VOD model
The consumption habits of live sports fans vary more than typical video content consumers. Offer preferences ranging from one-off events to day passes to monthly or even annual subscriptions
Whichever mode you use requires an offer management system with the flexibility to create various Video on Demand (VOD) offer types.
That's why the central component of Subscriber Retention Management is Core. Core is the Subscriber Management System (SMS) through which you can manage your entire subscription service and sell videos direct-to-consumer.
By leveraging Core, sports streaming services can experiment with different offer types and develop a platform that fans want to use, and will return to. See the Core monetization platform in action in this short clip:
2. 24/7 customer support for a frictionless customer experience
The number of potential customer queries during an internationally broadcast sports event are endless. And handling these queries poorly discourages customers from returning to your service.
To help you deliver a frictionless customer experience, Cleeng developed Hi5.
Hi5 is our AI-enhanced, expert customer care system. With white-labeled help centers, optimized contact forms and an AI-powered chatbot dedicated to your audience. Hi5 opens the door to perfectly organized subscriber support, no matter the scale of your event.
3.

Recurring billing and international tax compliance
To keep up with industry growth, sports broadcasters need to know how to attract and process international customers. However, the wide range of local payment methods, local tax laws and local languages make international OTT business highly complex.
This is why we recommend partnering with a specialist. By partnering with Cleeng, broadcasters gain access to Merchant, a web-store purchase management tool, built to collect revenues globally. By integrating with payment providers such as Adyen and Paypal, Merchant gives you access to over 170 international markets right out-of-the-box, with 18 languages and popular currencies also supported.
Most importantly, the dynamic checkout engine adapts to all local tax codes. This ensures accurate and reliable tax collection for all purchases. By using Cleeng, and leveraging our integration with Avalara, sports vendors can grow their business with guaranteed tax law and GDPR compliance.
4. AI powered churn prediction with up to 92% accuracy
Growing market competition along with seasonal churn make retention a top priority for sports video platforms. Getting the upper hand on retention means being able to understand the customer's behavior. Or better yet, predict it.
With ChurnIQ, you can do both. ChurnIQ is Cleeng's actionable subscriber analytics platform. Through this platform, sports broadcasters have access to all essential customer data in an easy-to-use dashboard. All data sources including mobile apps, web apps and TV apps are combined in one space.
Furthemore, with Cleeng's new AI-powered churn prediction engine, you can now predict which customers are currently most likely to churn, with up to 92% accuracy. Find out which fans are at-risk of canceling, and then easily target them with an automated marketing campaign, to remind them why they should stay.
Check out the clip below for a quick introduction Cleeng's churn management offer.
See you at Sportel
We look forward to seeing you at Sportel, where we'll be happy to explore how our SRM™ solution can support your sports video platform, and share examples of our latest clients' sports streaming success.
If you attend Sportel 2022, come say hello to our:
CEO - Gilles Domartini
VP of Sales - Alexis Gaï
Director of Enterprise Sales EMEA - Hjalmar Koedijker
Channel Sales Manager - Olga Spînu