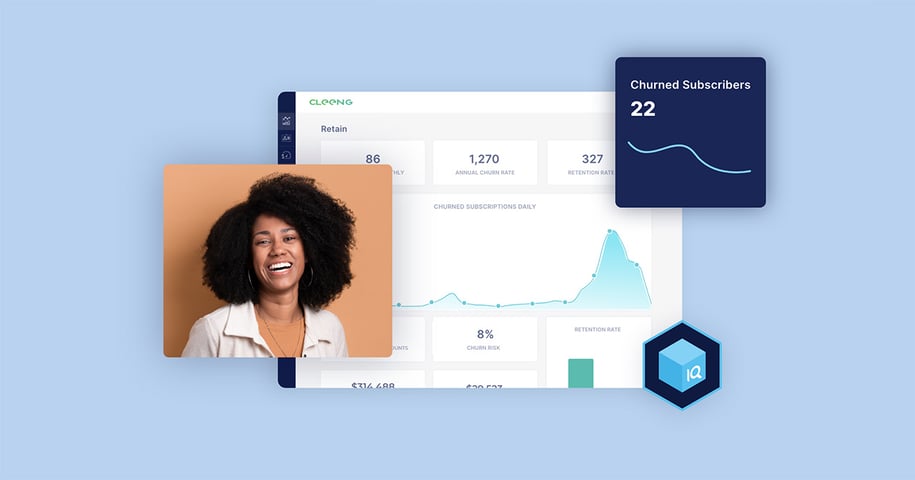 Increasing customer loyalty and retention is crucial to growing revenues for any SVOD business. But with so much to do and little time to spare, you'll need tools like ChurnIQ to help you identify churn risks before it becomes a reality.
What is Churn IQ?

ChurnIQ presents a tailor-made subscriber retention data solution for streaming service providers to realize their potential.
This churn prevention analytics toolkit is designed to centralize the critical events of a subscriber's lifecycle in their content streaming journey. Broadcasters can use its intelligence to predict churn risk with up to 92% accuracy. This presents a chance to nurture an army of loyal customers with timely action based on data-driven insights.
Read on to learn more about this game-changing solution for broadcasters to burn the churn.
Why churn is a significant challenge for subscription businesses

Churn reduction is a pressing problem for broadcasters in today's competitive landscape. It challenges even the most prominent industry names.
The latest researhc from Antenna shows that only three streamers can boast a downward-trending churn rate this year: Apple, Peacock & HBO Max. While Netflix can still claim the lowest churn rate in the industry, it has risen to 3.5% this year from just 2.0% in 2021.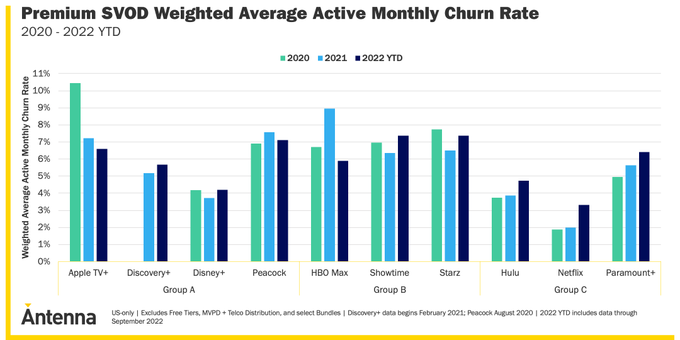 Clearly, this indicates a saturated market where subscribers have abundant streaming choices. As a result, they are quick to switch channels for other content or potentially better streaming experiences.
Moreover, estimates suggest that nearly half of OTT subscribers tend to hop between services multiple times over a period of 12 months. This reality is becoming costly for businesses – especially after rising subscription fatigue patterns across the customer base.
Recent survey results confirm that 72% of users say there are "too many subscription services" now. In addition, two-thirds (65%) say they can't afford to subscribe to all these services." This is rendering churn a significant challenge for media and entertainment companies.
Now, let's look at why churn is turning costly for subscription-based streaming businesses:
Directly depletes revenue: In any recurring billing model, churned customers directly impact revenue collection. This derails profitability directly.
Increases acquisition cost: Maintaining the same level of revenue requires additional efforts and expenses toward expanding customer acquisition. This also hits the bottom line negatively.
Impacts business reputation: Often, churn also has a cascading effect on a business's reputation. Usually, customers who churn out of a negative experience create negative word-of-mouth publicity.
This damages a streaming platform's image and makes new subscriber acquisition even more difficult and costly. This issue becomes pronounced, primarily if the business cannot address the underlying cause of churn.

Read More: The Correlation Between Subscriber Churn and Lifetime Value

Staying ahead of churn and effectively preventing it is vital to fueling business success and growing in the streaming landscape. ChurnIQ's churn management capabilities enter exactly here to simplify the task of addressing this fundamental industry concern.
The benefits of using ChurnIQ for customer retention

ChurnIQ's beauty lies in its model design. It is tailor-made to improve broadcasters' revenue and enhance subscriber loyalty by enabling broadcasters to deliver the best customer experience.

Essentially, the tool uses a data model called the retention journey for supporting subscriber retention analytics and strategy building.



It is designed to capture data on customer journeys across the subscribers' lifecycle; It then examines each key touchpoint and event in the subscriber journey and condenses that information centrally. This aggregation helps to unveil the key trends and key performance metrics hidden in the data.
Now, when you, as a broadcaster, get to know the exact picture, you get into an advantageous position to take focused, proactive customer engagement steps.
In other words, you gear up to proactively retain subscribers rather than react after churn. Moreover, you can integrate the tool with other marketing software to automate the engagement mechanism and deliver broadcaster-friendly results.
Examples of ChurnIQ in action

Several success stories of ChurnIQ's ability to improve broadcasters' bottom lines exist. One such example is its role in navigating successful win-back marketing campaigns for CBC.
Their team leveraged customer insights from ChurnIQ to win back lost customers. The results were incredible, and they clocked in an astonishing win-back rate of 36%! This turned out about 2.5 times higher than the 2022 average, per industry win-back benchmarks reported by Omdia research.
So, what did CBC do?
They started with ChurnIQ's Segment builder to divide the different audiences per the varying customer attributes. They then leveraged specific marketing tactics for different segments to remind them what they had missed by not having premium access - a tactic that worked wonders!
Want more specific details about CBC's win-back campaign? Read Here
How to implement ChurnIQ in your business

If you're wondering how exactly to understand customer behavior and leverage that understanding to reduce churn, here's how to do it with ChurnIQ:


Understand the audience and create segments: Creating a data-driven strategy to reverse churn starts with segregating your audience as per their revealed behavior. This is possible by using ChurnIQ's data intelligence to get a bird's eye view of user patterns in the subscriber lifecycle. Next is neatly grouping these users into focused segments.
Read More: 5 customer segments that will grow your OTT revenue


Craft tailored marketing messages for the segments: Once you have your segments, you need to craft the messaging to engage them. Success lies in communicating personalized recommendations that speak directly to the interests of each segment - whether by advertisements or emails. This is the recipe for the ultimate loyalty program.



Integrate ChurnIQ with your marketing tools to automate campaigns: Finally, in today's age, speed of execution is of utmost significance. Executing marketing activities smoothly at scale necessitates setting up machinery for running automated campaigns.

This is where campaign automation tools come in handy. It's a good idea to combine ChurnIQ Segments to set up targeted marketing actions that align with key business goals.
With this approach, you can build a solid foundation for defeating churn and pursue growth and long-term success.
Improve customer retention efforts and minimize the negative impact of churn

Improving customer retention efforts and minimizing the negative impact of churn requires a commitment to understanding your customers, providing excellent service, offering incentives, communicating regularly, and continuously improving. Focusing on these critical strategies can reduce churn, improve customer loyalty, and establish a strong foundation for long-term success.