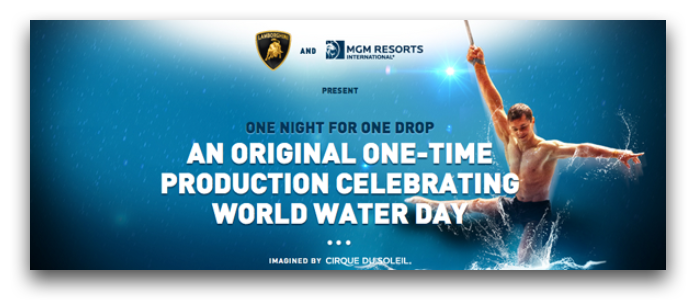 How can we use new techniques to promote a charitable cause? What is the secret of successful online fundraising event management? How can we highlight a matter of global importance? How will this leave a lasting message in the mind of every single viewer? Thanks to a Live streaming pay-per-view event that goes global!
Since its inception in 2007, ONE DROP foundation has found some great answers to these questions, mainly by organizing successful charity events & increasing social giving for preserving world resources of safe water.
One Night for ONE DROP
The most recent philanthropic initiative - One Night for ONE DROP - took place last Friday (22nd of March) in Las Vegas, during the World Water Day. For that one special evening Las Vegas turned into a stage for 237 Cirque du Soleil artists, their guest performers & their one-time show.
To increase the amount of donations, ONE DROP combined the traditional fundraising with social crowd-funding. The idea behind ONE DROP initiative was really simple: anyone who contributes online to this great cause, with a minimum donation of $5, not only gains a deeper satisfaction from helping, but also gets an online access to the unique performance imagined by Cirque Du Soleil. No matter where they are or which devices they use, they can still be a part of this great cause.
ONE DROP, Zuckerberg Media, Cleeng & Brightcove - mutual success
ONE DROP joined forces with Brightcove, Zuckerberg Media and our team at Cleeng to have this enchanting evening filmed & available for online viewing afterwards. Zuckerberg Media captured the unique atmosphere, the dynamic Cirque Du Soleil choreography and brought about the production plus promotion of the entire digital broadcast.
Cleeng and Brightcove fostered 'One Night for ONE DROP' website to enable contributions made directly from onedrop.org. Thanks to a deep integration of the Cleeng API within the Brightcove VideoCloud we made the 10.000s digital streams for this live streaming pay-per-view event run without a hitch.
Driven by the ambition of our partners to galvanise individual donors across the web, our Cleeng team spearheaded a "Buy one, Get one" functionality, following the idea of social sharing and importance of word-of-mouth. Everyone who purchased the online access for $5, got a free ticket (coupon) for their friend. By letting people hit up their friends or family members, the ONE DROP campaign gained impetus within just a few days. There's still lots of buzz going on on Twitter and Facebook.
And last (but not least), Cleeng team contributed to the great user experience with seamless online pre-booking & friendly customer support. With the scale of the event, high pressure & great expectations put on us by ONE DROP and Cirque Du Soleil, we obviously got a unique chance to test and prove the versatility and security of our pay-per-view solution. And that online fundraising event management doesn't have to be difficult! Let the success of this amazing event speak for itself.
We're very happy to have been a part of this amazing cause, big 'thank you' goes to our partners at ONE DROP, Cirque Du Soleil, Zuckerberg Media and Brightcove!
You still can support ONE DROP!
Purchase your online access before 31st of March and watch it on www.onedrop.org.
http://youtu.be/0JIyUTDpJ7M
*Make your next Live streaming pay-per-view event a total success!
Set up only takes 2' - you can try it yourself right away!
*About our partners:

ONE DROP - is a non-profit organization established in 2007 by Guy Laliberté, striving to ensure that water is accessible to all, today and forever. Please visit One Drop website for more information and to donate: http://www.onedrop.org/en/default.aspx

Cirque Du Soleil - from a group of 20 street performers at its beginnings in 1984, Cirque du Soleil is a major Québec-based organization providing high-quality artistic entertainment. The company has 5,000 employees, including more than 1,300 artists from more than 50 different countries.

Brightcove - Brightcove Inc. (NASDAQ: BCOV) - a leading global provider of cloud content services, offers a family of products used to publish and distribute the world's professional digital media.

Zuckerberg Media - A state of the art media production studio ran by Randi Zuckerberg and located in the heart of Silicon Valley. Capable of broadcasting live around the world on television and the internet.