There is less than a week to go until the key sports media players meet in Monaco for SPORTEL 2021!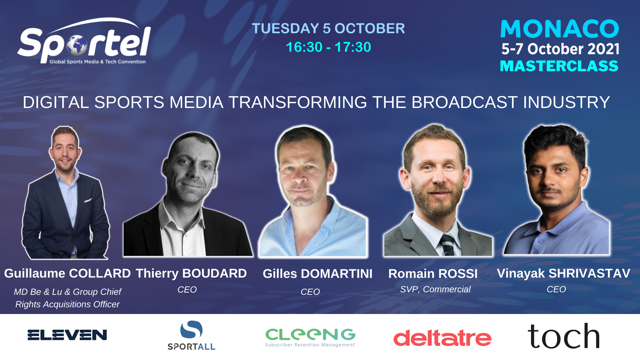 An immense number of attendees have already been confirmed for this event, showing the widespread excitement to be meeting in person and resuming business once more.
In addition to the booths and exhibitions occurring at the convention, several masterclasses will take place next week. Experts from various backgrounds in the sports media and tech industry will join to discuss everything from esports, to female leaders to data challenges.
Digital Sports Media Masterclass
Our CEO, Gilles Domartini will be participating in one of these masterclasses, on Tuesday the 5th at 16:30. Together with other leading figures from Eleven, Sportall, Deltatre and Toch, he will discuss how digital sports media is transforming the broadcast industry.
This panel will bring a lot of expertise on this direct to consumer topic and Gilles will explore the importance of the following elements:
- Global payments
- Tax management (particularly in North America)
- Customer support
- Flexible offer management
- Couponing
And will discuss why they cannot be overlooked when looking to deploy a successful DTC video platform.
See you there!
So don't forget to register for SPORTEL, and book a timeslot with us, to meet with our CEO, Sales VP and Customer Experience Manager at Booth E06, from Tuesday to Thursday.