Today's video consumer likes to watch things whenever they want wherever they are - and they don't take kindly to restrictions - which is why mobile devices are so prevalent in the modern world. Watching video on mobile devices in surging immensely, so users and providers need to be prepared for some serious data plan upgrades.
The immense rise of mobile video
Mobile video consumption is incredibly popular right now, and it is only expected to get stronger by the end of the year and beyond.
In fact, according to a recent report by Cisco, three-fourths of the world's mobile data traffic will be video by 2020. Mobile video will rise 11-fold between 2015 and 2020, making up 75 percent of total mobile data traffic by the end of the forecast period. An astonishing rate of growth.
One of the major things the recent rise in mobile video has affected is bandwidth consumption patterns.
Which upcoming changes are imprortant to consumers
As mobile video content has much higher bit rates than other forms of mobile content, mobile video will generate much of the mobile traffic growth through 2020, and is expected to come in at a whopping 55 - 75 percent by that time.
Also, this increase in mobile video consumption is expected to cause an acceleration of busy-hour traffic in relation to average traffic growth. At peak periods of the day ('prime time' slots), mobile video traffic will be up to 88 percent higher than average time slots - as the chart shows: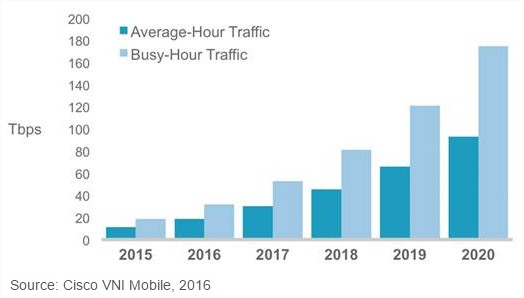 In another key insight from the Cisco report, by the end of 2020, North America will have 95 percent of its installed base converted to smart devices and connections, and Western Europe won't be far behind with 86 percent smart devices and connections.

Moreover, average traffic per device is expected to rise rapidly during the same period: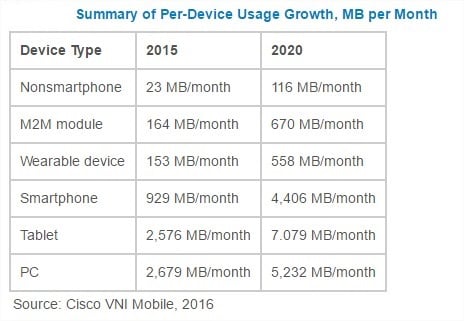 What about mobile payments?
According to the Adyen Mobile Payments Index 2016, in Q1 of 2016, 32 percent of global online payments on the Adyen payments platform were completed on a mobile device - another sure sign of the prevalence of mobile data consumption in today's world.
It's plain to see that we as humans have evolved to prefer the comfort, freedom and convenience of mobile devices and right now, it looks like mobile is the future. As a content provider, by accommodating the needs of today's consumers and their thirst for mobile, there's no doubt you have a bright future ahead.
---
Did you know that one Cleeng live event got more mobile than destop views? Check out our Live PPV guide: