We're very thrilled to announce our brand new product - Cleeng Portal - the first, fully automated channel aggregating live events.

Cleeng Portal has been designed to answer sport and entertainment broadcasters' needs and enable them to capture their fans attention in one place. End users will be able to curate a whole assortment of live and on-demand video content and the available offers.
The key benefits for publishers:
It's fully automated with innovation at heart: Cleeng Portal leverages automation as its main asset for the build-up and video offer management; so it's fast to deploy and easy to use. No tech knowledge is required. Our clients can now focus on creating competitive online programming and capturing fans attention as we've taken care of all the technical challenges.

It's flexible and it adjusts to your business profile: Sell an entire sport season and multiple tournaments - rather than just single events - side by side with your on-Demand portfolio of archived replays, rentals and/or memberships. Categorize your video content so end-users can easily filter through your content.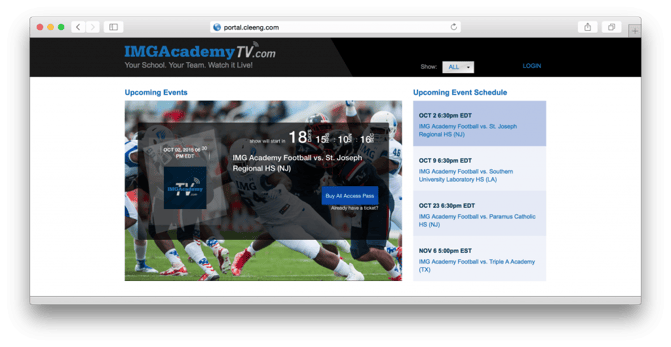 It gives you full control over the look and feel with the responsive, customizable, pre-built templates and enhanced branding options. You get an impeccable brand presence on every device.

It embarks on content personalization: Cleeng Portal will help you to cash in on the next big thing that's coming for the OTT industry: content personalization. Help your audiences find exactly the content they want to watch, while creating a one-stop channel and TV-everywhere experience to get more fans tuning in.
It centralizes your marketing efforts as you can easily promote just this one page to spark the interest of different types of target audiences.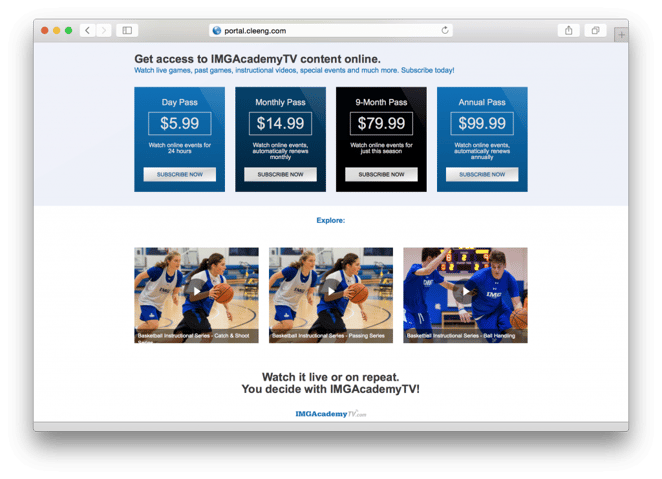 To wrap it up from a business standpoint: you'll experience increased customer satisfaction, a boost to ARPU and a decrease in your churn rates.
Gilles Domartini, our founder and CEO stated: "From our experience, there is a firm link between different types of video content, from live PPV events to on-demand and subscription-based video. Successful publishers rarely do "one-off" live events and they want to build up and manage their content portfolio on one spot without technical development and this is exactly what Cleeng Portal offers within days."
Your fans will love:
That your content is available in one place and always up to date as Cleeng Portal becomes a unique destination for your audiences to browse your latest events, catch up on replays or subscribe to curated membership offers.
1-click, secure payment allowing for 150 payment methods worldwide, including major credit cards, PayPal and also local payment gateways.
The ease of use thanks to a clear page navigation and filtering per category. They can sing in with their Facebook or Google credentials, and access their favorite events anywhere, anytime.
See Cleeng Portal in action, schedule a test ride today!