We are glad to announce that Sydney Speedway is the latest publisher that teamed up with us and chose Cleeng Portal as a turnkey solution for distributing live and on-demand video. Supported by Livestream as an OVP partner and based on the Cleeng Portal, we have set up a great custom solution called Clayperview. It acts as a central hub where all live and on-demand exclusive videos are managed, together with the subscription offers.
Our community manager Monika Zameta is talking to Darren Shaddock from Sydney Speedway on why they embraced Cleeng Portal and what are their key business challenges.
Monika: Can you tell us more about the sport discipline you support? What's the most exciting about it for your fans?
Darren: Sprint cars have a very high power-to-weight ratio, at a weight of approximately 1,400 pounds (640 kg) (including the driver) for a 410 Sprint car, power outputs of 900 horsepower (670 kW) to 1,100 horsepower (820 kW) are commonplace for these machines, which is around 140-340 more horsepower than a 2014 Formula One engine. Typically they are powered by a naturally aspirated American V8 with an engine displacement of 410 cubic inches (6.7L) capable of engine speeds of 9000 rpm.
Sprintcar racing is exciting to watch with up to 22 cars on a 450m oval clay track racing wheel to wheel.
Monika: You've been using Cleeng Portal to bring the video - live and on-demand - to your fans worldwide. Can you tell us what do you like about Cleeng Portal the most?
Darren: We used several other partners to deliver our video streaming and handling the payment gateway before we tried Cleeng and we wouldn't go back to the others as Cleeng's application is so easy to use. The turnkey solution they offer is brilliant and totally recommend it to other premium content providers. They have made our job so much easier and are a pleasure to work with. They are always there to help and answer our questions, and look forward to working with Cleeng to develop the Portal to even a better solution.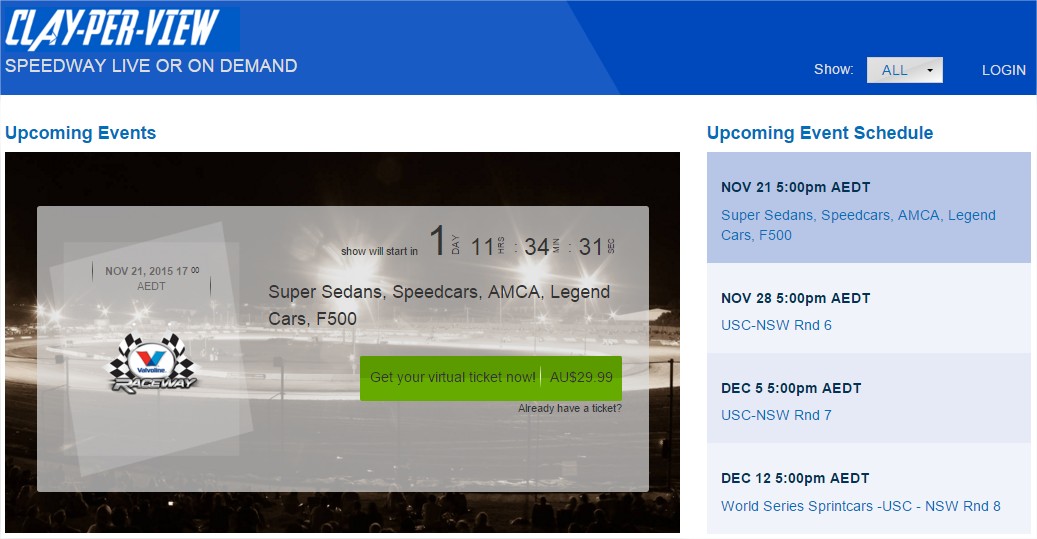 Monika: How were your subscription offerings received by your fans?
Darren: Fans have be screaming out for a service where they can watch race meetings online at any time they feel free to do so. Our sport does not make the main stream media very often. Cleeng and Livestream has given us the opportunity to be able to deliver premium content to our fans and it is a huge step for our sport of Speedway.
Monika: What's the most difficult part of live streaming the racing and how the Cleeng + Livestream helps you tackle this problem?
Darren: Cleeng and Livestream combination is simply awesome for what we do. Our live show will go for 5 to 6 hours and with in 5 minutes of the event ending, we can have that show in our subscription service for the race fan to watch.
"VOD and live streaming is changing the way publishers can deliver their content."
Monika: What are you plans and what your fans can expect in the coming months?
Darren: We have few thing's planned for fans in the coming months. With a lot more content been loading from the last 10 years of racing at Sydney Speedway, we are also planning on launching our Roku Channel with Clayperview in the new year to target our audience in the U.S. Roku has over 8 million devices in the USA and we see this as big market that we can try and tap into with our Clayperview.
Monika: Anything you'd like to add?
Darren: We see the internet and more premium content channels popping up as it gives publishers a different avenue to deliver there content than by TV. VOD and live streaming is changing the way publishers can deliver there content.
---
Want to turn a one-time customer into a lifelong subscriber?