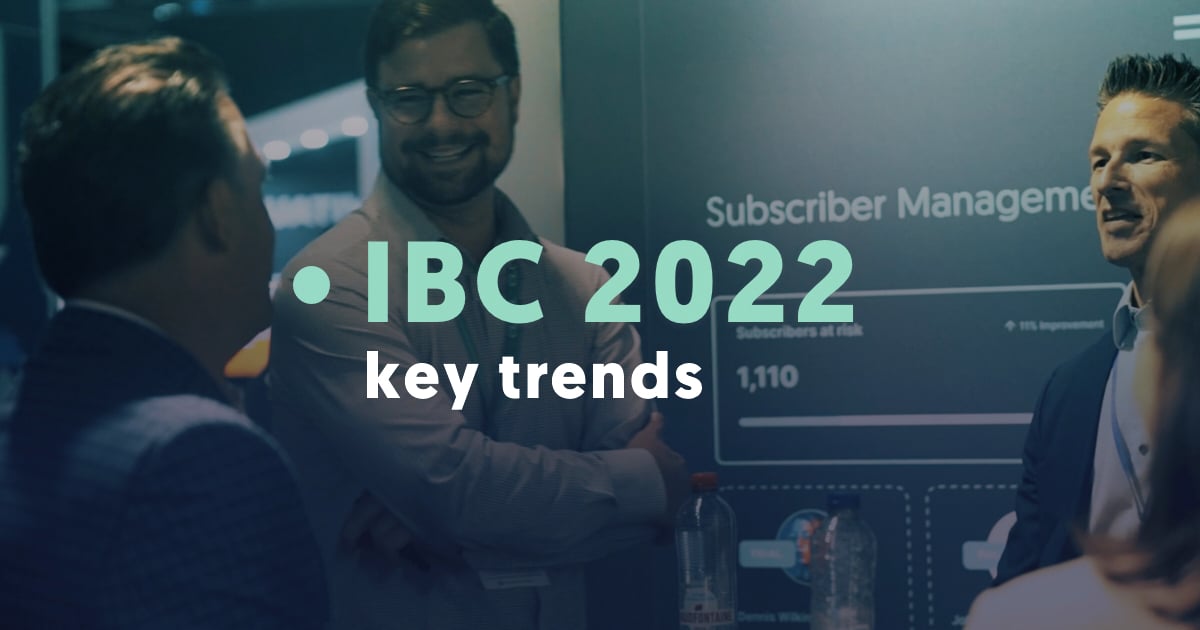 IBC's in-person return after almost three years was an exciting event for the media, entertainment, and technology players. It attracted nearly 37K visitors from 170 countries, living up to all the hype running up to its post-pandemic comeback.
A busy 4 days at the Subscriber Retention Management booth
Client reunions and exciting launches
The Cleeng team had a packed schedule at IBC this year, exhibiting with much of our team, including our 4 founders. We were thrilled to be meeting in person with several clients, such as Tennis Channel and FlowSports (CWC), as well as many prospects, for in depth discussions on supporting their retention strategy and platform launches. We also kept a close eye on the launch of our latest client, whose season launched last weekend.
Reinforcing partnerships and demoing products
Our own platform was also explored in depth this weekend, with many live dashboard demos being shown at our booth. We were proud to reveal the continued developments to our analytics dashboard, offer management and churn prediction tool, and to also see these being demoed at the booths of key partners, Accedo and AWS.
Meeting with these essential partners, as well as many others such as Quickplay, Sportradar, Synamedia, was a highlight of the event, with many fruitful discussions on collaborative solutions to churn and optimized streaming experiences.
CEO feature in IBC panel session
On Sunday, Gilles took part in one of the Content Everywhere panel sessions alongside prominent industry titans like Ashley Reynolds-Horne of Simplestream, Manish Sinha of TO THE NEW, and moderator Colin Dixon.
Together they discussed the evolution of multidimensional business models, from FAST TO SVOD. Through this conversation, the speakers explored the shifting preferences of customers, and the importance of offering choice, with mixed monetization models.
Gilles also shared insights on implementing strong e-commerce practices to create a premium user experience and maximize retention, through tools such as winback campaigns, free trials and advanced customer care.
Additionally, the panel explored the value of customer data in shaping retention strategies, and helping brands make informed decisions about their content selection and marketing tactics.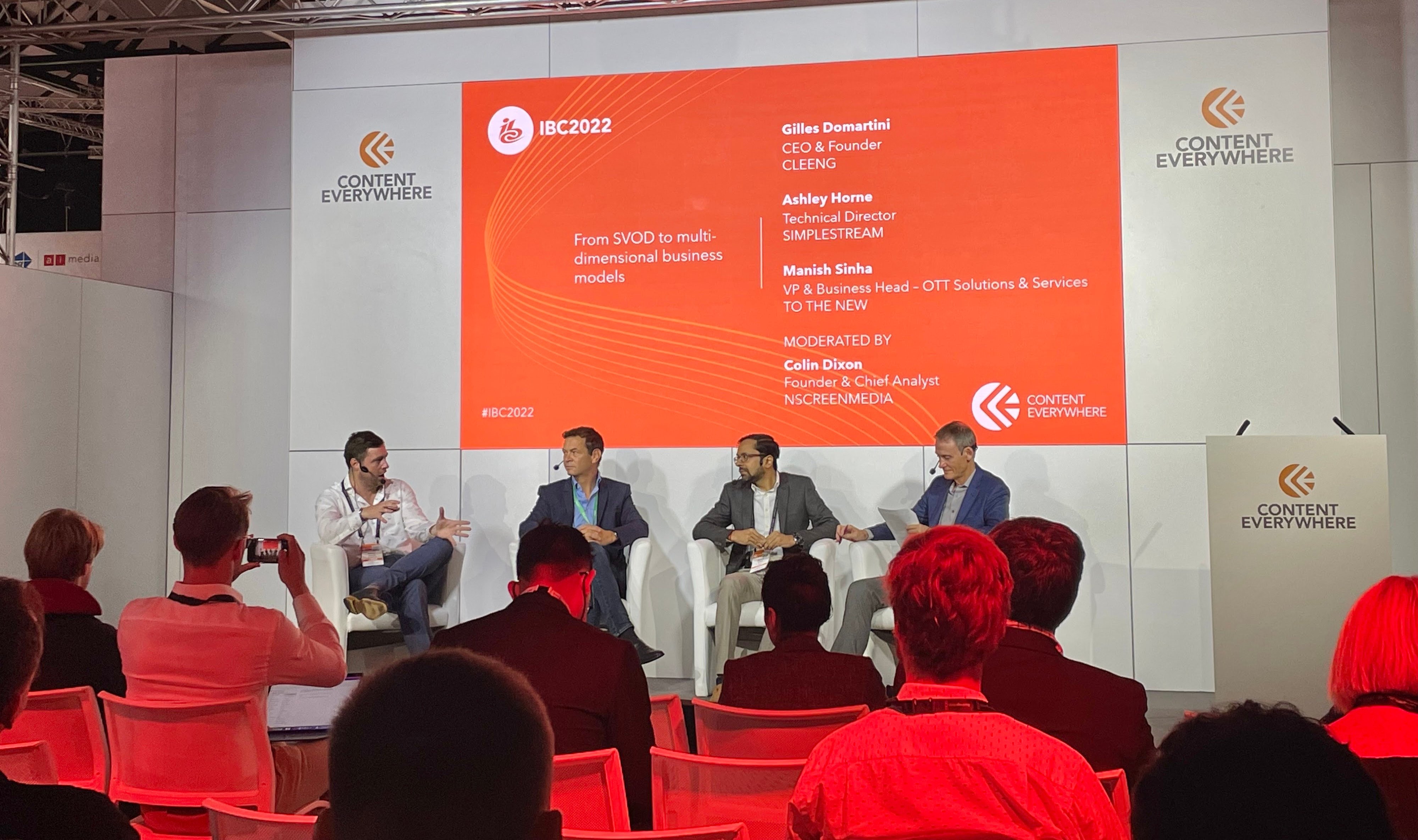 Image: Cleeng CEO speaking with industry experts at an IBC Content Everywhere panel.
The top IBC 2022 trends for the OTT Industry
Amidst the four-day saga, the conversations at IBC ranged from metaverse, cloud migration, and FAST channels to 5G. But there were three key trends that we noticed standing out in the messaging of OTT media brands.
1) Embrace the future with multi-model monetization
Broadcasters need to invest heavily in content, technology, and marketing as the OTT industry matures and grows more competitive.
It's time to reshuffle the cards and start thinking outside of traditional pricing models. In other words, consider beyond the widely popular SVOD framework to increase competitiveness.
A good starting point is acknowledging the two broad ways to monetize content: Advertising and Direct-Viewer-Dollars. With that, it can help to consider the Average Cost Per User (ACPU) and Average Revenue Per User (ARPU) and arrive at iterated pricing models beyond linear approaches to stand out.
Simultaneously, it's also vital to understand that you don't always need to create more content. You can also recreate the same differently.
OTT trends show that users enjoy the 'leaning back' viewing experience. In other words, they prefer a relaxing experience that doesn't require them to interact and respond (through polls or user filled forms) while information like advertisements play in the background. This suggests an excellent environment to evaluate the potential of FAST channels and advertising-based monetization. After all, both credit card dollars and eyeballs can impact the bottom line. Similarly, for deciding whether to choose VOD2Live or Live2VOD or something else, it's best to experiment for your audience and spin up low-cost linear channels at scale.
Are you looking to experiment with new or hybrid monetization models? Cleeng's monetization tool supports every single monetization model, from SVOD to TVOD, AuthVOD, Passes, Live, and PPV. To learn more, discover our Subscriber Management System.
2) Fight churn with AI tailoring and predictive tools
The focus on preventing churn continues to maintain its evergreen status of importance in the OTT industry.
While subscriber acquisition is important, retention is indispensable to fuel revenue growth and bottom-line success, even as times change. This is becoming even more important now as wallets are getting tighter amidst the rising inflation and subscription fatigue.
Industry research reveals that OTT churn primarily stems from 1) the removal of content users enjoy watching, 2) narrow and outdated content choices, and 3) an experience that complicates deciding what to watch.
Thus, a user experience or content selection that is not fitting to the customer, can encourage churn. Tailored subscriber experiences were also a hot topic at IBC. Speaking on the value of using AI and Machine Learning to power a personalized experience, Robert Gelick, Chief Product Officer at Paramount shared, "The discovery experience is essential to make sure people coming in are exposed to something unique. But it's not just the content. People are also looking for next-level responsiveness and reliability as part of the product experience."
The key to enabling users to enjoy the streaming experience and find the value they're looking for can only come with mastering user data. Through machine learning technology, user data can be leveraged to identify signs of churn. Once you have located users at-risk of churn, you can enact proactive measures to prevent this. This makes data intelligence tools indispensable to today's OTT success.
Cleeng's Churn IQ is designed to integrate data science at the heart of your OTT business. It presents specialized retention analytics and AI-detected subscriber insights to bridge the gap between data and decisions for your team. To learn more, discover our Actionable Subscriber Data Platform.
3) Nourish key partnerships for the best end-to-end user experience
In the era of turning tides and intense competition, your OTT strategy needs to focus on strengths and build them further. But, for the other essential areas, the art of intelligent delegation and outsourcing is what will fuel higher growth trajectories for D2C media companies.
In that vein, focusing on content and leveraging the growth principles of eCommerce can be a useful area for the broadcasters. For the other essential yet allied aspects, such as technical handling or UX management, delegating to strong partners can be a game-changing move.
At Cleeng, we harbor a robust partner ecosystem across technology vendors, system integrators, and consulting agencies to help you collaborate and join forces without friction. To learn more, discover Cleeng's Global Partner Program.
Check out this short clip for a look inside IBC 2022:
The future of OTT looks exciting
One thing that stood out this year at IBC, was the buzz of excitement for what's to come. Whilst video monetization strategies are changing, the industry volume continues to grow. This means more untapped potential for any brand that knows how to access it.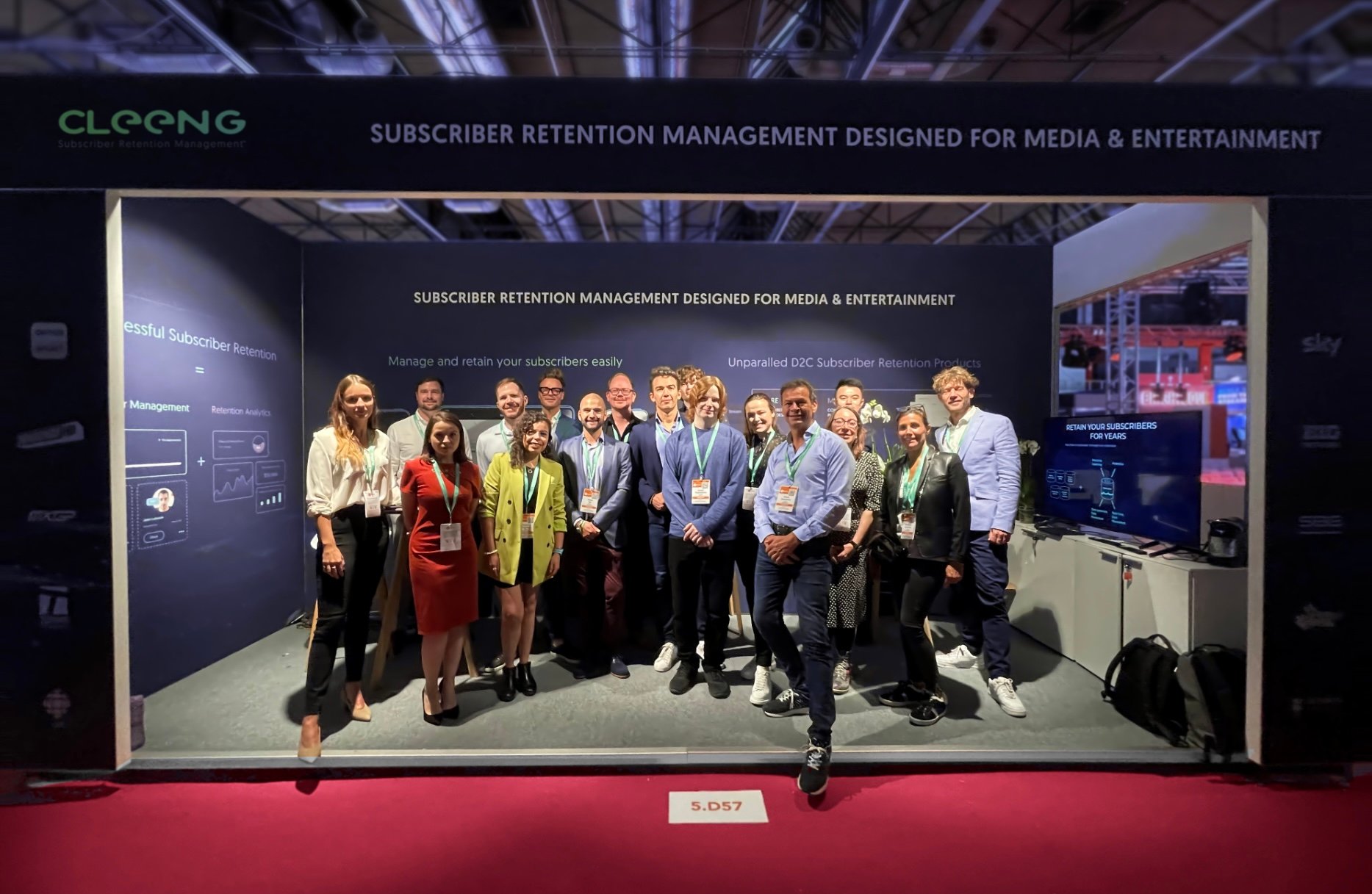 Image: Cleeng team at the Subscriber Retention Management booth
We want to say a huge thank you to everyone who came to see us at the Cleeng booth. And for those who didn't get a chance, we'll be exhibiting at Sportel next month to further discuss our expertise in the sports streaming industry.
Want to start strengthening your retention strategy before then?