Who would have thought it? A television channel especially for the entertainment of dogs. It may be a strange notion but it appeals to a big market, and so far, DOGTV has made its mark on the SVOD world. Here at Cleeng, we are proud for being a part of this exciting project.
The story behind it
How did the idea emerge?
Research shows, boredom when owners are at work or kids are at school can lead to destructive behavior in dogs. You know, stuff like chewing on furniture and ripping up rugs. Since its launch in 2013, DOGTV has grown to reach 14 countries and 23 million US homes. Programming is eclectic, with each video running around five minutes in length. Stimulation videos show dogs taking walks or a corgis splashing around in the sea; relaxation programs feature pups enjoying a mid-afternoon snooze.
DOGTV relies on $9.99 monthly subscriptions and streams via DirecTV, Apple TV, Roku and other platforms. Levi's work arrives at a winning time: Dogs are America's most popular pet, dwelling in 78 million homes. Plus...
Americans spent $60.28 billion on their pets in 2015, in increasingly offbeat ways - a 56% rise since 2006, according to studies from the American Pet Products Association.
But aside from its cutting-edge canine content, what's most striking about DOGTV is its ambition and drive to expand its empire overseas by teaming up with a growing variety of content services.
Ron Levi's creation and the valuable partnerships he's formed is a clear indication of the potential of niche content and how publishers can grow their empire by reaching global audiences. And the viewers need their wanted content on all their devices.
Another multi-device OTT success
The guys behind DOGTV are fully aware that viewers need their wanted content on all their devices.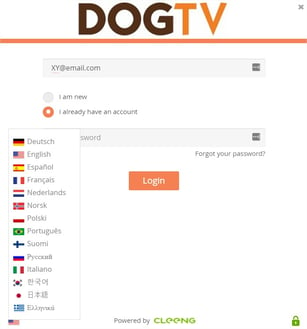 So far, DOG TV's partnership with Applicaster and Accedo (two front-end partners of ours) has proven very fruitful, allowing them to extend the channel to dog owners who use popular streaming media devices and apps.
What is Cleeng's role in this project? In general, Cleeng was picked as technology provider due to:
1- Our unique e-commerce solution for providing cross-app payments and entitlements;
2- Our platform flexibility and existing integration with Applicaster and Accedo;
3- The powerful churn analytics.
So, through a perfectly balanced mix of content innovation, product marketing, and the support of a superior platform, DOGTV has been able to broaden its horizons, spread its wings and reach over a dozen countries, and counting.
If you're the publisher of niche content and you want to extend your geographical reach, it's plain to see the potential just by looking at the growing success of DOGTV.
Find out how you quickly go over-the-top and launch an SVOD service: