As the world becomes more web based and the average consumer uses more online services than ever before, data security on the web is, of course, a growing issue. That's why we take this issue very seriously in order to make sure that as a consumer, you feel safe and secure at all time.
What consumers feel about privacy protection?
According to an official study carried out by Global Web Index, 63% of consumers are concerned about data collection. People are worried that their personal details may be overshared and used for harmful purposes, and this view is prevalent amongst all age demographics. People feel that Big Brother is watching them.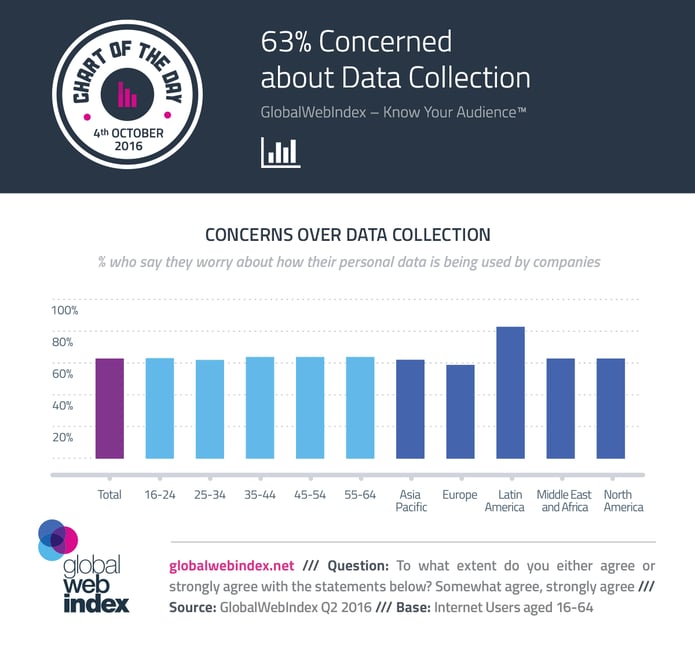 And since a lot of our market is in the Americas, we feel that we need to inform our end-users that their data is safe.
Cleeng handles personal data with care
Here at Cleeng, we feel personal data protection is paramount.
In the interest of transparency, here is the data that we handle as an organisation:
Cleeng handles data for our clients, broadcasters and event organizers, understanding and dealing with the complexity of Personal Identifiable Information.

We are responsible for is authentication and user data as well as payment information.

Ourselves and our payment partners including Adyen, PayPal, and Stripe, ensure all operations adhere to strict PCI regulations.
Cleeng adheres to the EU-US Privacy Shield
Since October 2016, we are proud to say that we adhere to the EU-US Privacy Shield - the official replacement since of the Safe Harbor Ruling since 12 July.
To ensure the protection, security, and smooth handling of every single piece of data divulged by or collected from our consumers and partners, our main data centre is based in a virtual private cloud in AWS in North Virginia - one of the world's most advanced and geographically friendly developments on the planet.
In addition to this, Cleeng and AWS signed the AWS Data Processing Addendum with Model Clauses; an initiative that was approved in 2015 by the EU data protection authorities. In short, this means that we handle all personally identifiable information according to the strict privacy laws of EU - so you know your information is safe in our hands.
Above all else, security and data protection is our number one priority. As such, we execute penetration tests with experts IOactive; we also encrypt data in our data centres, as well as the communication between our servers to provide an unrivalled level of security.
On top of this, our team works tirelessly to all of the guidelines of to all security guidelines of OWASP each and every day.
---
Let us know if you have any questions about this topic