Photo courtesy of https://www.facebook.com/fifaworldcup
As a football fan, you don't want to miss even one second of a game played by your favorite team. Today, with 4G and mobile technology, you can tune into the football match streamed live online in its entirety - even while traveling or being stranded in a traffic jam.
To help the local football fans keep up with the pace of the 2014 FIFA World Cup action wherever they are, Cleeng teamed up with Sportsmax TV to enable access to all games, live - entirely online and as video -On-demand from June 12th through July 13th.
CGR Communications - a Jamaica-based media agency – turned to Cleeng on behalf of Sportsmax TV to see if we could help them monetize the 2014 FIFA World CUP games for twenty-two Caribbean countries. Their objective was to give all local football fans (numbering nearly thirty million people) a chance to access every single game wherever they are and on any device.
As a cable TV provider, Sportsmax TV has amazing programming and experience, but they had no hands-on practice in streaming HD online to many devices or with providing live customer support.
Gilles Domartini, Cleeng CEO, summed it up:

Fast setup for highest demands
It was a fast-paced project, as we signed the contract just one week before the World Cup was to begin. Within just a few days, we developed a fully customized paywall that allows viewers - using a single pass - to access Live streamed games and On-demand replays.
We set up geo-blocking to guarantee that the stream is available only for the twenty-two Caribbean countries. We prepared tens of thousands of coupons, to be distributed to Sportsmax subscribers, as well used as gift cards to buy in stores.
Besides watching the stream on a regular TV, the viewers can purchase or use a free access coupon and log into any game on any device. The mobile and tablet-ready programming at http://sportsmax/tv features Live video that is transmitted directly from the stadium in Rio, but also VOD replays of every single game, available right after its finish.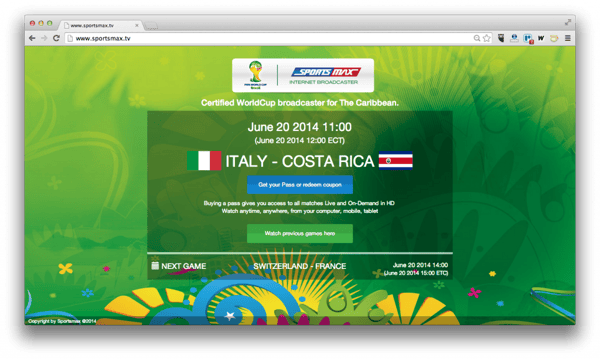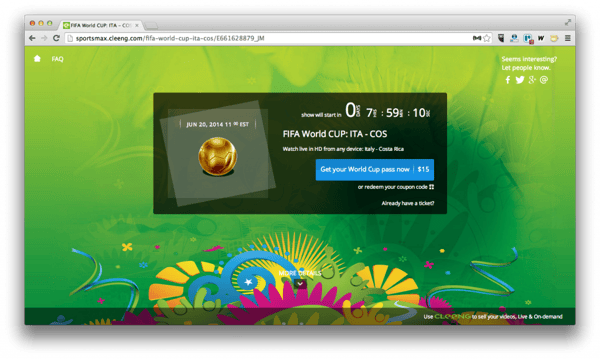 A single match landing page
From a logistic point of view Cleeng has been providing:
Live stream protection (allowing for two concurrent streams when two games are happening at the same time),
A specific VOD setup and coupons management,
User identification & access management,
A single pass to access all games of the FIFA World Cup,
Payment processing,
Geo-restriction and

Customer support by email, where the average time to the first reply is under 15'

.
We are extremely proud and thrilled to work on a pay-per-view project as ambitious as a FIFA World Cup pass, in 22 markets. It demonstrates the robustness of our technology, and that our video solutions are trusted by leading corporations for their strategic activities.
Related blogposts: