If you haven't heard yet: our Partner WordPress is celebrating their 10th B'Day!
Past 10 years can be surely described as 'The WordPress decade'. Released on May 27, 2003, by founders Matt Mullenweg and Mike Little, WordPress disruptive platform hit in 2013 over 18 million downloads worldwide!
At Cleeng we celebrate this tremendous success along with the 2nd Cleeng + WordPress co-op anniversary. Since 2011 we've been helping thousands of talented WordPress users to earn on their creativity by monetizing their premium content.
Two and a half years ago Cleeng team developed a unique share & earn plug-in for WordPress, called Plug & Go. Earlier this year we extended our portfolio by another integration - PayPal Digital Goods for WordPress. Both plug-ins offer a truly frictionless purchase experience and seamless access to digital content - instantly & from any device *
By this occasion we would like to thank WordPress team for two amazing years together. We wish you a very happy birthday & another 10 years filled with wonder and success!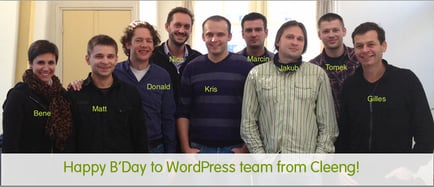 ------
* WordPress users select parts of the page (like particular paragraphs/posts, images, videos or downloads) they want to sell & define the price plus description. They chose between: single items offer, a daily access pass (24h) or membership subscriptions (weekly, monthly etc.). Cleeng plug-in creates for them a "layer", protecting their content. A protected WordPress website looks exactly as before, but the chosen elements remain invisible, until paid for. Our no fuss solution = available worldwide 55 fully https secured payment methods (including PayPal, SMS), that are dynamically selected per country and price point.
Update: The Cleeng WordPress plugin is no longer supported. After May 14th 2014 all transactions made via this plugin won't be processed. Please use our API or available Video and live stream solutions to sell your content with Cleeng.