We don't mean to sound like a broken record, but SVOD keeps up its expansion tempo – and with each passing day, the traditional TV services of yesteryear are becoming more and more obsolete.
As we know, this largely comes down to choice, freedom and autonomy, as well as value for money. People don't want to be glued to a rigid programming schedule and a dusty old TV that sits in the corner of their lounge - they want to be able to enjoy bespoke content on demand - whether they're on a bus, in the supermarket, in a hotel, or even on the toilet.
Viewers subscribing for online video want diversity
Needless to say, SVOD is a popular beast, but just how popular has it become. Well, consider this stat from Hub Entertainment Research Hub's annual "What's TV Worth" study:
37% of consumers have two or more SVOD subscriptions, which is double the percentage in 2015 (19%).
That's huge and we expect this figure to rise even more by the end of the year.
SVOD grows among all age groups
Also, according to a recent study by MIDia Research, online video subscribership isn't just reserved for millennials – it's spreading across a variety of age demographics, as the chart shows: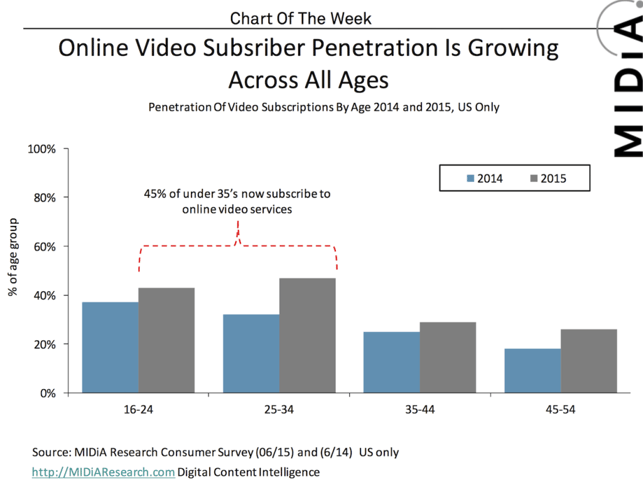 Now firmly established, video streaming subscription services like Netflix are a key component of the pay-TV landscape - and look set to be an even larger part of its future. The all you can eat nature of the SVOD service is favourable amongst those of all ages, which is why its success continues to grow.
In terms of value perception, Netflix is a force to be reckoned with, in fact, 67% of all TV consumers say that Netflix offers excellent or good value as a service; another sure-fire sign of the times.
Current developments are inviting more supply-side companies to enter
By default, we expect that the niche-er the service, the more loyal the customers. Stats say that doesn't seem to be the case at this point. Hulu findings say that the more numerous subscriber base is also the most dedicated. The main reason probably lies in the dominant packages that the two SVOD giants currently offer.
Now, we know that people's' appetite for SVOD services is at an all-time high. With such a range of people subscribing to SVOD services, there's a huge amount of scope for those that offer niche video content.
As the big players saturate the market, an increasing number of niche video providers are expected to emerge from the shadows, offering video hungry consumers exclusive content that suits their specific interests. Whether they are into rock music, knitting, home brewing, or anything else for that matter, folks are screaming out for services that offer them value beyond TV box sets and blockbuster movies - and for content providers that deliver the goods, the rewards will be endless.
When the big kids on the block start struggling to attract new subscribers, those who are offering more specialised, exclusive and in-depth content will see their profits soar. As today's consumer gets more savvy, the need for smarter, more focused content will become the next big thing.
It may be in its prime, but SVOD subscription service has not peaked yet. The next generation of streaming services are on their way, the question is: will you be one of them?
Find out how SVOD can help you get returning paying customers: