Supercross Live, the hugely popular off-road motorcycle racing organization recently made a smart move related to their OTT strategy. After enjoying great success with their live pay-per-view events, the organizers launched a fully-featured online portal that hosts their live and on-demand videos that delights their fans. Monster Energy AMA Supercross, an FIM World Championship is the most competitive off-road motorcycle racing series in the world and attracts nearly one million fans in live attendance over the course of the 17-race season. Its digital fan base boasts an even more impressive number, engaging with 10 million weekly viewers from all over the world.
According to research conducted by Hookit, the leading social and digital media measurement company, Supercross fans are among the most engaged consumers online, ranking the sport in the top-20 of global properties.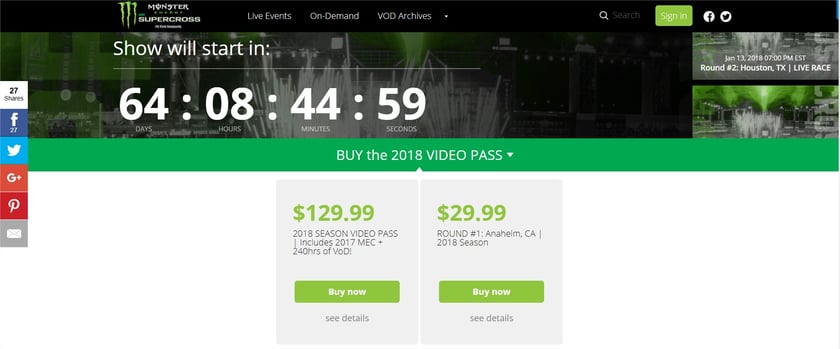 With this launch, the organizers are taking the new Cleeng Portal as a backbone solution that helps them sell worldwide, on any device, including mobile and Roku. The main offer, the Supercross Video Pass provides access to all 17 rounds of the 3-hour Monster Energy Supercross television broadcast (2018), every race from the last three seasons (2015-2017), plus the 2015 and 2016 Monster Energy Cup races and an additional library of original content.
"We chose to work with Cleeng again in 2018 based on our experience with them this past season," said Sam Gomez, Vice President of Digital Marketing for Feld Entertainment®. "They provide a great way to monetize premium video content and reach a global audience. Their new live portal provided us with a scalable solution that included responsive design, several membership offerings and a simple way to present upcoming live events, alongside our VOD content."
For more information on Monster Energy Supercross, please log onto SupercrossLIVE.com, or access their online portal at supercrosslive.tv.