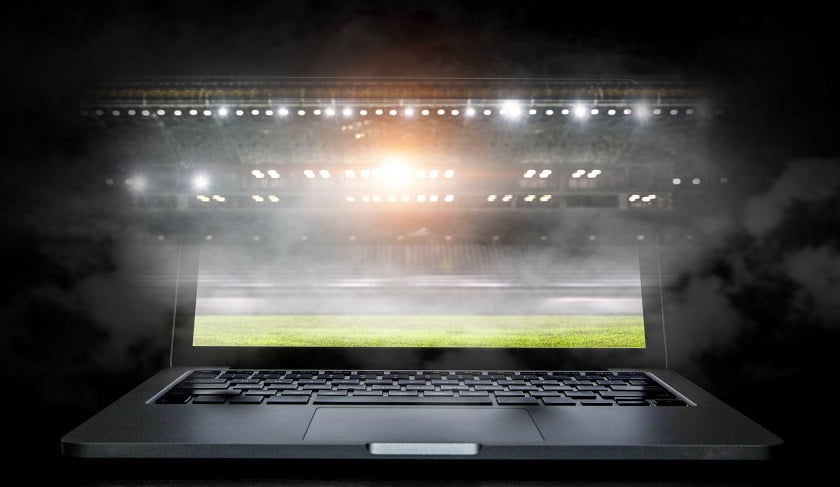 This long-form post comes from Yannick Manuel Ramcke, a young professional in the sports business and media industry and founder of the OFFTHEFIELDBUSINESS.de - Blog. Follow him on Twitter (@yannickramcke) or get in touch via email (yannick@offthefieldbusiness.de).
---
The broadband-based distribution of live (sports) content has become an essential channel for traditional rights holders (e.g. ESPN, Sky Sports, Movistar, Turner Sports) to reach a more complete audience as the younger demographic alone. Live content consumers have just started to ditch the linear cable or satellite viewing model in favor of the digital ecosystem for their media consumption across video, audio, and text. Moreover, the adoption rate for audio (e.g. music streaming, podcasts), text (e.g. eBooks, newspapers, magazines) and even non-live video (e.g. scripted content, documentaries) has steadily increased over the last few years, reaching a notable level of mainstream adoption while remaining a niche channel for digital-savvy users when it comes to live sports: For example, around 455,000 viewers, on average (= average minute audience), streamed NFL's weekly "Thursday Night Football" on Amazon Prime through the first 10 weeks of the 2018 season. For comparison, the total combined average audience for the linear television channels of FOX and NFL Network was +/- 12.8m viewers in the United States alone.
The fact that the National Football League granted global streaming rights to Amazon Prime as part of their two-year deal (+/- $65m per season) and the games were, therefore, at least theoretically available to everyone of the platform's 100 million-plus Prime subscribers in over 200 countries - including many territories in which the NFL is not even available on linear television - supports the status of digital media as a niche channel for premium live sports content.
But, there are further challenges for any rights holder in the sports broadcasting market who think digital-only (e.g. DAZN, ESPN+) or digital-first (e.g. Eleven Sports, B/R Live) than the obviously limited adoption by consumers: Digital video streaming services have especially struggled to find any traction with less digital-savvy consumers aged 45 or older up to this point. The technological end of the equation offers tremendous opportunities (e.g. the 'Anywhere, Anytime, Any Device' - approach) and competitive advantages (e.g. real-time, first-hand and exact data) over the linear distribution, but the mere customer promise of reliably streaming any live content at scale seems to remain the main obstacle before the technology's fundamental benefits can truly be leveraged and contribute to the overall consumer experience.
Major technical hiccups during high-profile live events in recent past have been widely documented and written about extensively, including in the United States alone:
[chronological order, event, rights holder, provider of OTT solution]
Golf: "The Match" (2018): B/R Live [iStreamPlanet, in-house solution]
Boxing: "McGregor vs. Mayweather" (2017): Showtime [NeuLion, third-party turnkey solution]
FIFA World Cup Qualifier: USMNT vs. Trinidad & Tobago (2017): beIN SPORTS Connect [Arkena, third-party turnkey solution]
The common denominator for most of these highly-publicized struggles boils down to a "Triple-Play" consisting of broadcasting a live event in real-time (when disregarding the additional issue of latency at this point in time), at scale, once the digital channel serves as the exclusive or at least primary distribution system, and any payment processing right prior to or even during the actual live broadcast. The latter seems obvious for 'Pay-per-View' - purchase options, but this also happens often with subscription-based streaming services (e.g. ESPN+, DAZN, Eleven Sports, B/R Live) as consumers usually sign up to the platform just before the first (high-profile) event they must see is about to start. As a result, many live sports consumers lack any real incentive to handle the sign-up process earlier as this would probably mean that their free-trial period would expire sooner, meaning they may lose access to the event they signed up to see in the first place. In general, free trials have become a common user acquisition vehicle for digital-only, subscription-based market newcomers in a bid to overcome the consumer's initial skepticism towards the new technology and limited awareness for the rights holder's brand.
Another applicable non-PPV example for this scenario has been the numerous market launches of industry disruptor DAZN (e.g. Germany, Italy, Canada): Why should anybody in Germany (2016, English Premier League), Canada (2017, National Football League), or Italy (2018, Serie A TIM) have signed up before the first live broadcast of its marquee sports property and effectively shorten the free trial period during which the consumer actually uses the service? The result here has been unmanageable stress on the technical stack of services, due to an unprecedented and highly concentrated surge in demand as a large audiences try to sign-up (payment processing) and gain access simultaneously while lacking any alternative non-digital option to follow the event (exclusivity for digital-only-first rights holder).
To make matters worse, the platform's technical developers have lacked any viable possibility to truly test the real-world scenario case launch and the first-time platforms are exposed to such high demands is in real-time, when it really counts. The fact that (major) technical issues have mostly been an initial one-off roadblock for many subscription-based OTT live streaming services supports this hypothesis. However, it should also be noted that the number of "Triple-Plays" (including first-time sign-up and payment) is probably also significantly lower for the second marquee event (e.g. second match day) and does not help the consumers that were affected in the first place.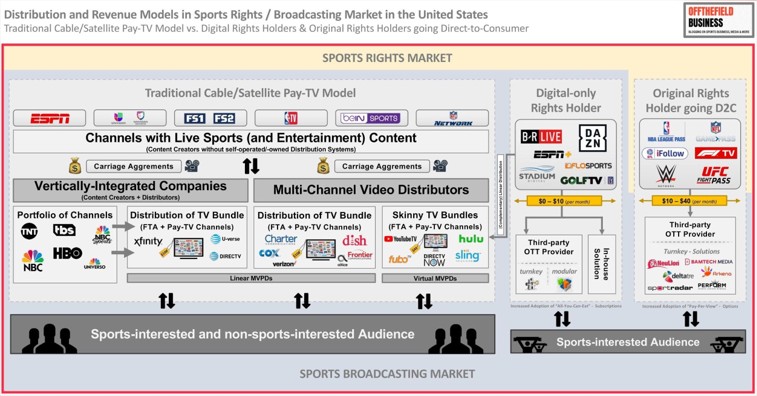 Nonetheless, digital-only rights buyers are here to stay and have joined legacy media companies, who traditionally carried the biggest sports events, in the fight for sports broadcasting rights going forward. The other newcomer on the sports rights market: Original rights holders such as sports leagues and organizations who own the media rights in the first place and usually monetize their intellectual property by selling those rights to legacy media companies, but have, in recent times, displayed increased ambitions to go directly to the consumer with their own product (e.g. WWE Network) and disintermediate their broadcasting 'partners' of the past.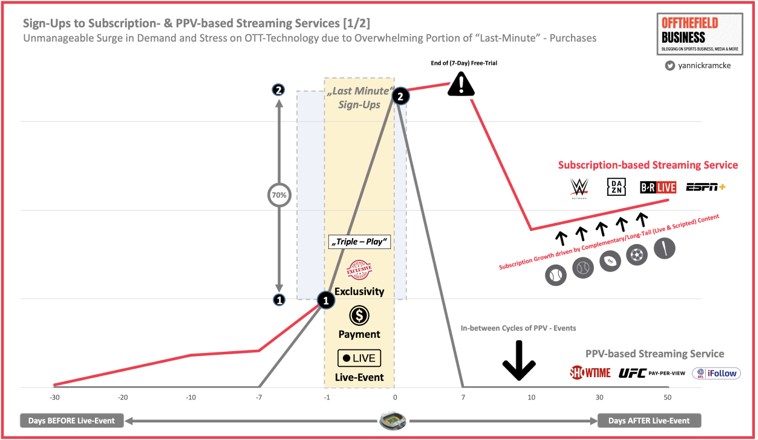 As a result, today's sports broadcasting ecosystem, consisting of sports rights (i.e. buying rights) and sports programming (i.e. monetizing rights) market is becoming increasingly fragmented and with many new trends and experiments to observe: On the consumer product side, (1) microtransactions seem to have been identified as a revenue model ideally fitting today's consumer preferences (think: sports with season formats) while (2) a subscription-based 'all-you-can-eat' access model is aimed at mitigating the consumer's costs in a disjointed sports programming market by replacing the expensive 'Pay-per-View' model for marquee stand-alone events (think: boxing or mixed martial arts events) with more affordable flat-rate subscriptions. On the technology end, many legacy media companies either built in-house solutions or acquired service providers with all-in-one turnkey solutions to catch-up with the distribution capabilities of the new entrants from the digital space. But, after spending hundreds of millions on third-party turnkey solutions, a (3) modular approach seems to become an increasingly more viable alternative able to potentially cope with the only increasing demands on the over-the-top technology.
DEVELOPMENT #1:
Microtransactions to have every game at someone's fingertips without monthly commitments.
The most documented news concerning microtransactions has probably been the recent implementation of the single-quarter purchase option by the NBA that will be available through its Turner Sports-powered NBA League Pass, going forward. Offering one single ($1.99), two ($2.99), three ($4.99), or all four quarters ($6.99) of an NBA game on a stand-alone basis without having to commit to monthly (+/- $30) or season-long (+/- $200) subscriptions. The idea itself has been floated within the NBA offices for years but any implementation was prevented by the limited technical capabilities as NBA Commissioner Adam Silver noted back in 2015 during a panel discussion at the MIT Sloan Sports Analytics Conference in Boston (USA):
"It's not a great consumer product composition when it's all-you-can-eat in one price because most people don't want to consume that many games. But right now, our League Pass package really isn't set up to sell it as individual games. [However,] We're quickly getting to the point with the OTT technology on a transactional per game basis. That is going to be transformational."
With the technological capabilities of Turner Sports' in-house division, iStreamPlanet, in which the AT&T-owned company acquired a majority stake back in 2015, now supposedly ready to go for a more consumer-friendly, broader access (think: only 277 of 1230 regular season games were broadcasted on national free-to-air or cable/satellite television in the U.S. during 2017/18 NBA season) approach, the price discovery for new content formats such as the NBA League Pass' single quarters or "The Match: Tiger vs. Phil" will present a fresh equation to solve: Regardless of Turner Sports having to forfeit any PPV (media) revenue for "The Match" since it was ultimately made accessible for free via an online stream on B/R Live due to major technical issues and any customer who previously purchased the one-off event either via B/R Live or traditional cable and satellite distributors (e.g. Comcast, Charter Spectrum, AT&T & Cox Communications) were fully refunded, there were wide-ranging speculation about the event's pricing leading up to "The Match": More- or less-informed guesses ranged from $9.99 at the lower end to $49.99 at the upper end, with WarnerMedia ultimately settling for $19.99 per view. Whereas, the price tags for known 'Pay-per-View' properties are more or less established based on sports (think: Boxing more expensive than MMA) and geographic market (think: US more expensive than the UK), new event formats (think: "The Match") and purchase options (think: Single Quarters in the NBA) will not only be uncharted territory from a technological perspective but also concerning the setting of price points for such offerings.
Also, here's another important thing to note that underlines the long journey that OTT technology must still embark regarding the migration from a niche and complementary distribution channel to mainstream adoption:
"The Match", to which WarnerMedia's sports division had secured worldwide media distribution rights, did not even meet all three criteria of the frightening "Triple-Play" but the (1) added business layer of payment processing to pay-wall the access to the (2) live event seemed to have already been an insurmountable challenge for iStreamPlanet's OTT solution, despite the (3) dispersion of the audience across the linear cable and satellite system in addition to the digital system providing significant relief for the OTT platform itself.
DEVELOPMENT #2:
Disrupting the 'Pay-per-View' - Revenue Model with Subscription-based 'All-you-can-Eat' Access
Whether the aforementioned 'Pay-per-View' model itself is going to be the most effective way to monetize marquee sports events in the future is a completely different question regardless of technological implications: Sports properties like boxing and mixed martial arts that have traditionally been based on this revenue model are going to face potential disruption by subscription-based models that are currently pioneered by ESPN+ (e.g. Top Rank Boxing) and DAZN (e.g. Matchroom Boxing, Golden Boy Promotion) in the United States. In times when more and more live sports content has moved behind the paywall and forced to compete for the consumer's wallet share next to other digital media services (e.g. Spotify, Netflix, Amazon Prime, The New York Times - Digital Subscription), spending +/- $50-$90 for one stand-alone event becomes increasingly cost-prohibitive for the average sports fan.

On the positive side, such marquee events that usually entail additional cost for the consumer can serve as an extremely powerful user acquisition vehicle for streaming services with flat-rate subscriptions: Canelo Alvarez's fight against Rocky Fielding at Madison Square Garden on 12/15, the first under the Mexican fighter's record-setting deal via Golden Boy Promotion with DAZN (+/- $365m over 11 fights), has probably been the textbook example of a major incentive for signing up for a platform's free trial while saving almost $100 compared to the traditional PPV model in the meantime.
Once the technological issues of the 'Triple-Play' can be managed reliably, the next big thing that will determine the long-term viability of DAZN, B/R Live & Co will be user retention and experience management with the ultimate goal of minimizing the platform's churn rate for the initial sign-ups to the free-trial, converting these sign-ups into long-term subscribers in the process. Before thinking about refinancing any rights fees, which will probably also move towards the billion-dollar mark for the biggest digital-only rights buyers on an annual basis over the next few years, a customer lifetime value (CLV) exceeding customer acquisitions cost (CAC) is the first step. Its economics, however, can be challenging considering the fact that skyrocketing rights fees and huge customer acquisition costs (e.g. free trials, expensive brand and trust building campaigns including ambassadors, omnichannel advertising) compare to non-existing or low switching costs (e.g. monthly cancellation, ease of entry/switching) on the consumer side. Therefore, an effective subscriber retention management strategy that provides added value to the customer experience, ranging from hygiene factors (e.g. availability of languages, ease of payment, search in increasingly ballooning content libraries) to true differentiators (e.g. content recommendation algorithms, customized push notifications, digital gifting) will be essential, before moving to greater but inevitable objectives such as expanding beyond early adopters (initial subscriber base) to less digital-savvy target groups of above 45 year-olds to ultimately refinance costly sport rights despite a digital-only or -first approach:
"You need to keep existing subscribers happy and potential new customers willing to take a shot at your service despite an initial unfamiliarity and lack of trust."
Exclusively carrying the world's most sought-after live sports content would certainly do the trick but there are a lot of other levers to pull as it will take years until NFL Super Bowls, FIFA World Cup Finals, or the Olympic Games go digital-only.
One final point on the reason digital-only rights buyers might embrace the subscription-based approach instead of one-off PPV events: The cyclical 'Pay-per-View' model relies greatly on the star power of a few athletes who are the only ones able to drive sign-ups costing up to $100 per night, making every sports organization overly dependent on a few individuals (think: UFC moving UFC 232 from Las Vegas to Los Angeles on 6-day notice to ensure availability of card headliner Jon "Bones" Jones, probably the difference between +/- 400,000 and +/- 200,000 PPV buys at +/- $65 each). Subscription-based services with steady and predictable cash flows (i.e. recurring revenue) do not only decrease the revenue model's overexposure to individual athletes but they have also been greatly appreciated by public and private investors (think: Netflix, Spotify, Salesforce). As the competition for the consumer's discretionary income becomes ever more crowded, the proactive purchase of PPV events will probably be the first expenses to be cut by value-conscious streamers, whereas a monthly subscription in the single-digit range (up to $10/month) will easily be forgotten about even if not used constantly (think: monthly gym membership). To which degree this hypothesis turns out to be true once digital-only rights holders move to a more aggressive monetization of its existing subscriber base through price hikes of the monthly subscription plan is still to be determined, but inevitable on their way to profitability given the greatly increased level of rights fees.
DEVELOPMENT #3:
Moving from All-in-One to Modular Approaches to building more flexible OTT Solutions
User-generated footage of amateur and niche sports has lived in online platforms for a long time, given its lack of audience size or mainstream appeal, which essentially rendered it prohibitive for any traditional linear television broadcaster. Twitter acquiring non-exclusive global streaming rights to NFL's Thursday Night Football (10x games per season) in 2016 was probably the inflection point for the sports broadcasting ecosystem looking back: Existing digital media platforms including Twitter (e.g. MLB, MLS, PGA Tour), Facebook (MLB, La Liga, Golden Boy Promotion, WSL), and Amazon (e.g. NFL, Premier League, Tennis US Open, Tennis ATP Tour, AVP) have started to experiment with live sports content and sporadically scoop up rather niche sports and/or non-exclusive first-tier rights ever since to support the industry-wide 'pivot-to-video' trend in the digital advertising market: "It's where the money is." Although, the near-term impact of those digital platforms on the sports rights market should not be overestimated and new sports-dedicated digital-only/first market entrants (e.g. DAZN, Eleven Sports, Stadium, FloSports) are more imminent competitors for traditional rights holders, it was also a pure result of changing consumption habits to which the market incumbents had to find solutions. To catch up with the new competition in terms of digital capabilities, many legacy media companies either simply acquired provider of turnkey solutions (Buy-Decision, e.g. Disney/ESPN, Turner Sports/iStreamPlanet) or spent significant resources on in-house development (Make-Decision, e.g. NBC Sports Group/Playmaker Media). The common denominator among these acquisitions by traditional rights holders - which were generally not aimed at replacing but complementing the linear distribution to reach a more complete audience - is a preference for all-in-one turnkey solutions such as NeuLion, Sportradar, Deltare, or BAMTech. The same does also hold true for those tier-one sports properties who launched independent direct-to-consumer products (e.g. Sportradar - powered ehfTV, Perform - backed FIBA TV, Deltatre - powered FINAtv).

Technical hiccups during high-profile moments on a continual basis have shown that there's no magical solution for the perfect live streaming experience at present - a circumstance that continues to drag on the mainstream adoption of digital-only distribution. Also, additional internal and external factors, including customer education and last-mile broadband infrastructure present significant roadblocks. Nonetheless, the adoption of broadband-based technology by sports fans should only rise going forward (think: cord-cutting, aging of digital-savvy generations), putting even more stress on the technological infrastructure compared to its current niche or complementary status among distribution systems when it comes to live sports. With more demand to be expected and an awareness of the high stakes for delivering an acceptable viewing experience, rights holders and sports organizations could start to prefer a more modular approach instead of one-size-fits-all turnkey solutions. Dedicated service providers for individual components of the overall streaming solution benefit from specialization following the credo:
"Better to specialize in my niche and doing that really good instead of trying to provide an all-in-one turnkey solution."
Customers (= rights holders), on the other hand, like the modular approach of combining solutions from different technology providers for the frontend, business layers (e.g. payment processing) and backend because it allows them to quickly replace single components that are not performing well without having to overhaul the entire technology stack.
CONCLUSION:
Industry in need for short-term fixes until OTT technology is ready for primetime.
The supposed interest of new media companies in premium live sports rights has been written about extensively for a good few years now and is often used by sports leagues as well as organizations as a welcomed topic to drive up prices for its media rights. However, it has not materialized in any meaningful way, yet. Except for a few exceptions in high-profile spots, which were then almost consistently marked by technological issues, any ambitions up to this point have been solely focused on either complementary or non-exclusive live distribution (e.g. NFL "Thursday Night Football" on Amazon), or niche sports that would have rarely made it onto the traditional linear broadcasting airways. The common denominator in both cases: The shallow demand as measured in concurrent viewership limits the stress on any streaming platform during these instances. The most likely scenario for Amazon, Facebook, B/R Live, DAZN & Co. carrying live sports going forward will rather be evolutionary than a revolutionary process of moving up the ladder from the aforementioned long-tail to second-/first-tier content and from complementary to exclusive/digital-only distribution. With additional layers (e.g. payment, user verification) to be added as needed and over time.
As I said before, digital-only/-first bidders are here to stay for the long-term and until reliable streaming solutions are available 'in real time and at scale,' rights holder that primarily rely on over-the-top distribution should think about alternative short-term solutions to optimize the all-important initial user experience.
For example, an equally simple and effective approach would be to decouple the frightening "Triple-Play" (= Live + Exclusive + Payment) by influencing consumers' behavior accordingly. In the case of subscription-based streaming services, providing a uniform end date of free trial periods regardless of the sign-up date - like seven days after the marquee event due to which most users considered signing up in the first place - seems to be an easy-to-implement short-term fix. When it comes to PPV events, small but noticeable discounts based on early sign-ups (think: "Early-Bird Special") would certainly cut into the margins of the rights-holding entity but would not only spread the total numbers of PPV buys over a longer period of time (i.e. relief for OTT technology), but potentially increase that number, whereby total PPV sales (= average price * sign-ups) could ultimately get close to the initial revenue figure. Regardless, Warnermedia, the mass media and entertainment conglomerate owned by AT&T, would have surely traded a little less revenue for Turner Sports for a seamless streaming experience for its customers on B/R Live during "The Match." Although the non-monetary benefits of how the Turner executives handled the dilemma (i.e. risking limited access for paying customers vs. foregoing all PPV revenue) by dropping the paywall entirely are probably underestimated as well: app downloads for B/R Live, tremendous data intelligence, publicity due to broader access, and built-up goodwill by making the customer-friendly decision should immediately come to mind in this regard. But, this is a discussion for another day.
All in all, the past year has been immense for live sports streaming. Despite the noted hiccups, fans enjoyed loads of great content online. The football World Cup and the Olympics were broadcasted online in many parts of the world, there were some epic PPV fights (ex. Joshua vs Klitschko, Canelo vs GGG 2, Fury vs Wilder) and more. This year, we should see even more!
---
How can you get the most out of your PPV service?