We've said it before and we'll say it again: the way in which we consume visual content is changing. In fact, it has changed significantly over the past decade - but in terms of the way we consume home entertainment, what elements are driving these changes? There is no short answer here; however, one thing we know has redefined the way we enjoy our video content is the role of streaming media devices in the home.
Internet video and pay-per-view go with streaming media devices
According to research carried out by Parks Associates, US broadband households with a streaming media device such as Roku or Apple TV, watch more video content on the television than households without one of these devices - in fact, it's an average of around a whopping 22 hours.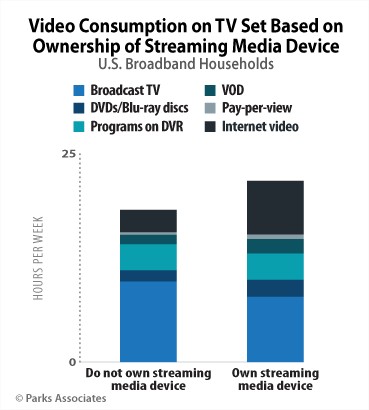 Streaming media device owners actually watch double the amount of internet video on the television, chowing down on about six hours worth of content per week, as opposed to three hours by non-owners, but only eight hours of broadcast television compared to 10 hours for households without a streaming media device. Also, pay-per-view emerges a model that streaming media devices owners embrace much more than the rest, with tendencies to grow even more in near future.
The big boys
With the popularity of streaming media devices growing, so are the options. The most popular devices (the big boys) on the market are as follows:
The Roku streaming stick

Amazon Fire TV (stick and remote control based)

Google Nexus Player (box based)

Google Chromecast (stick/dongle based)

Various video games consoles

Apple TV (box based)
Influence on the OTT rise
As you can see, there are plenty of choices. So what does this mean for the OTT industry? Due to the adoption of streaming devices, combined with an increasing amount of OTT options, the industry is growing and a result, the video environment has altered, demanding new business models in advertising, content creation and video subscriptions.
Essentially, OTT operators need to shift with the times to keep up with this ever-expanding and increasingly sophisticated market; many suppliers are looking at the way in which they offer their subscriptions, while others are seeking out brand new opportunities for exclusive content to meet the demands of their audience.
For example, one particular OTT provider, Hulu, has recently added more movie content to its service due to a deal with Epix and has introduced a new ad-free premium tier of service - and these shifts in service are predicted to become more prominent within the next 12 months.
These findings are yet another sign of the times. Once again this reminds us that the traditional format of programmed television consumption has become 'old hat' and the more and more households are investing in streaming media devices, the more they are turning to OTT services to consume video content. The times of being told when and where to watch a favourite movie or TV show is long gone and as a result, the OTT market is thriving - but if you want to ride the crest of the wave, innovation and content is key.
In the words of Field of Dreams: if you build it, they will come.
Running a OTT video service? Try out Cleeng and monetize your content asap: