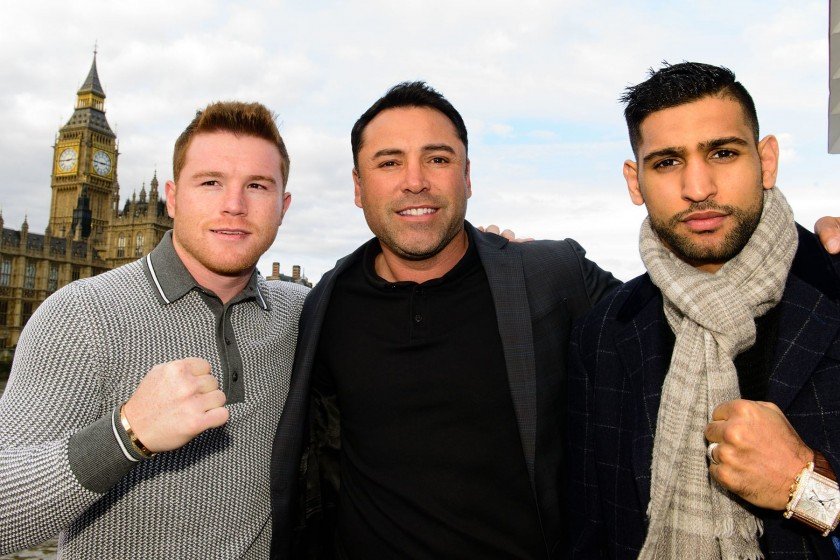 Golden Boy Promotions, owned by the boxing legend Oscar De La Hoya, has chosen Cleeng and Livestream as technology partners to offer boxing fans in the US the pleasure to watch the upcoming mega-fight online via Pay-per-View. The Mexican idol Saul "Canelo" Alvarez will go on the ring with speedster Amir Khan from the UK in a match that will take place tomorrow, on May 7th in Las Vegas.
Time time last year, the boxing world witnessed the Mayweather-Pacquiao mania and everybody at Cleeng is proud that we served the epic event to the boxing fans in the Caribbean. Now, our next big challenge is to assist Golden Boy Promotions to organize and manage a PPV live stream of the long-anticipated fight between the WBC, Ring Magazine and Lineal Middleweight Champion Canelo Alvarez and the ultimate "fast-hands" fighter, Amir Khan.
Golden Boy Promotions knows how to connect technology, media and sports, as they specialize in developing the best fighters in the world and showcasing them through premium live sports content. The company's mastermind and a living boxing legend, Oscar De La Hoya acknowledges that the landscape of premium sports content delivery is changing and sees bright future in live streamed boxing.
"Our cable, satellite and telco distribution partners remain the key means to reach boxing fans. However, as our viewership on GoldenBoyPromotions.com and RingTVlive.com has grown over the past several months, we have learned a great deal from our fans — and they have been clear that the time has come for us to make this mega fight available online as well," said Oscar De La Hoya, Chairman and CEO of Golden Boy Promotions. "We see Canelo vs. Khan as a first step in this evolving media landscape."
While the live streaming itself will be carried by our OVP partner Livestream, Cleeng will take care of the e-commerce and security parts. This means that our Live PPV and Tattoo solutions will handle the e-tickets payment process and the anti-piracy protection (done via our advanced video watermarking capabilities).
The online live event will be geo-restricted to the US only and the ticket price will be $69.95. Purchasers will get all the additional premium content, including behind-the-scenes short form video from each fighters' training camp, international press conferences as well as full episodes from the highly acclaimed Mano a Mano series will accompany this Pay-Per-View ticket.
HBO Boxing will be offering the fight on TV. For those fans wishing to view the fight on cable, it will be featured live on HBO Pay-Per-View starting at 9:00 PM ET (final press conference before that fight was streamed live as well).
If you are based in the US, purchase your e-ticket and enjoy the match from your comfortable sofa: