We all know the power of OTT and how important it is to today's consumers; that's why we provide the services we do. Of course, when you think of OTT, the first thing that springs to mind are providers like Amazon or Netflix – but there's a new wave of companies that are focusing less on nail biting crime dramas and more on tries, teams and home runs.
Live sports channels enter the OTT top 10
As we've already established, sports entertainment is on the rise - especially amongst younger generations - and with this immense growth, comes greater exposure (a gigantic virtual spotlight, if you will).
According to a recent study by Parks Associates, sports networks rank number four and number five behind the three big OTT providers in terms of subscribers – pretty astonishing stuff to say the least.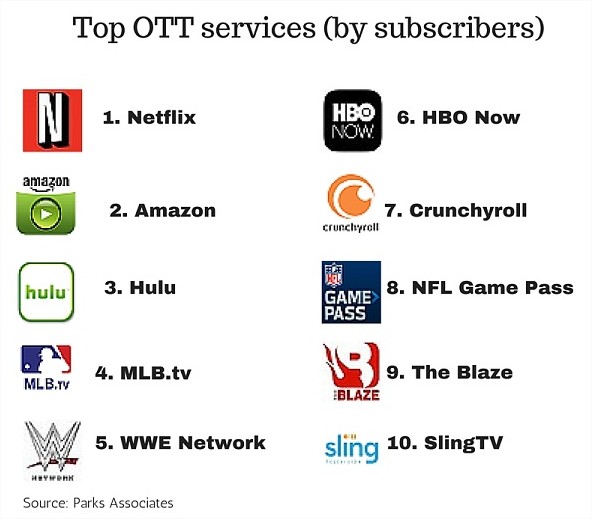 Specifically, MLB.tv, a subscription service that allows viewers to watch out-of-market baseball games, came in fourth place and the WWE Network, which offers a whole host of leg locking wrestling content, as well as live pay-per-view events, ranked fifth.
In fact, the WWE Network currently boasts 1.23 million subscribers that are prepared to pay $10 a month for the service; this amounts to around $150 million in revenue – that's over a quarter of the company's total top line. The network created this burgeoning cash cow by outsourcing the whole OTT streaming process to MLB advanced media – you know, the network that came forth in the rankings mentioned above.
Major challenges for sports OTT services
What's more, sports OTT services are expected to grow substantially over the next five years , so naturally sports broadcasters are responding by pushing events further and further into the media spotlight - and if you are thinking about your next big move within the OTT market, looking at the sports entertainment sector is definitely worth thinking about.
Of course with growth comes challenge and in terms of sports content, an increase in popularity could create a saturated market, which means broadcasters will have to work overtime in order to attract a substantial amount of subscribers to their services. Another problem is, although piracy and copyright infringement is being cracked down on harder these days, it still exists on the web - and the more popular sports streaming gets, the more people will try and turn to illegal means of obtaining content.
But with every challenge lies a solution. In today's OTT world the key to success is high-quality, exclusive niche content. By focusing on a particular target market, finding a niche and monopolising events, you are much more likely to yield a swarm of fresh subscribers; offer a top notch UX and a consistent flow of exclusive content and you will keep a loyal fanbase for a very long time.
Sports broadcasting is a force to be reckoned with and people are willing to pay good money for the right content. More and more people crave the thrills and spills of the big athletic events – after all, sporting action is sometimes far more exciting than a television programme or movie.
Set up your sports OTT channel with Cleeng and start broadcasting