As a sports, entertainment or religious broadcaster, you've been using the power of video – both live and on-demand - to catch up with the consuming behavior of your audiences. Riding on the wave of the cord cutting craze, and on the boom of Netflix-like video subscription channels, you've been trying hard to outsmart your competition by tuning millennials into your offers. But there's one question that you still don't have a good answer for: How can I scale my video business to grow faster?
The answer is pretty easy: become more flexible by combining the different online video business models available (pay-per-view, rental, bundle and subscription) to adapt better to your customers' needs. To help our amazing clients (British Basketball League, Fifa, or Nordic Business Forum) who were asking the same question, we've just launched a straightforward solution - an option for associating offers to nurture faster growth. What's more, you don't need to be a tech geek to use this, since we've secured an easy and friendly user experience to the process.
With a simple click, the new functionality allows you to associate your video on-demand with live streaming and membership to help you make the most out of your videos. All of this is found on one platform, to help keep you focused and effective while scaling up your ecommerce business.
Let me give you three real-life examples for applying our new video association feature:
1. Set up an event replay as one or multiple videos: Your live pay-per-view conference or sports game that you created with us has just ended, but you still want to keep your audience tuned in to it for a while. You can achieve this by using Video on-demand recordings from the conference or game.
You simply switch your live pay-per-view offer to an on-demand video offer to make it happen. The great thing about it is that you can link as many videos as you want. There's absolutely no limit to the possibilities. This is what it will look like for your customers: They will see 'Watch replay' button. It's that simple. And all of your customers who attended the live event will be able to watch the replay(s) for free.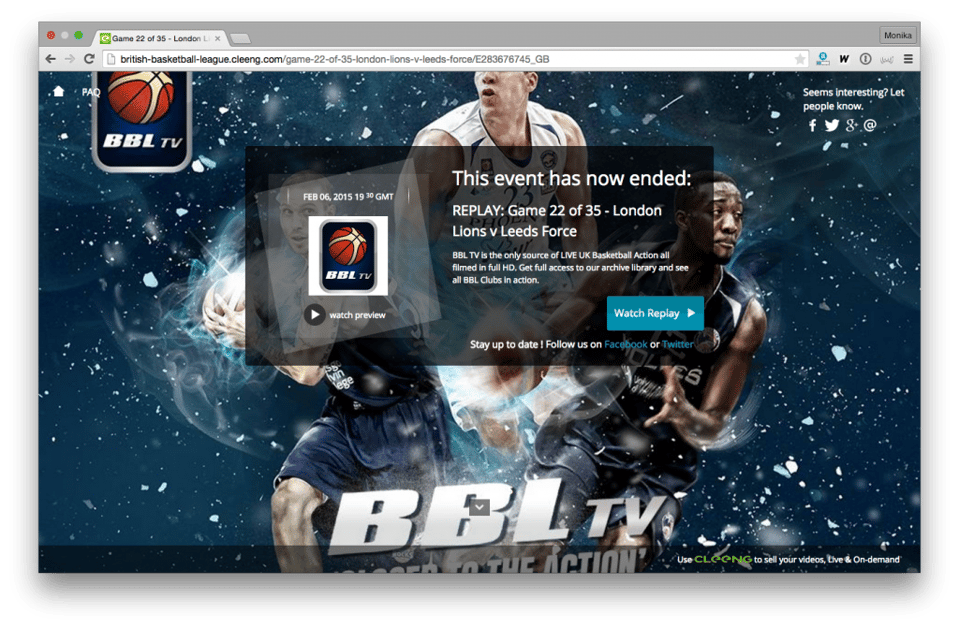 2. Set up a bundle/pass based on your main video: If you're an indie movie producer and you've just débuted your first movie, it may take some time before you start selling another title. To make sure your video on-demand returns on your production investment, you can associate it with a bundle that includes cast interviews or some cool behind-the-scenes shoots. We also make this step possible for Vimeo users who don't have the option within their Vimeo On-Demand accounts.
Your customers purchase once, and can then decide whether to access all of your videos with the access pass. If you go for this option, the subscription button will show up below the single rental purchase button.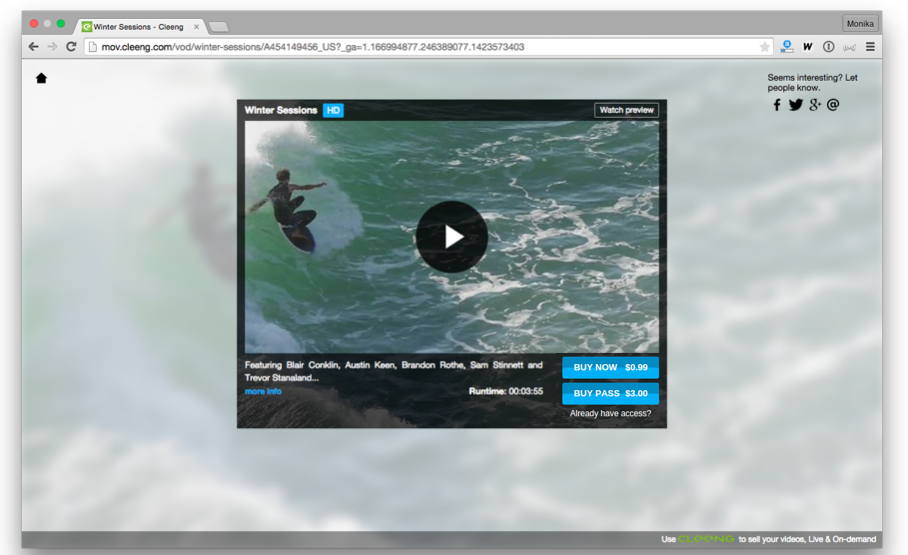 3. Set up a Netflix-like channel: If you have multiple videos - such as a series of shows or episodes - you simply create a membership with Cleeng and then connect to it all of the on-demand videos that you upload within the time frame. You can also decide to still sell some of them as separate rentals. The customers can then choose to watch single videos (paying separately per video) or get access to all of the videos after subscribing.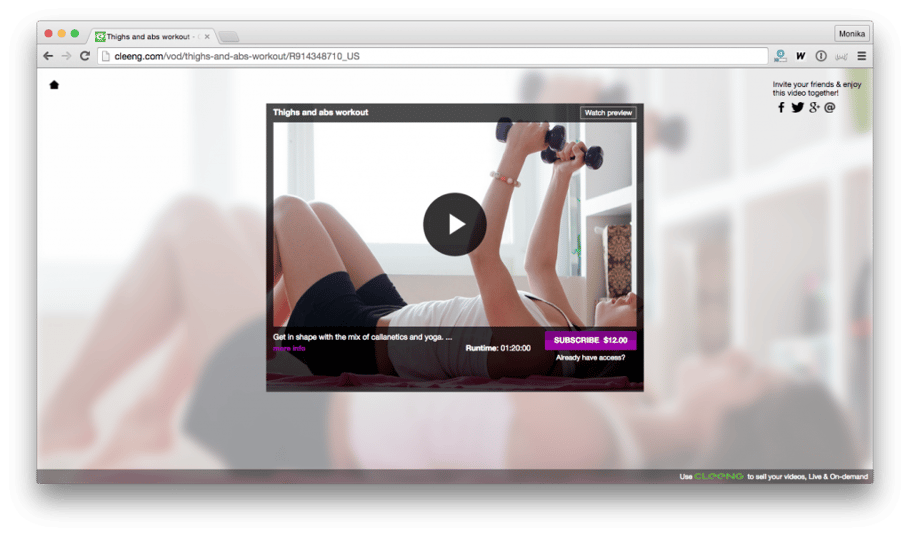 Here are 3 top gains from associating the video offers:
Grow your business your way, using just a single high-quality platform. Regardless of whether you have one or hundreds of videos (live and on-demand), you can easily scale up and choose the best association patterns, based on what you already have. Cleeng aligns with your goals and adapts to your growth pattern. Having partnered up with all of the largest OVP's, we offer you an enormous amount of flexibility, so you can choose from different platforms for your live broadcast or video on-demand, while mixing and matching the benefits that our partners' products provide.
Target your audiences better: u

se what best fits their profile. Giving your customers a choice will definitely warm them up to your offering

s

and increases your conversion rates (especially if you connect

this feature with their local currencies). We support you with a granular reporting

so you

can analyze and compare over time which type

s

of offer

s have

picked up the fastest.
Get a continuous surge of revenue: even if you've organized just one event, you can easily repurpose your video content and offer it as a subscription or a bundle. That way, you'll secure traffic and conversions from your video content while creating ongoing relationships with your audience. This offer-association functionality is available at Cleeng's dashboard level at the same time you create live events and video on-demand (just like in the example below).

How do you use this feature? We have a step by step FAQ ready for you here, check it out now!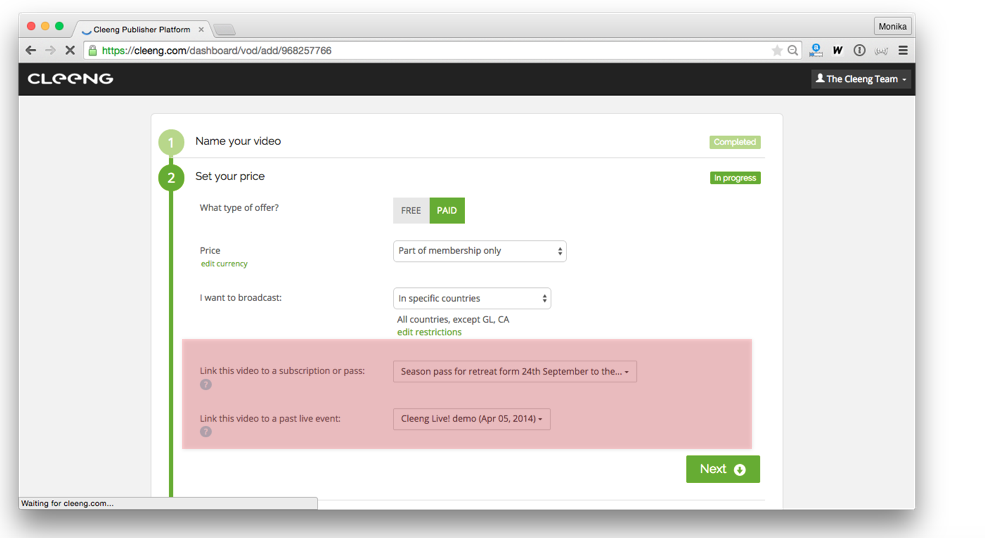 No account yet, but feel like giving it a try ?