Did you know about the amazing success of BlizzCon, the yearly conference of Blizzard Entertainment? The World of Warcraft producers grossed $25 million purely from selling e-tickets. What about the comedian Louis C K. who made $1 million from his online comedy special?
If you are an artist operating in live shows or a smart conference organizer, stop wondering about the difficulties of selling online content. You have to simply leverage the fantastic new opportunities that the online media offers and get yourself a piece of the cake!
In the previous post, we had demonstrated how a large corporation – Organo Gold, a seller of organic coffee – used Cleeng to monetize its worldwide sales conference with its channel partner and network. Today, we would like to showcase how GDS International - iStrategy conference organizer - uses Cleeng so sell its quality content.
Conferences - The Big Opportunity
According to recent statistics offered by International Congress and Convention Association (ICCA), a total of 400,000 conferences and exhibitions are held worldwide every year. In a world driven by productivity, executives cannot attend every single conference. Technology conferences follow the same trend. There are more than 50 conferences happening in 2012, as proven by the long-awaited list published by Techmeme recently. Without doubt executives will become more selective when choosing a conference to attend. Therefore, this is a huge opportunity for conference organizers who are capable of monetizing "virtual attendance" and premium content generated during the event.
Why is it a win-win situation?
Let's take a look at the iStrategy conference:
For instance, you are a business executive, who cannot make it to San Francisco due to your busy schedule or budget restrictions. However, you would not want to miss out on learning from industry experts, such as Brian Solis and Ted Wright. Also, you would want to discover how IBM, McDonald and other executives from AOL or AT&T utilize the social media to make their business more robust.
No worries at all! Just go online and access the bundle of videos for $20.99 (see the actual site Here)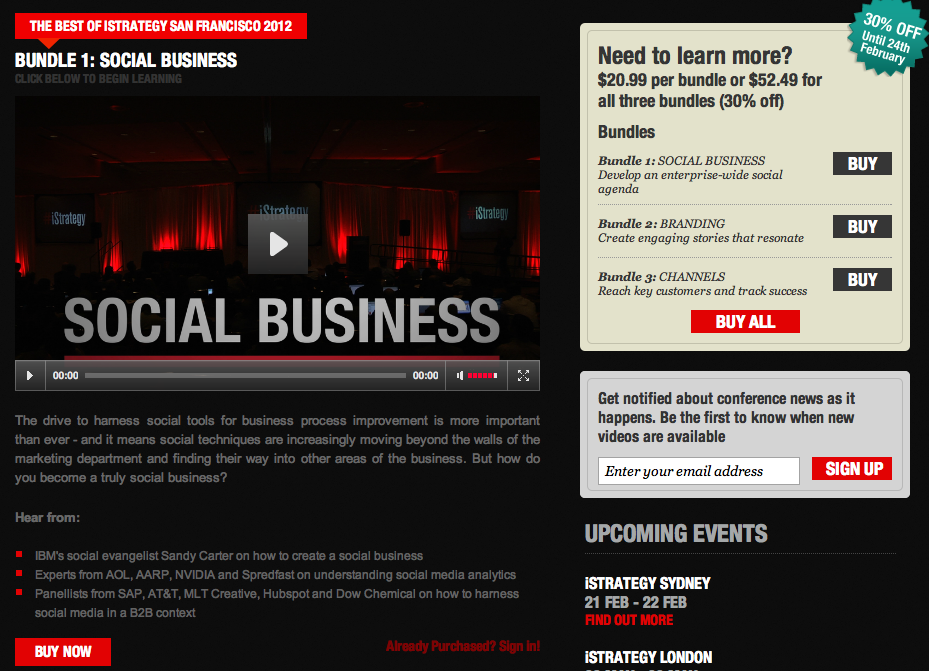 You can access the video in 1-click, chose your payment method and watch it from home or whenever you have time and on any of your device because it is stored in your personal library.
Convenience and easiness are the key benefits for users.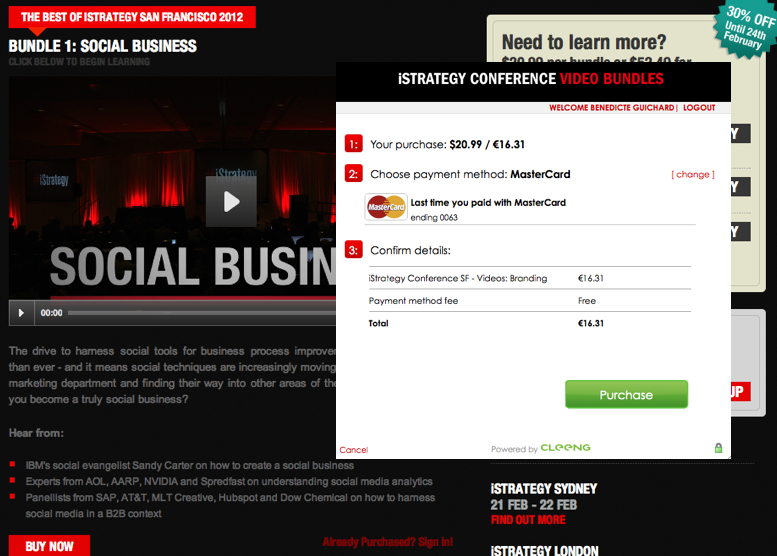 For GDS International, a world class B2B event organizer, it has been a win-win situation.
First, they value their high quality content. Most often, they do not publish valuable information because the complexity level would hinder the process of convenient selling. They even used to give the information free of cost. GDS' endeavors are rewarded as the footage collected during the show is published for a larger audience who could not attend it.
Second, GDS engages with a wider audience, without necessarily reducing the value of attending the live event. Those who attend the conference benefit from the live experience and the networking opportunities. However, those who cannot make it to the event are not completely at a loss since they benefit from the high quality summaries of the main presentations. They can access the summaries very conveniently online. This triggers the users to visit the site and pay to attend another conference in the same way.
Finally, the ease and simplicity of integration, makes the iStatregy website more appealing to users, without deteriorating user experience and keeping all traffic on the website itself.
Helen Hawkins, Marketing Manager, GDS International, has been quoted saying: "This innovative approach to distributing our conference content is very interesting. Working with Cleeng has been very smooth, and the technology provides many new business opportunities. We expect to sell more live and on-demand content going forward and attract new prospects to our conferences".
While video technology is in place, Cleeng brings the missing link - the easy monetization solution for premium content.
Feedback or ideas how to make this work even better? Please let us know!