eSports is going big! After the couple of years of consolidation, we are free to state that competitive gaming is establishing itself as a legitimate and sustainable business. We are witnessing its expansion period as eSports events are closing in to the most successful leagues in the world, in terms of popularity.
With all stereotypes and skeptics around it (with Jimmy Kimmel as the biggest troll), its enthusiastic fan base is pushing eSports to the forefront of sports and entertainment. The gaming community has grown into a specific ecosystem consisted from viewers, gamers, leagues, event organizers and brands.
According to the fresh SuperData report, the eSports market is worth $748M at this moment and will reach $1.9B by 2018 (estimated). Looking at its structure, US and Europe grab 52% of the market due to the recent investments, while Asia reaches stagnation after a long period of domination.
eSports market break-down points promotion as main revenue source

Sponsorships and advertising still take the largest chunk of the pie with $578.6M (77% of the market), and is on course to reach $1B by 2017. As eSports becomes more mainstream, the other business models will drastically raise their numbers and introduce new revenue sources.


The eSports projected growth exceeds past expectations
According to Activate projections, if eSports organized a league, it would become a $1.2B business in the U.S. It will still have a lot of catching up to do, but based on the staggering growth rate, it should contest the top US sports.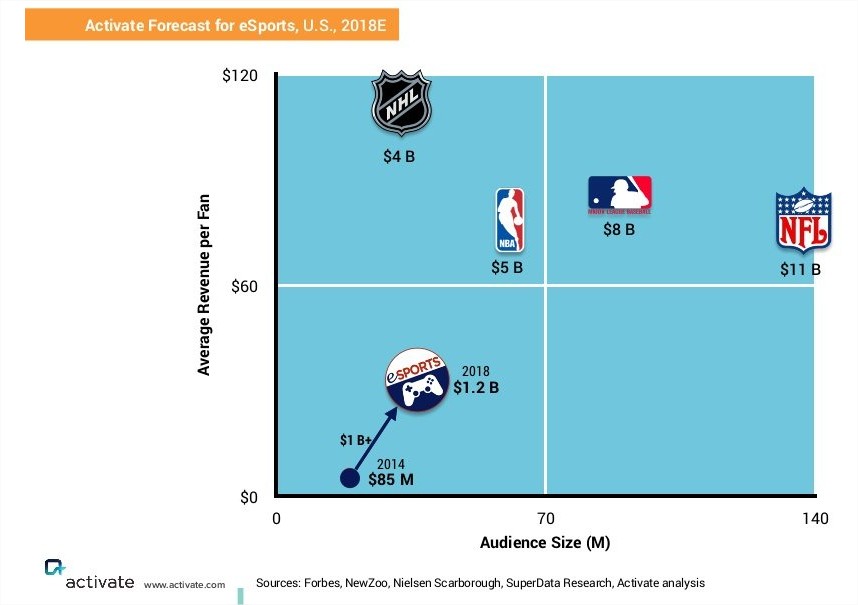 eSports video consumption on the uprise
According to last year's projections by IHS, eSports fans are watching 5 times more gaming video this year, compared to 2010. The trend will continue in the next 3 years, with the growth rate slowing down.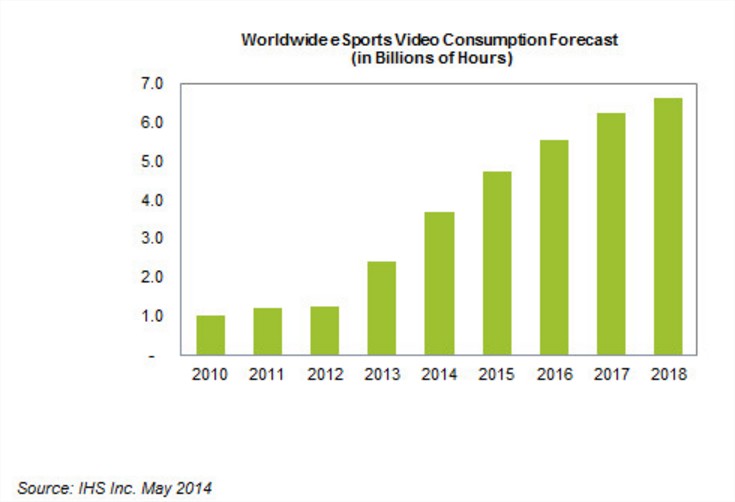 eSports tournament prizes grow exponentially
The tournaments are a big deal for eSports fans. At the early beginning, most of them were crowdfunded by the community, but nowadays big brands entered the stage and raise the level. The 126% CAGR in the last four years, makes these events way more attractive for gamers.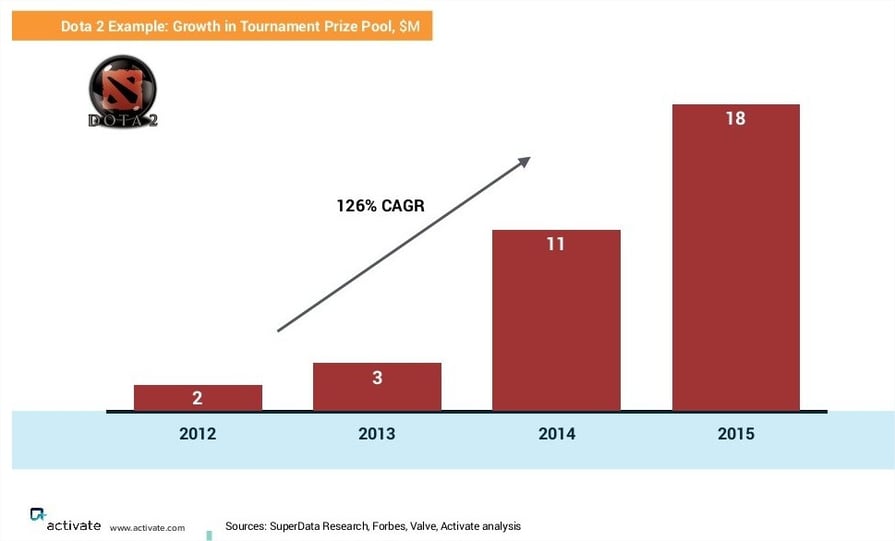 Gamers are willing to attend live events and buy content
According to a recent study "The eSports Effect: Gamers and the Influence of Live Events" by Eventbrite, the gamers nowadays are financially capable and willing to spend money on this type of entertainment. More than 40% would pay up to $49 for eSports live event and 19% will go even up to $200 for their favorite eSports show. Almost half of the gaming population is prepared to pay for more content (HD live streams, VOD highlights and exclusive interviews) related to a game or event.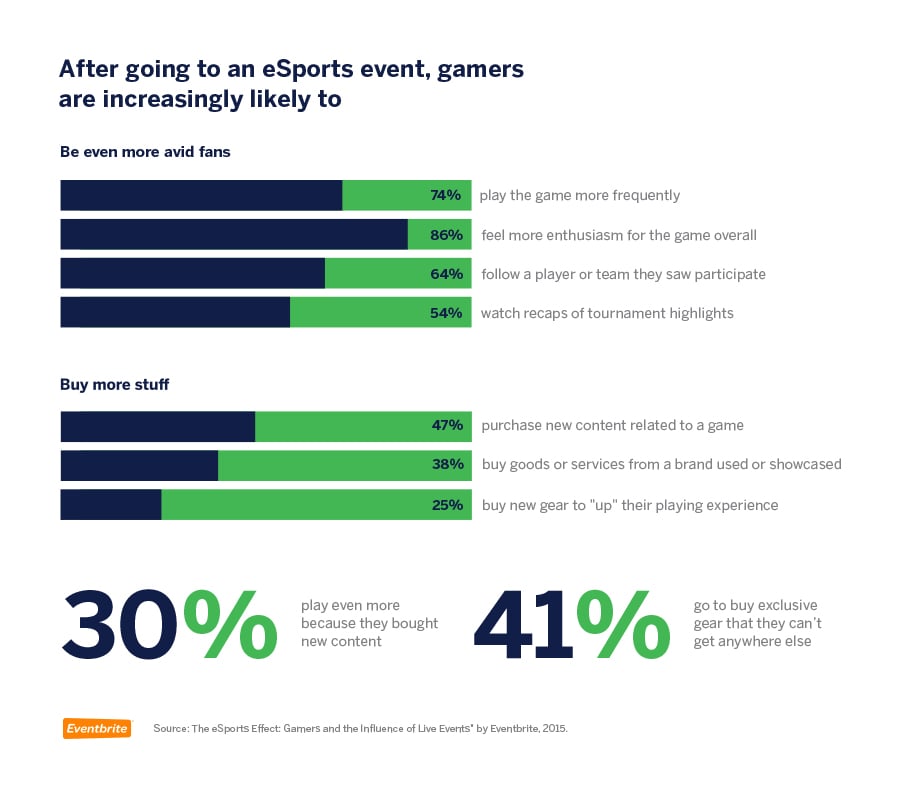 Closing thoughts
We can freely say that this new market is more then dynamic and we should expect exciting times. As brands become aware of its potential, investors inject funds in new platforms (eSports betting and fantasy sites), professional gamers/teams are reaching celebrity status and eSports is closing in to business numbers typical for major sports.
The future developments will be related with mobile eSports and its diversification to the smaller screen (gaining 19% of the US eSports audience). Also, new monetisation models will surely be introduced in order to meet the demand of the passionate eSports fanbase. As a live pay-per-view specialist, everybody in Cleeng is looking forward to the future developments and proactively move this market forward.
Set up your live eSports event with Cleeng Live! and start selling e-tickets