We are very pleased to announce our new Wordpress plugin: Paypal for Digital Goods, powered by Cleeng.
As we always believed, making things easy is one of the most complex thing. And this applies very well to setting up a simple payment mechanism like PayPal digital goods on a given website. The problem is not creating the PayPal account (even though we were surprised by the time it took us). The challenge is more how to easily setup the elements you want to sell on your website, and make it straightforward for you and the 95 million PayPal account owners to best experience the content sold. To see how it works, just browse below.
What are the typical hidden costs when setting up a payment solution on your site?
Payment processing fees (in the case of Paypal, 5cts + 5% of the transaction, so 10% on a $1 transaction)
Implementing it on your site: basic installation is easy, but more advanced features - specify activation time, adjust easily pricing, security, user ratings... -are more complex
Deal with consumer claims & support
Maintain the systems up-to-date with the latest releases of WordPress and the most common plugins you use.
That's why we thought we have a role to play to make all of this so easy, you can just concentrate on being most creative and test the best ways to monetize your creations. Cleeng will take care of:
Payment management
Software improvements
Manage and support user's digital life across devices
And frictionless user experience, with instant access to content and unique user commission management (see demo here)
It only takes less than 5' minutes to install and register your site, and you are ready to go. No setup fees, no license to buy, no risks. You collect between 80% to 90% of all billings, depending on the business generated so almost the same fees as PayPal alone, but without the hassle.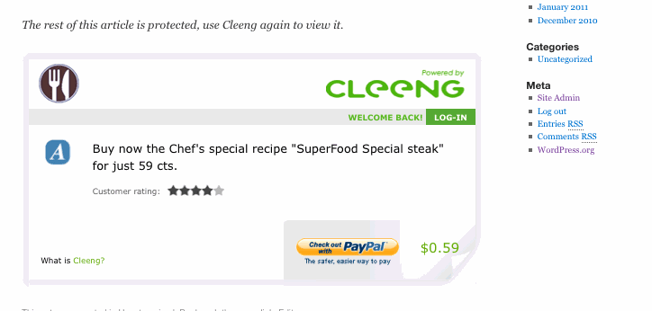 Who can use the plugin?
Bloggers and publishers willing to monetize value added content on their site (see our tips here)
Photographers and designers who want to sell their shots (show thumnail in small format, and high-def is accessible after purchase). See demos here.
Game developers willing to sell their add-ons packs or bonus levels
Youtubers with a captive audience, willing to sell to their fans the Ooops, making off, or bonus interviews.
... and many more. Note we also have an enterprise solution available, so if you have big needs, contact our sales team.
If you want to know more about Cleeng user benefits, checkout this short video:
Let us know what you think about it. You can download the plugin for WordPress here.