There's been a lot of chatter about
video monetization
lately and the growing video platform
Vimeo
- 14,2% share according to
BuiltWith
is no exception: content creators using Vimeo to host and share their videos are just desperate for a flexible monetizing solution and they say it loud and clear on Vimeo
forum
!
But it would be easy enough to have a free and a paid part of Vimeo. Most videos would remain free but if those who need to make a living in production (such as myself) at least have the option of building ads into videos and/or charging something for access, it would only make vimeo even more of a destination for those who want the best content available online.
Up until now, that was it. Enter Cleeng Play: Vimeo video monetization made easy!
Thanks to Cleeng Play, any Vimeo Pro users, just like YOU, will now be able to:
- charge for premium videos within minutes, directly from your web site
- pick up the most relevant business model: pay per view, rental or subscription
- have your audience access your videos from any device, including their iPhone, iPad, and it works for HTML5 too!
- provide your viewer with a frictionless user experience: one-click to see your videos
- set up some option such as: preview, price, etc…
Take a look at our Cleeng Play anatomy for more details: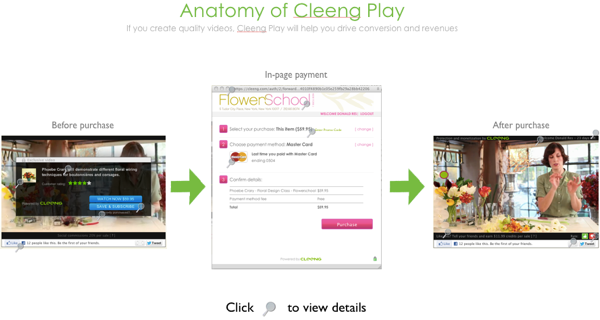 Want to get started and begin generating revenues in no time? Just follow the 4 steps below:
1- Go to www.cleeng.com and click on the "Get Started" tab.
2- Select Vimeo Pro. Make sure you're logged in to Cleeng.
3- Fill up the details, such as your Vimeo video ID, player size width and give a name and attractive description to your video, and finally set the price and rental period.
4- Then click the "Protect & Grab code" button to see how your video looks… and copy-paste the embed-code on your own site.
…And you're DONE! It's as simple as that and it works on all devices, including the iPhones and iPad that only support HTML.
Share your experience of Cleeng Play too!