There are so many nail-biting annual sporting events that these days, that it's hard to keep count.
During last year's Champions League Final alone, around 200 million viewers watched its dramatic conclusion; a true indication of just how popular live sporting events are.
Traditional viewing habits change
Traditionally, sports fans would watch live sports from a pub, bar or the comfort of their lounges by tuning into a cable or terrestrial TV channel; however, this method of sports consumption is in decline.
In the past, certain TV channels have monopolised the rights to big sporting events, allowing them to keep people hooked onto expensive cable TV packages, but due to a recent shift to the way people enjoy their TV content, this stranglehold has now been loosened.
Due to the recent emergence of streaming giants such as Netflix, HBO and Amazon Prime, the average viewer is now able to take charge of their own viewing schedules while watching exclusive content that can't be found anywhere else; this streaming revolution has now migrated to sports. Live sports is often seen as a key block against cord cutting. Anyway, according to a recent survey by Clearleap, sports weren't the main reason people keep their traditional TV service. Their data say that sports broadcasters face unmet demand for streaming sports outside a pay-TV subscription. Among people who watch more than one sport, nearly half (49%) said they would pay for a live stream of their favorite sport without a cable subscription.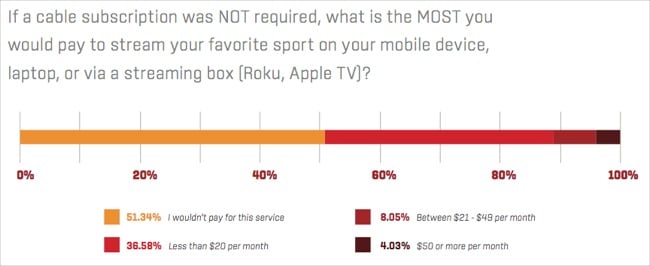 Also, outside the most popular sports in the US, fans are more likely to watch in other formats and use set top boxes, consoles, smartphones and laptops to watch live sports. Price is the most important factor for their purchasing decision, which is understandable.
New live sports context
The way the viewing climate is changing, more and more sports fans are migrating to the following formats to enjoy their favorite events:
Pay TV

OTT

Pay-Per-View

Mobile apps
While PayTV takes a huge portion of major sports events, PPV as model is doing great for small, niche sports. Another big component in this change in viewing attitude is down to the sports and live streaming apps. These handy applications allow a user to access real time news, scores, footage and information on sports teams, players and big fixtures while on the go, often for a small one off fee. This combined with the ability to steam sporting events from a smartphone, tablet or laptop is having a noticeable effect on the amount of viewers tuning into traditional TV channels for the 'big game'. And broadcasters are getting on board...
For example, unlikely contender Snapchat is making plans to become a dominant force the sports streaming arena. Periscope and Meerkat already disrupted the market with their blockbuster apps, and recently Snapchat emerges as strong player on the scene. the By adding nuggets of footage and exclusive up to date scores and information to its 'Our Story' feature, this is set to drive sports fans to the service in droves. According to an executive involved in negotiations, Snapchat is looking to sell brand sponsorship for the stories included in the service and split the revenue between the sports leagues, the broadcasters and themselves.
How event organizers react?
Due to this almost seismic shift in viewing attitudes, events organisers are now adapting the way they approach big sporting events. By teaming up with well-known broadcasters offering streaming services and amalgamating their efforts to deliver these events to viewers via OTT, they are able to monetise their efforts while moving with an ever-changing market.
In a world where people crave the ability to access the content they need while living their increasingly busy lives, the age of the TV seems to be slipping away - and sports are no exception. As broadcasters are wising up, the way in which we enjoy our sports is quickly changing, making traditional TV viewing seem even obsolete by the day. After all, no one wants to miss an amazing goal while they're rushing home to turn on the box, do they?
---
Discover how Sports and live OTT can boost your revenues: