Once upon a time families came home from a long day at work or school, gathered around the television box, put their feet up and enjoyed a prime time programme from a choice of four or five channels. More often than not, the programme would even have been pre-selected from the TV guide in the local paper.
Although some people still do indulge in the same simple viewing pleasures, for many, this is nothing more than a distant memory. Nowadays, almost every household in the UK, Europe, the US and Canada has some sort of internet broadband internet connection – essentially, the web and video streaming services has become a domestic staple.
The streamer defined
Today's streamer covers a big spectrum in terms of age and geographical location, with a large quantity of people streaming from the 16 - 24 age range, right the way through to the 55 - 64 age range in regions across the world. Of course, younger more tech savvy generations are currently the most subscribed bunch (and most responsive target audience), but it's plain to see streaming is becoming more and more popular amongst those who grew up with the traditional live TV format.
Kids, families and couples are rejecting live television as there is little need for its sole consumption in today's fast-paced world. Although many have cut the cord, many of today's streamers use a combination of live television and streaming to satisfy their viewing needs. Many families tune into traditional prime TV screenings when it suits them, but this is largely supplemented by OTT services such as Netflix and live sports events services like NFL Sunday Ticket. Today's streamers like flexibility and they like to have the power to decide when and where they chow down on their entertainment.
Video streaming explodes, live TV plummets
One the biggest uses for the internet these days is video streaming – and whether it's YouTube, Netflix, Hulu or any other platform for that matter, it's on the rise.
In fact, Alan Wurtzel, an executive at NBCUniversal, revealed that the consumption of live television has plummeted to 51% in the past seven years, down from 81% in 2008. When you think about how long live television has been around for, the statistic is astounding – a real head turner.
Music streamers are embracing video
Another quite incredible discovery is that data by GWI shows that 9 in 10 Spotify users watched a video-clip or visited a video-sharing site last month. So it seems that those who like to stream audio content are also particularly partial to a video streaming service - and as their chart shows, this trend also spreads across every major demographic split: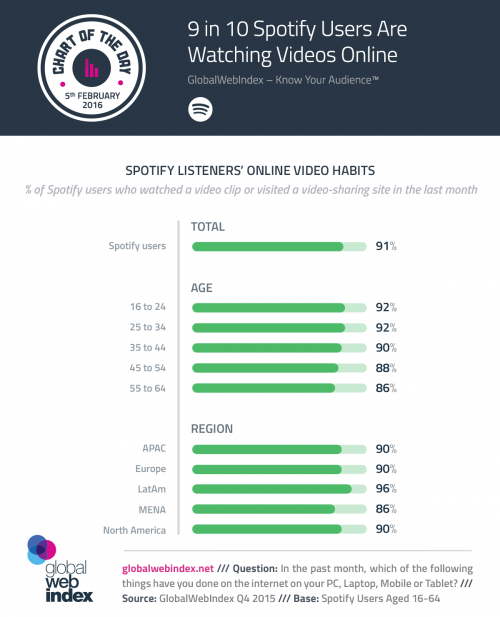 All in all, this paints a positive picture for the streaming revolution and its growing strength. As we slowly say goodbye to traditional TV, we are opening our eyes to an exciting new world where consumers are able to take control - and if providers are able to roll with the changes and give the masses what they want, the rewards will be plentiful.
Running a video streaming service? Try out Cleeng and start selling your content now: