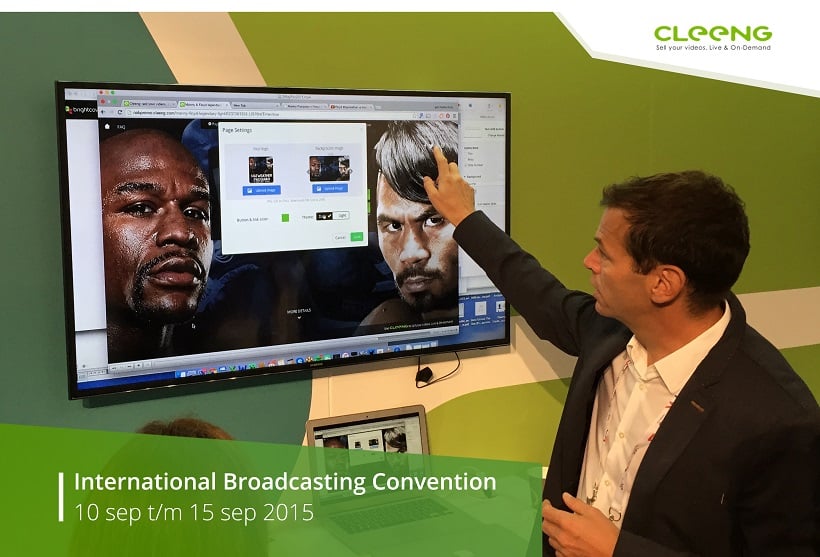 IBC 2015, what an event!

It is a very special event to us since we share the same town as the event itself. Our entire team attends the conference, it is like an annual event for us as well!
This year's IBC has been among the most keenly contested and best attended in history. As always, there were some great product launches and upgrades, however the highlight of the event was marked by the great discussions, panels and presentations by some key decision makers in the industry.
Here are some hot topics from IBC 2015:
the potential and specifics of paid premium content

the mainstream arrival of OTT

the value of 4K and introduction of 8K

the role of telcos as major disruptors

sport broadcasters and their leadership in tech innovation

the readiness of IP for primetime

the concept of "Cinema 2020".
In this blog post, we will focus on the area of highest interest to our core business: premium video content.
The "Content is King" notion
"Content is King" sounds like a cliché, but it is the notion and key component in the strategy of everyone involved in video broadcasting. To stay ahead in an increasingly competitive environment, you need to provide top-notch video.
https://twitter.com/IBCShow/status/643037381088690176
As end-users are the bosses nowadays, it is crucial for the provider and its value-chain partners to ensure the right content is delivered, irrespective of the platform. In the eyes of viewers, quality has been defined by exclusivity, timing, accessibility and consistency.
The urgent need to innovate
Content providers are faced with a serious challenge to explore and introduce innovation constantly. The competitive context pushes providers to enrich their offerings and adapt to their customers' needs. Flexible pricing models, product bundles, high definition broadcasting, multi-device support are some areas with room for enhancements.
https://twitter.com/IBCShow/status/643031071328731136
Innovation in new technologies to reach the end-user in new ways at lower cost is the course for every player in the value chain. The end-user wants the highly relevant content at the swipe of a finger. The rise of pricing models like 'freemium', "on-demand", "pay-per-view' are result of that will to meet the needs of the consumer and offer fluidity in the offerings.
Major live sport events - the real challenge
Non-linear broadcasting in the form of live streaming and on-demand has been in place for a while. Niche sport events like boxing, martial arts, horse racing and many more have been distributed this way in the recent years with great success. According to a report from MMAFighting, it's estimated that one UFC event pulled just over 900,000 pay-per-view buys, which is an astonishing milestone.
Anyway, the real challenge for innovative broadcasters are the major mainstream sport events, like the football World Cup or the Super Bowl. For this dramatic shift to content delivery to take place, some serious obstacles need to be overcome.
We must mention the emergence of the live streaming apps and their role in changing broadcasting patterns. The general opinion of content providers is that those apps can't replace broadcast due to the content quality. They don't see them as a competitive threat as piracy is always their issue. Anyway, they represent great interactive tools that enhance the viewing experience. Periscope, Meerkat and the other apps can also be great tools for journalists and the key challenge is the transformation from broadcasting to media.
Viewing patterns change significantly
It's audacious to claim that these new broadcasting models will fully replace traditional over-the-air sports viewing. Linear doesn't need to be wiped out from the market as a large portion of end-users still favour the combination of linear and non-linear (Some say, you could end up with a linear channel curating on-demand content!).
https://twitter.com/IBCShow/status/643359211376803840
In terms of device preferences, it's not a big surprise that there is a big shift towards mobile. Americans nowadays spend more time on mobile than on TV. Viewers use bigger screens, are more connected, and smartphones are their first screen.
https://twitter.com/IBCShow/status/643358919348367360
Broadcasters have to react to change, fast and avoid the situation that the music industry is facing. The bottom line is that people want great content on the best screen available.
How Cleeng fits the picture?
Apart from the emotional reasons explained above, this was a great event for us for a couple of reasons:
First, we launched a new, ambitious product called Cleeng Portal;
We listened to our clients and developed a solution that helps publishers to set up their channel of live PPV events, VOD/SVOD content and custom offers. Our CEO, Gilles Domartini stated: "From our experience, there is a firm link between different types of video content, from live PPV events to on-demand and subscription-based video." Therefore, we are proud that we set the base for our publishers to serve and monetise great premium content.
Second

, Cleeng has established as key player in paid content ecosystem;
We are encouraged from all the parties (OVPs, clients, partners) in our value chain that we are on the right course. Clients trust our product and our team, which is a huge boost for us. We are extremely proud that we forecasted the rise of premium video content and managed to establish ourselves as top-of-mind monetisation technology providers.
Our top 3 quotes from IBC 2015:
"Next Generation Sports Network bought football rights without an office. That kind of threat for broadcasters today is real." - Tony Emerson (Microsoft)
"OTT is not just a reboot, it's about distinct propositions" - Gidon Katz (Now TV)

"Is the future of TV in apps? - Viewers go where content is. If you don't have great content it won't work whatever platform".
What were your impressions from this year's IBC?