What's forensic watermarking and how can it serve to help prevent live streaming piracy? Before we get into that, ponder this….
Remember the days of DVDs.
Video piracy - a real problem
Did you ever buy a dodgy pirated copy from a man in a bar, on the street or some guy at work? Although next to nothing in terms of price, buying a cheap DVD copy of a blockbuster film was a lot like playing russian roulette with your home entertainment: some copies were just okay, while most were unbearable (you know, that one where you can see the 'camera man' eating popcorn in the back row of the cinema).
In today's fast-paced technological world, live streaming piracy is no different; it may be free but it has consequences - especially for those who dabble in pirated content.
Let's start with the TV content that attracts a lot of attention from the mass market: TV series. The Statista numbers show the huge losses that producers recorded in 2014.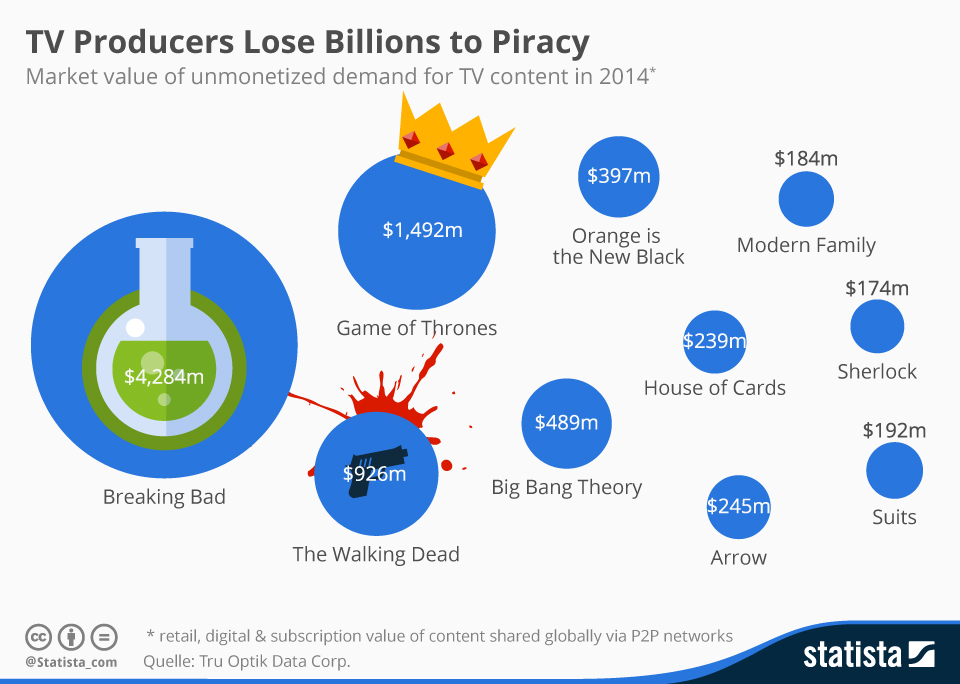 One other example is the sports entertainment market. With the prices of sports rights at an all time high, subscription prices are soaring, which means there's more of a market for streaming piracy ever - and given that most consumers in today's world have enough broadband bandwidth in their home to stream high-quality upstream (this wasn't the case 10 years ago), live streaming piracy is more of an issue than ever.
The age of forensic watermarking
In a bid to put a stop to this new age version of DVD piracy, many content providers are turning to forensic watermarking.
In short, forensic watermarking is a method of tracking the contractual abuse of a piece of content by adding a unique and imperceptible identifying code into a media asset (e.g. a movie or piece of video footage) - a tag, or tattoo if you will.
So, will it help to eradicate live streaming piracy in the sport's industry and beyond? Well, it will certainly help in a huge way. By working in a complementary way to encryption and key management technology, forensic watermarking helps to trace and track illegal practices and content redistribution. In addition to this, if someone is unwittingly using a live stream, forensic watermarking can also identify the source of the illegal stream and transform it into a educational resource on live streaming policy; everything from rules and regulations to legitimate streaming alternatives.
At Amsterdam's acclaimed IBC 2015 conference, many industry leaders offered an insight on the current state of live streaming; Senior Media Executive Adrian Herzkovich tweeted this statement and gave a positive insight into the future of forensic watermarking:
Delia B: Sports if one of the few content categories (since its live) to fight piracy. It's more protected than any other content #IBC2015

— Adrian Herzkovich (@adrianvanherz) September 13, 2015
Another thing to consider are live streaming apps. For example, during the Mayweather-Pacquiao fight, there were approximately 60 illegal streams on Periscope alone and only half were removed upon request. Due to their mobile, 'on the go' nature, it has been very hard to pinpoint the source of illegal streams - with their removal a very manual process. Since the introduction of forensic watermarking, tracking down the source of these illegal streams has become a lot easier, which means the authorities are now able to fight back against web pirates.
Can forensic watermarking solve live streaming piracy? Only time will tell, but one thing's for sure, this new and innovative solution has certainly paved the way - so if you're one of those streaming pirates, you'd better watch out.
Protect your premium video content with our revolutionary Cleeng Tattoo solution: