The increase in the cross-border e-commerce activities has set a higher level of international standards for online payment gateways and, as a result, for consumer convenience.
On the other hand, the usage fluctuation of credit cards and PayPal are causing the broadcasters to be challenged by the complexities of arranging for international payments. This situation is essentially slowing down their global expansion.
Compare the example of the US, where credit cards and Paypal are the most popular payment methods, to that of Germany, where the local payment method - ELV - accounts for 38% of all transactions.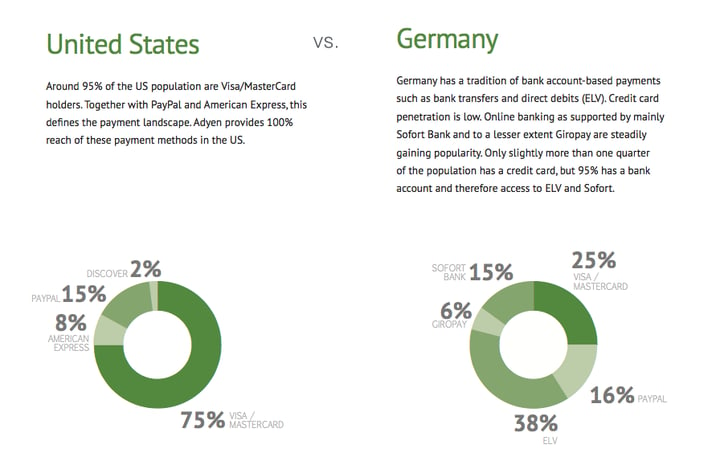 You can see below how different the buyers' behavior is in each country, and equally how vitally important it is for you - as a seller - to adapt to it. Fast revenues from the Live and on-demand videos offer themselves as a 'low hanging fruit,' but the complexity that comes with a local preference for payment methods may discourage even the largest broadcasters from going abroad with their offer.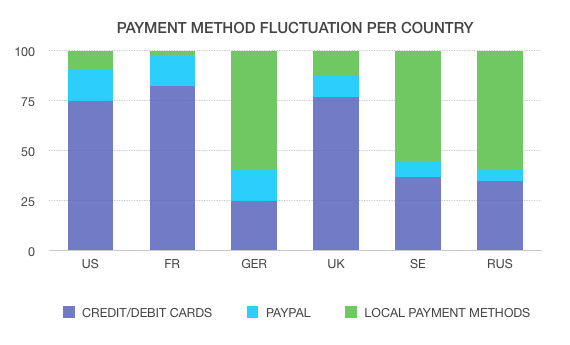 This is where the Cleeng experience with online international payments make a real difference. Our platform is tightly linked the established Payment Service Provider - Adyen, who are au courant about how the payment methods are used in every country. Thanks to Adyen's and Cleeng's combined knowledge and solid global experience, the management of online payments has become a breeze. We skillfully navigate the complexity, which allows broadcasters to focus on creating amazing contents for their global audience while forgetting about the challenges.
What happens when you set up an event or sell a Video-On demand with us?
A good example to illustrate our efficacy in this area is our long-term partnership with Dailymotion. We support payments coming to the platform, including from local payment methods. Notice below how the payment screen is automatically adapted for the Netherlands (a local iDeal payment method is displayed) and France (an SMS-and-phone payment option is displayed). By gaining a complete picture of how consumers purchase in each country, we present them with all locally available payment methods. In addition, we automatically adapt the content price and currency to the location from where the viewers purchase.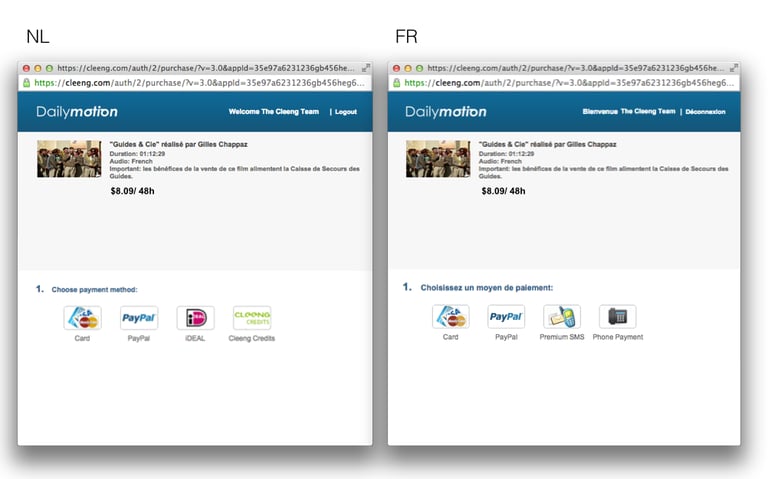 This delivers a seamless experience for Dailymotion's customers and provides Dailymotion with a no-fuss framework for global expansion. The ambition of Dailymotion to overtake Youtube in size wouldn't be even thinkable without a sterling international payment framework.
What are the benefits of Cleeng
for your Live online events and on-demand offerings?
A solid foundation for international expansion and global marketing strategies,
Less transaction rejections by the banks, as the local payment methods we display are allowed by the local banks,
Bigger conversion from successful locally adapted payment methods,
Growing your revenues faster, and
Flexibility and a wide choice between different payment methods that brings a flawless user experience for end customers.
Questions? Let us know in the comments or write at support@cleeng.zendesk.com