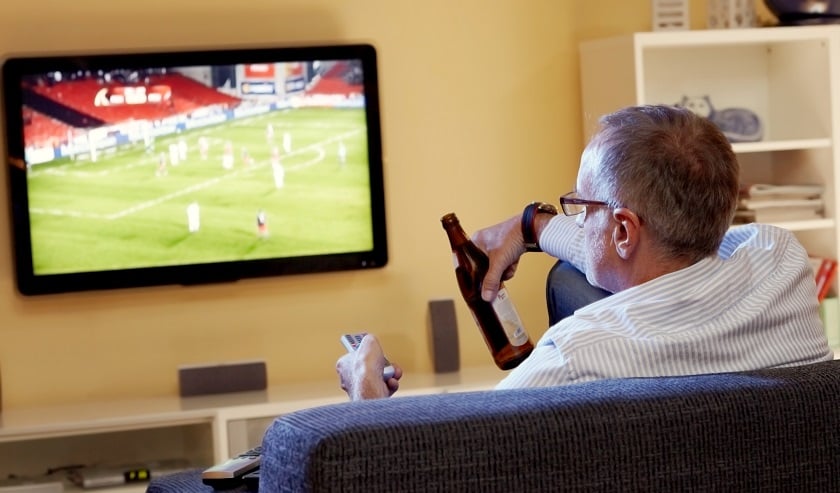 Going direct-to-consumer is becoming a mainstream strategic course for many sports organizations. Sports fans like to take and watch their content on the go, on every device they own. That implies a change in how content suppliers envision the value chain.
As we've mentioned, sports and online streaming are a match made in heaven and recent developments have opened up the partnership to a world of possibilities.
Sports broadcast revenues and its steep growth curve
The market is thriving, as are the revenues and costs for rights acquisition. In fact, according to a recent study from PwC, sports broadcasting revenues have grown from $10.8 billion to over $15 billion between 2011 and 2015, with projected profits of $21.3 billion by 2020.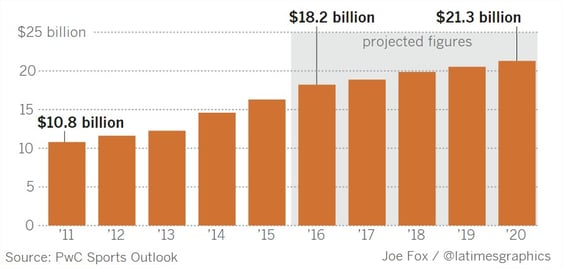 These numbers are directly affecting the prices of the sports packages and fans are faced with continuous rise of the pay TV bills.
Sports now accounts for 40% of pay-TV programming cost, according to SNL Kagan. Sports programming now costs pay-TV consumers an average of $18.37 a month and accounts for 40% of programming costs for cable, satellite and telco video providers. Programming conglomerates are paying incredibly high licensing fees to pro and collegiate sports leagues and passing the costs onto subscribers. With the middleman taking its share, the margins are growing and control of revenues is less possible.
The technology constraints for going direct-to-consumers
Therefore, all the parties in the sports distribution chain are aware that innovation must take place and business models need to be reshaped.
The direct-to-consumer (DTC) model offers access to high-demand, high-volume content to today's entertainment lover while tapping into today's on the go mentality. But due to certain hiccups, it was struggling to gain ground and take over. According to Brent Smith from Evolution Digital, the main reasons lie in complex infrastructure needed to support these services. That infrastructure includes a content delivery network (CDN) with the needed capacity to deliver the content, the MSO fiber backbone capacity to support OTT content, the cable operator's ability to convert web traffic from fiber to DOCSIS RF signals, service levels in each subscriber home and, finally, the capacity of a WiFi or MoCA home network.
The "softer" issues need to be added as well:
Programmers often desire direct relationships with their customers.

MSOs have to manage their bandwidth and want to take charge of the consumer experience.

Virtual MVPD providers are working to displace the operator's video service, and replace it with their own.
DTC its finding its way
Like all excellent developments, direct-to-consumer is founding a way to survive and thrive in today's digital world with its contemporary conveniences and unrivalled flexibility, particularly when it comes to sports.
Our CEO, Gilles Domartini recently gave an interview for SportBusiness, elaborating where should broadcasters and sports organizations focus when they plan to go direct. Knowing the tech contrainsts well and the scale-up approach looks like the right way to achieve ROI.
DTC has now reached a point where it has become a more cost-effective option than traditional broadcasting option for content owners, chiefly due to the up-front costs to get a channel on air are considerably lower.
In addition this, DTC caters to sport loving today's youth more than ever, as explained by Guy Bisson, director of Ampere Analysis explains:
"We call them 'content connoisseurs'. They are young, wealthy, highly engaged with content, they like technology, they watch a little less, but not much less, TV than average, and when they do watch they tend to watch through apps and online services. They're already creating their own entertainment bundles in the home and clearly DTC fits perfectly into that."
Fox announces a DTC plan
Wising up to the untapped power of DTC, Fox has recently announced their plans to launch a direct-to-consumer model sometime in the not so distance future.
CEO James Murdoch expressed his understanding of the challenge that lies ahead but noted that digital distributors offer less friction for consumers, as well as an enhanced user experience. Big things are happening.
There may be challenges and obstacles associated with the DTC broadcasting model, but it's plain to see just how much of a future it has, and sports content providers who take action today, will surely reap the benefits tomorrow.
Find out why sport broadcasters are deciding to go direct-to-consumer with OTT solutions: