The sports industry is suddenly facing a tipping point. Gate sales are dropping and the fans are embracing sports content on-the-go. And if that's not enough, the sport broadcasters are racing to catch up quickly with all of the leading-edge mobile ways that sports videos are being consumed.
Take, for example, the Big Game. Cord cutters took a monstrous chunk out of the TV ratings. According to NBC, a peak of 1.3 million people streamed the broadcast concurrently. That set a record for any championship game….ever!

Sports giants such as One Championship (the largest MMA organization in Asia) and FIFA are now using live broadcasts to grow their global audiences exponentially. Pay-per-view is also becoming a vessel for a number of smaller leagues that have discovered that they are able to skyrocket their revenues through their niche offerings.
As sports video and broadcasting continue to blaze the trail, it's vital to know how to harvest the potential. So how can you drive bigger sales from your online games?
Here are 4 fool-proof tactics currently being used by our top-tier sports clients to accelerate their own revenues:
1. Make time your ally
Especially if this is only the first or second season you have sold online. Even if you have thousands of social followers, you need to reach out to them a minimum of 2 weeks before the D-day. The typical spike in sales that happens within the last 10-15 minutes of an event and accounts for nearly 20% of all ticket sales is the result of a smart and timely promo campaign.
Photo credits: WFTDA.com
Last year's WFTDA championship promotion is an excellent example of thinking ahead. Although their social fan base was already very impressive, they started promoting their events a few months before they went live with their championship. They put a huge effort into reaching out to everyone with their message.
The result? Tens of thousands of viewers connected to their Live events (created with Cleeng + Livestream) from 38 countries! It's a tremendous success for an organization that was previously active almost solely in the US.
2. Adjust the price according to the growing anticipation
Think beyond one price. Offer early-bird tickets and gear up for the last week of sales with powerful discounts and social sharing mechanism. How does it work? Your buyers receive a discount code they can share with their friends on Facebook and Twitter. In this way, your event has far more opportunities to go viral within a short period of time - your tickets will sell like hot cakes.
3. Use your assets wisely
By combining various video business models. You can sell your multiple-day event both as an all-day pass access and as a single-day access. Boost your sales even further by following up your live streamed games with a VOD replay or by offering a subscription to the highlights, team interviews and archives (just like the British Basketball League does).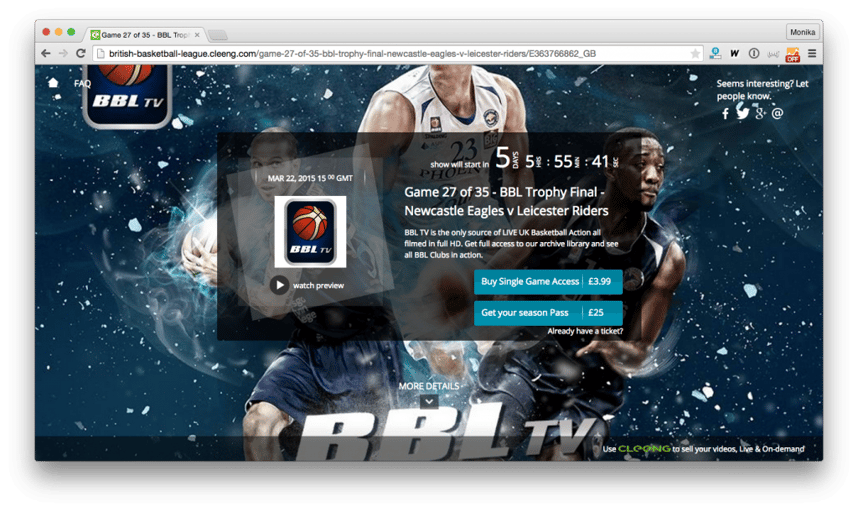 4. Don't sell the game, but sell instead the experience.
Secure a fast and convenient registration with a choice of payment methods and access on any device, anywhere.
Create a hashtag that viewers can use to spark discussions around your event and share the excitement.
Invest in a beautiful landing page and an exciting preview to awaken the full emotions of the game.
Make sure there's fast and friendly support for your fans in case they have any questions (like Cleeng's 15-minute support).
Thinking of organizing a live sporting event? Reach out and tell us more about your ambitions. We're here to help you make them come true!