Over the past few months, we've talked a lot about cord cutting, the rise of OTT and the slow demise of Pay TV. While we have outlined the cons of the traditional television format in a budding technological age, on closer inspection, we have found that OTT services can actually learn a lot from Pay TV practices.
PayTV and over the top providers still differ by content quantity and diversity
A recent study by Digitalsmiths has shown that current Pay TV models offer greater value for money than many of the leading OTT providers such as Netflix. One of the main reasons for this is that Pay TV not only shows a broad range of linear (traditionally programmed) channels and live content, it also offers subscribers a free on-demand service to provider a greater level of flexibility, as this chart shows: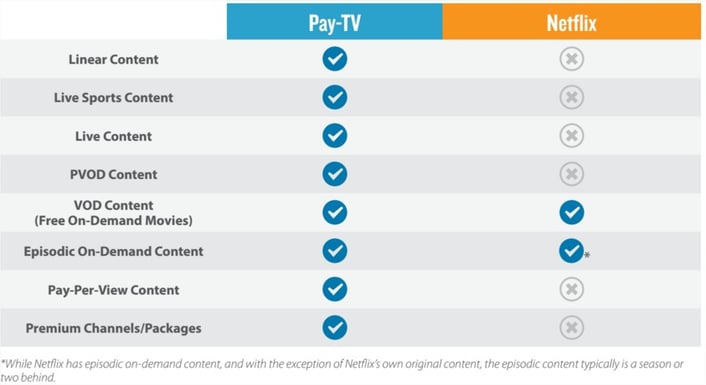 According to scheduling data from Gracenote, a leading provider of music and video content and technologies, in an average week, a traditional Pay TV provider offers over 26,000 pieces of content available on linear TV, over 450 sporting events (most of which are live), plus awards shows and concerts.
In addition to this, Pay TV providers can feature around 13,515 pieces of free VOD content (10,290 are episodic, and 3,225 are movies), 1,551 pieces of PVOD content (including Pay-Per-View events), and 11,964 free TV offerings. Of the paid TV offerings, the median price is $5.99, and the average price is $7.51.
In comparison, Netflix has around 4,000 movies, 35,000 episodes from 950 TV series, and 500 stand-alone programs.
The OTT
service is strengthening, live events is the next forefront
Despite this data learning largely in favour of a Pay TV subscription, OTT providers such as Netflix and Amazon are just getting stronger and stronger – but that's no reason to be complacent.
If these statistics show anything, it's plain to see that OTT providers can strengthen their services 10 fold by taking note of the big Pay TV kids in the playground. Essentially, by finding a way to utilise viewer data more effectively, OTT providers can tailor their content even more, especially when it comes to recruiting new loyal subscribers - offer someone exactly what they want for the right price and they will sign on the dotted line.
Another area to learn from is healthy dose of live sporting events and concerts that Pay TV providers offer. If the OTT providers are able to monopolise a good chunk of the live events market, while obtaining the rights to the latest episodes of popular TV episodes, domination is inevitable.
Can OTT reach the quality of live broadcasting?
One of the ways this can be former can be achieved is by taking advantage of the fact that OTT streams can sync perfectly with broadcast signals.
Unlike live satellite, cable, DTT or multicast IPTV signals offering live content, OTT streams have the potential to sync magnificently with broadcasting signals; therefore, eliminating horrible delays, glitches and general imperfections. This is a common trait with Pay TV - and a big turn off for viewers (quite literally).
Besides the obvious advantages of offering a crystal clear live service, an OTT provider can also use this kind of high-quality streaming capability to give the option of action or audience cams – the perfect way to immerse viewers in the action and make them feel like they're really part of it. Just think about it, sat in your living room watching the nail biting action from the British Grand Prix – but from a driver's perspective – pretty cool stuff.
Wrap-up:
While the average time spent watching television has dropped 4% in the last three years, the average viewing on Netflix has grown 17% over that same period. As we've said before, streaming is on the rise, but to ensure to truly realise their potential, OTT providers can still learn a few new tricks from the old dog: Pay TV.
Running a OTT service? Try Cleeng and start cashing in from your content: