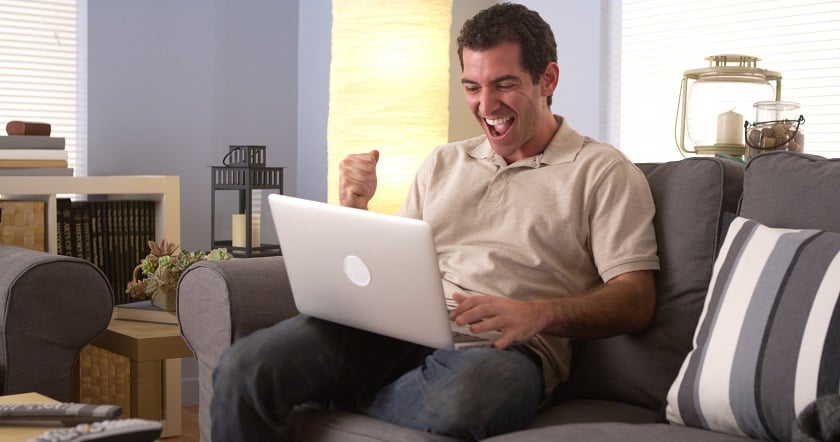 It may be plain to say, but everyone is obsessed with live sports. OTT and live sports streaming is rapidly taking over viewer's hearth share, it's expected to get bigger and better than ever.
With the introduction of VR, top quality subscription services and more, it's plain to see just how immersive the user experience has become - and it seems that as further developments take place, we are going to see a shift towards live online sports instead of traditional TV in terms of viewer preference.
Viewers' appetite for OTT services
One striking insight comes from recent research from The Diffusion Group, which concludes that those most likely to downgrade their current pay-TV service within the next six months are much more dependent than others on OTT streaming services, with around 29% off their time dedicated to enjoying their entertainment through streaming services.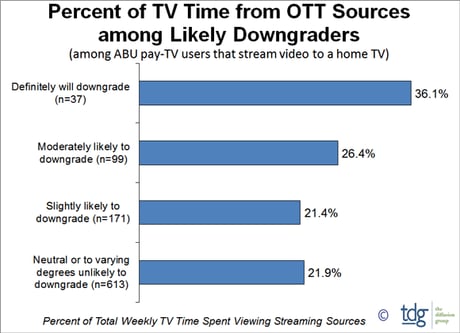 Although this doesn't seem to be an immediate threat to more traditional pay-TV services right now, these statistics really do serve to show just how prominent online streaming is becoming, and live sports are no exception.
OTT sports services record impressive numbers
A recent study carried out by Parks Associates has shown that 16% of US broadband households subscribe to an OTT sports service - an impressive figure considering how niche the sports market can be.
As the graph shows, the NFL Game Pass is the most popular across the nation, with the WWE Network a close second: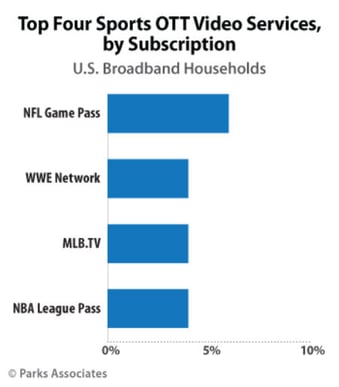 When streaming options for live sports are been analyzed, football (European) is clearly most fragmented. Not so long ago, football fans in the U.S. struggled to follow their favorite leagues and teams, even if they had subscription to cable. The context is changed nowadays, with services like fuboTV, YipTV, MobiTV etc, there are more legal ways to watch their "soccer" online, even more than the rest of the mainstream sports.
Major OTT players dive into live sports
In short, it seems that big things are going to happen in the sports streaming market this year and beyond.
Recently, Amazon announced that they have recruited veteran sports media executive

James DeLorenzo to head its newly formed sports group, following their bid to monopolise NFL's Thursday night football game (which was snatched up by Twitter). It looks like Amazon is placing a huge amount of focus on sports programming for its streaming service in a bid to gain a competitive edge on the likes of Netflix and Hulu.

That said, Hulu is reportedly launching a live streaming service, which will give their customers access to several television networks such as ESPN and Fox news - news that has been welcomed with open arms among sports fans and the live streaming community.
There is no doubt that live sports streaming is hot right now, and it's only going to get hotter. As more and more OTT providers compete to win the loyalty of sports fans and dangle the proverbial carrot under their noses, there are going to be more and more exciting developments, services and events at each of our fingertips.
Whether you're a content provider, a consumer of both, there has never been a more exciting time for live sports streaming.
Numerous sports broadcasters handled their live events with Cleeng: