In this Client Case episode, we'll discuss the way NBL teamed up with Cleeng and introduced its own SVOD service to delight their on-the-go fans. NBL.tv acts as a online hub for all the NBL live games, highlights, replays and classics.
Aussies love for the hoops
For the ones that haven't heard, the National Basketball League (NBL) is the professional men's basketball league in Australia and New Zealand.
Even though some would put Australian Rules football, rugby and soccer on top, basketball in Australia and New Zealand is definitely growing in popularity. Fans are seeing the best local players like Andrew Bogut, Steven Adams and Dante Exum shining in the NBA for some time now.
But the NBL has its own charm too. Besides the local talent, numerous players like Stephen Jackson and Patty Mills moved from the NBA to the NBL and added extra quality and hype to the league. The league currently has eight teams battling for the title; seven from Australia and one from New Zealand.
What was the biggest challenge for the NBL?
Until recently, the NBL has been broadcasted via traditional TV only. Last year, Fox Sports clinched a 5-year deal for the Australian broadcasting rights of all games. On top of that, for the 2015–16 season Nine Network secured one weekly match for free-to-air. This year, SBS secured the exclusive FTA rights for the 2016–17 season, broadcasting and streaming online one Sunday match live each week.
In this context, fans have been looking for a SVOD service which will make all the live and on-demand games accessible from the web and mobile.
When the NBL decision makers approached us, they needed an over-the-top solution that will:
act as a single content hub;
have different offer types (subscriptions and live games passes);
be able to authenticate users across multiple environments (iOS / Android / Web);
provide free access for Telstra subscribers;
capture viewers data for promotional purposes.
Why Cleeng and the NBL are a perfect match?
Cleeng has been helping out sports organizations (leagues, federations, clubs) to go direct-to-consumer by translating the clients requirements into a top-notch service, ready to go to market quickly. Looking at the challenges above, they needed a flexible and scalable platform as a base to build up their own OTT service on, the service that the NBL fans were craving for.
The goal was to design a simple, but content-rich solution that will provide great user experience and will foster fan engagement.
The end product is NBL.tv - a sleek and responsive website that has all the great NBL content. Fans can choose between offers and access live games, highlights, replays and classics from one spot. All what the fan needs is available within this framework.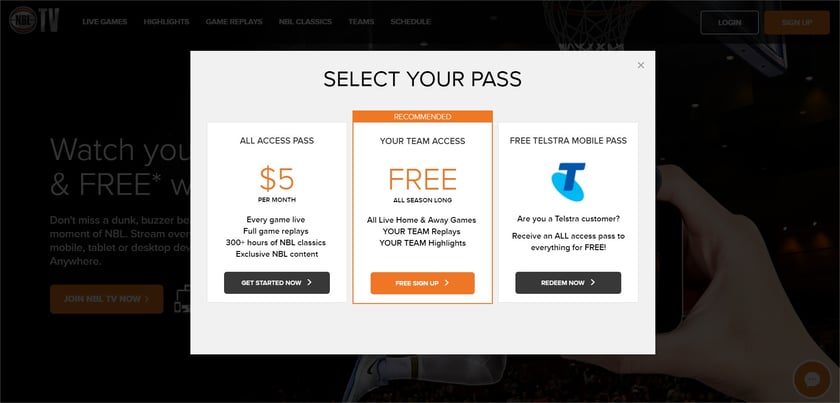 This season's NBL.tv offers a few options:
Fans can follow their favourite team for free. This includes both live and replay options.
All Access Pass, giving access to all video including all games (live and on-demand) for this season, plus the NBL classics. They can:

Pay $5 per month, or
Get it free via Telstra Pass if they are an existing Telstra mobile customer.

Australian NBL club members will be contacted separately via their clubs on log-in codes.
At the end, the NBL managed to get the best out of the Cleeng SVOD and Cleeng Capture products.
Besides the payment and offers core, Cleeng Capture will help the NBL to learn more about their fans and launch marketing campaigns (incentives-based polls, voting, etc). Also, by using our coupons feature, the client can easily create thousands of coupons on the fly.
Pickandroll.com.au, a trusted media outlet for all things related to Australian basketball wrote a great review of the NBL.tv website and its features.
---
Are you interested in going direct-to-consumer? Selling subscriptions video can be a viable revenue opportunity: